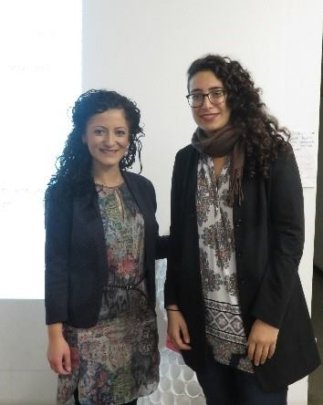 "Reading promotes language development and continues to develop [the mind]", said Cansel Kiziltepe, the SPD spokesperson who served as the guest of honor at the grand opening of Jens-Nydahl Primary School's new library.
In Berlin, Jens-Nydahl Grundschule is known for being one of the most difficult primary schools in the city. The school is located in one of the most impoverished neighborhoods in Berlin where many children come from homes with unemployed or underemployed parents, are non-native German speakers and are often children of economic or forced migrants. Parents with the means to do so, often skirt around districting laws to send their children to other schools.
Far from being complacent, the leadership of the school has acknowledged the urgent need to address the school's negative image and have reached out to RespAct to help them reenvision education and opportunity for both the school and its students. The library opening is one of several initiatives to better equip the school to address the needs of its students. The new library at Jens-Nydahl Grundschule will be one of the few public spaces in Kreuzberg where students have an oasis of calm, fully stocked and ready to help them learn and grow.
"The school we work with in Kreuzberg has had many image problems", says RespAct Project Manager Caroline Assad. "Being a segregated school in Kreuzberg, often the school clients [children and parents] were made responsible for that problematic image problem."
Over the last year, RespAct's project managers and coordinators have conducted a series of workshops with the school to help them overcome some of their most pressing challenges. Earlier this year, we conducted a 360 degree survey meant to give us a general overview of the challenges that the school is facing. From that survey we developed evidence-based methods for bringing the stakeholder's perceptions in alignment with each other. Specifically through creating more platforms for exchange.
RespAct uses collaboration and direct partnerships with the communities that we work in to find solutions to local challenges, and where children are active participants in building a stronger and safer democracy.
Working with children to build stronger democracies means that we also need to work with teachers and educators. "Working our way through with the teachers on their perceptions and judgements on the situation and the people they are serving, we have gone a long way in helping the educators become aware of their responsibilities and their scope of action instead of focusing on what's out of their control", Caroline explains.
The Jens-Nydahl library opening was not a RespAct sponsored event. But through our work with Jens-Nydahl Grundschule, and the fact that most of our staff members live in and around Kreuzberg, the school, neighborhood and kids all have a special place in our hearts. Being able to work closely with one school in our local neighborhood reinforces our commitment to work with children from Berlin's toughest neighborhoods.
Every child deserves a quality education and a safe neighborhood to call home. In difficult urban spaces where children, particularly girls, are one of the most vulnerable groups, safe public spaces like libraries and playgrounds are necessary components of building an inviting and nurturing environment.