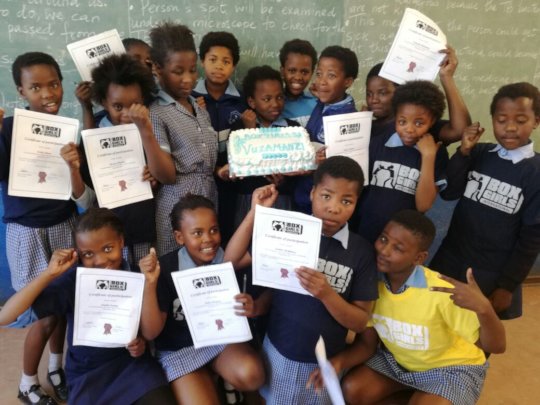 You make our work possible!

In 2017 we impacted 560 girls in total. Together with the girls we held 7 community events throughout the year, where the girls took the lead and shared their learnings on violence prevention and girl empowerment.
Thank you for every donation, supporting Boxgirls South Africas programmes!

Girl Power coming up
After the great success of our first Boxgirls Holiday Club in July 2017 and the many requests of girls, who want to join our program, Boxgirls will offer a second Holiday Club in the December 2017. In total we provide spaces for 100 girls from Site C, Khayelitsha and 60 kids from Harare, Khayelitsha.
The team is now busy with the last preperations and we cannot wait to finally start with the girls, as the Holiday Club is a highlight for both, our girls and our team.
Boxgirls has been busy the last 3 months and advocated on several media platforms for girls rights and against gender-based violence ...
Boxgirls fight gender based violence
31.08.2017
Monique Mortlock from Eye Witness News came to join one of our Boxgirls session to experience how Boxgirls is fighting gender-based violence.
"I think it's important for them to understand their boundaries and also for them, to understand where they can get help. I think it's important when we are at these sessions, it's easy for the girls to share rather than to share with a parent."- says Andiswa Madikane.
The video shows Boxgirls South Africas co-founder Andiswa Madikane leading one of our sessions.
http://ewn.co.za/2017/09/08/watch-boxing-champ-provides-safe-space-for-khayelitsha-girls
http://ewn.co.za/2017/08/31/khayelistha-woman-teaches-girls-boxing-to-fight-gender-violence
The Springboks meet Boxgirls
4.10.2017
Mercedes Benz and Laureus Sport for Good Foundation invited 20 of our Boxgirls and their coaches to meet with the National Rugby team of South Africa, the Springboks. First our girls could experience the history and spirit of South African Rugby in the Springbok Museum. After our girls had the chance to meet Jean de Villiers, Morné du Plessis,Chiliboy Ralepelle and the other national team members. They showed us some of their training units and we showed them some basic boxing skills and shared what it is like to be a Boxgirl.
We are proud that we have been invited to the event. It was a great sport- interchange and an inspiration to our girls.
Read more:
Cape Times
https://www.iol.co.za/sport/rugby/springboks/videos-pics-springboks-take-a-break-to-meet-their-fans-11490393
eNCA
https://www.enca.com/sport/rugby/springboks-laureus-join-forces-to-educate-youngsters-the-active-way
Boxgirls enlightening and inspiring
8.11.2017
Our new Boxgirls experience has been featured in the New York Times travel section!
"It was one of the more enlightening and inspiring things I did in the country, and provided real insight into how most nonwhite South Africans live."- writes Lucas Peterson.
Lucas Peterson was one of our first guests at our Boxgirls Airbnb experience and we were happy to welcome him to Boxgirls community. All fees paid for the experience will directly flow into the implementation of Boxgirls South Africas projects and support us in reaching even more girls.
Read more: https://www.nytimes.com/2017/11/08/travel/cape-town-budget.html
We were sharing our learnings at joint workshops with other organisations...
Let's Get to Work
18.10.2017
Boxgirls joined the workshop "Workforce Development: Partnerships for improving youth employment opportunities and economic inclusion" supported by Violence Prevention Trhough Urban Upgrading, the Mandela Initiative, the Collage of Cape Town and the Salesian Institute Youth Projects. Together with representatives from government, the universities UCT and UWC, foundations and other Public Benefit Organisations we were discussing ways to improve employment and economic opportunities for young people.
It was a great exchange and networking on a key topic for youth development!
Be a game changer!
8.11.2017
Together with our Action Impact Network partners Waves for Change and Grassroot Soccer our South African monitoring and evaluation leader, Nwabisa Qalanto, got the chance to share our experiences on impact assessment with organisations attending the community of practice organised by the Afterschool Game Changer of the Western Cape. It was a good opportunity to share what we learned through the first testing phase of the joint indicators of the Action Impact Network.
The Action Impact Network are eight organisations working towards sport for development joint their forces together as a network. We now established a set of pragmatic indicators and data collection tools to measure the collective impact of youth sport-for-development and peace interventions.
Boxgirls trainer @ life skills programme by the City of Cape Town
18.11.2017
Our Boxgirls coach Thembisa Ngamlana was invited as a trainer in the life skill programme run by the City of Cape Town aiming towards boys and girls from Khayelitsha aged 14 to 18 years.
Our main topic was about positive decision making and the power of a positive mindset. It was a great workshop!
Festival in Sweden Umea
28.- 29.09.2017
Boxgirls founder Heather Cameron was sharing lessons from Boxgirls in empowering young girls in Germany, Kenya and South Africa on this years Women in Sport and Adventure festival in Sweden.
A great opportunity for exchange for girls in sport organisations!
Strong Girls. Safe Communities.
Coming up -
Starting on the 28th of November with Giving Tuesday until the 31st of December 2017 we will sent out a 'golden ticket' as honour of your good deed for every donation to Boxgirls South Africa. We want to honour everyone who is supporting the real-life magic during the winter season!
Learn more about our #supportMagic campaign on our Facebook page
www.facebook.com/BoxgirlsInternational
Or on Instagram: @boxgirls_sa
Stay connected to the Boxgirls community! Tell your friends and family about Boxgirls and why you donate to us and help us reach the next stage of our project!

Sign up for our Newsletter: http://eepurl.com/cQjih5
Share your love for Boxgirls with your Facebook network and support us spreading the word!
THANK YOU, you are Boxgirls Strong!