Dear Boxgirls supporters,
Enkosi kakhulu to all of you from our Boxgirls in Khayelitsha, South Africa! This means "THANK YOU VERY MUCH" in isiXhosa the mother tongue of most of our girls.
We are grateful to see the group of supporters for our girls grow each month.
With the start of the school semester in January 2018 Boxgirls Afterschool Clubs were back in the primary schools. Twice a week our Boxgirls coaches meet the girls at their schools. The first days are always really exciting for both the girls and our coaches. Who will be in the group? How is it going to be learning basics in boxing? From the first session, our coaches are creating an atmosphere of support, respect, encouragement and safety. The girls get to know each other and are quickly becoming a team, a group of friends, who learn from each other and give each other support.
"I like Boxgirls because I can be myself.
There is no one questioning you."
– says Anathi – 12 years
In 16 life skill sessions combined with sport exercises the girls learn to value themselves and others, to approach each other with respect knowing how to set their own borders. In role plays they train conflict negotiation and how to keep themselves safe. They learn to stand up and raise their voices, to ask questions and be curious, and to present what they have learned to others.
"We want to create a sisterhood and a safe space where the girls feel free to talk openly about issues facing them. We want girls to have a voice. We want these girls to believe in themselves. We need to educate them so that they do not find themselves making decisions that would jeopardise their future. We need to boost their confidence. Girls should never feel inferior or less important. "
- says Boxgirls team member Nwabisa
Every Saturday, and during exam time also in the week, we support our girls with Math and English tutoring combined with sport training. Some of our girls are struggling to read and write in English and they are lacking behind. We offer these girls a safe space where they can learn and ask questions they may be shy to ask in the classroom. Teachers are sometimes catering for more than 30 students per class, which makes it a challenge to adjust the pace of learning to meet the needs of everyone. Writing and reading as well as mathematics are the basis of future success for the girls. We need to support them from an early age so that they can achieve the knowledge, education and employment they are aiming towards. Learing together is just so much more fun!
"I like that I learn about Math and English.
Boxgirls taught me how to check my
math answers in my test."
– Olwethu – 11 years
On the 8th of March, International Women's Day, Boxgirls hosted a girls' rights event to spread our word on the empowerment of girls and thereby the empowerment of the boys around them. Here the girls also have the opportunity to present their learnings to their parents.
We were hosting our first gender training to other sport for development organisations and were happy to share our experiences and knowledge on how to create inclusive and gender sensitive programmes with other coaches.
Support us so we can continue our work. Every $ makes a difference and provides us with much needed materials and makes it possible for us to run Boxgirls' Afterschool Clubs, Homework Hubs and Holiday Clubs in Khayelitsha.
Be part of the Boxgirls community and advocate for girls most in need!
All the best,
Boxgirls South Africa Team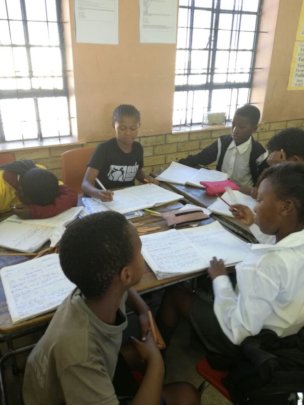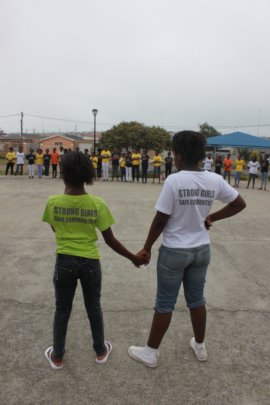 Attachments: