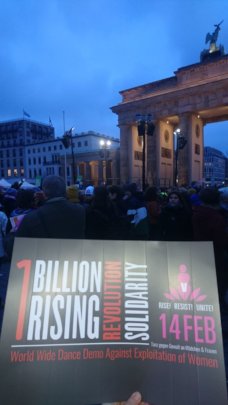 2020 started with new energy and great project activities in order to support children in order to stand up for their communities:
The first months of 2020 RepAct implemented project activities all around the topic of gender. gender equity is one aspect that can be achieved by sport for development activities. On one hand, gender equity means providing participation opportunities for both boys and girls and providing sports structures that allow every individual, regardless of their skill level and physical condition, to participate in sports safely and to have a positive experience from it.
Participation in working groups:
In order to leverage the impact of RespAct and to work needs-based, RespAct continues to be part of different working groups that try to improve and develop social sporting structures in Berlin, such as a working group on "girls and women in sports" or a working group on the topic "sports and integration". RespAct continuously engages in these working groups in order to work closely with other relevant partners that successfully use sports as a tool for social change.
RespAct workshop on gender equity:
Additionally, sports can be used to educate boys and girls on gender equity. Accordingly, our RespAct multiplier hosted a workshop with children in grades 5-7 on the topic "Respect through Sport". The workshop was part of ONE BILLION RISING Berlin. It took place at a pre-vent of a big flashmob at the Brandenburger Tor organized by the GSJ, an organization for youth, sports and social work in Berlin.
Through sports and cooperation exercises, the workshop taught the pupils respectful communication and positive group cooperation. Mutual esteem and group cohesion, regardless of gender, origin and sporting talent, were strengthened. 17 boys and girls from different schools and one teacher took part in the workshop.
Flashmob at Brandenburger Tor:
And of course, at the 14th of February, the RespAct Team took part in the big flashmob at the Brandenburger Tor with girls from the local handball club SG NARVA. Besides the dancing itself, the girls learned valuable information on violence prevention against girls and women. RespAct supports the message of ONE Billion Rising and is excited to be part of it again next year!
We are looking to reaching more girls and young children in order to support children to stand up for their communities.
Links: