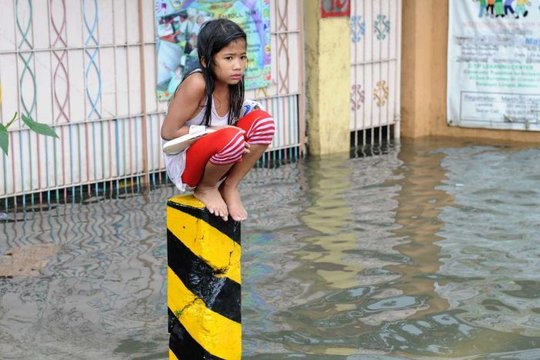 On the weekend of August 10, four days after devastating floods ravaged Manila and surrounding provinces. The Asia America Initiative began its flood relief effort with the support of funds from Global Giving, volunteers from numerous non-profit and community organizations, and transportation by rescue teams from the Civil Affairs Bureau of the Philippine armed forces. The volunteers began deliver aid to 200 families or more than1,000 persons in the heavily flooded Taguig neighborhood.
On Monday August 13, AAI staff, volunteers, and partners continued purchasing food, medicines, clean water, and blankets for flood victims. They also began distributing supplies in other hard-to-reach communities that are still flooded, where disease is beginning to spread. At present, a new typhoon is producing heavy rains, complicating the relief efforts. According to government statistics, 89 people have already perished. We seek your support to purchase enough medicine, food and water to serve, at minimum, 2,000 evacuated families or 12,000 persons, the majority of whom are children.
Thank you.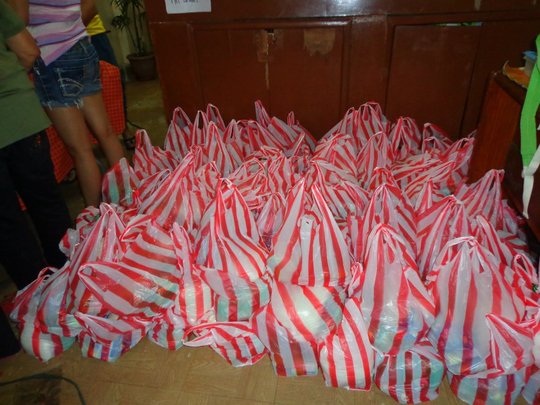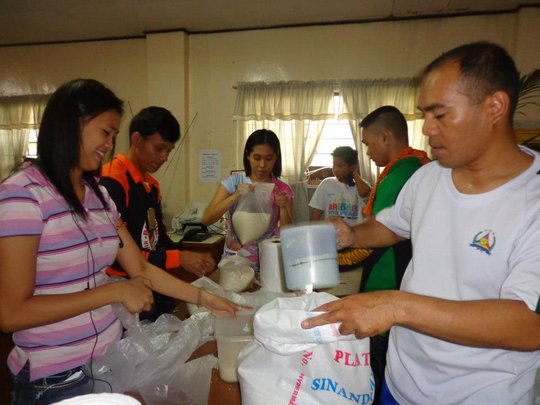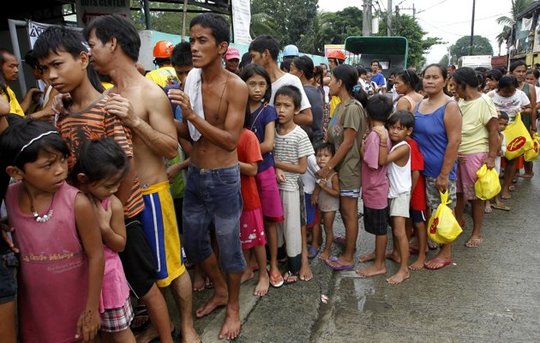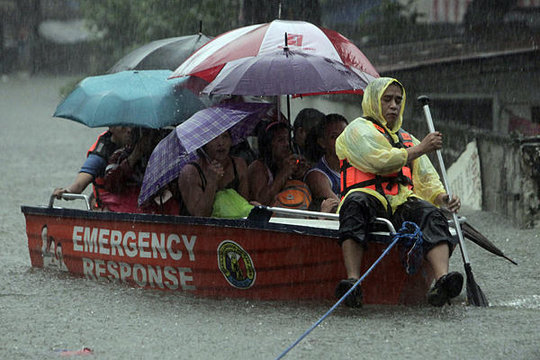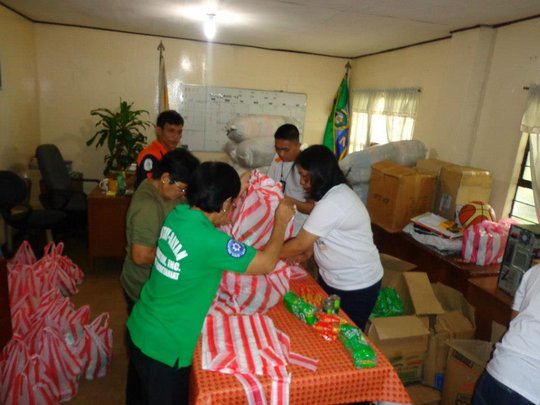 Links: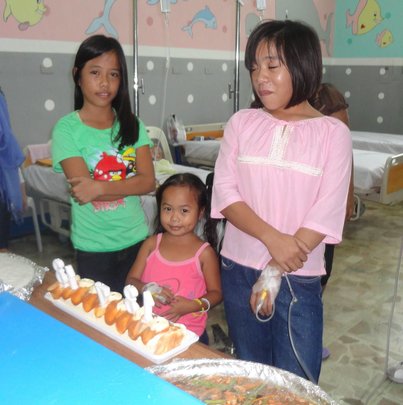 In July 2012, the Art of Hope and Healing cancer treatment program for indigent women and children ended its first year with encouraging results: Of the first 30 women in the program suffering from breast cancer who were placed and whose treatment was coordinated by the Philippine Cancer Society in Manila, fifteen have completed their treatment with Tamoxifen provided by Asia America Initiative with the support of Global Giving donors. All have been found to be cleared from the tumors that threatened their lives. The remaining fifteen women are currently completing additional hormonal treatment to prevent recurrence of the illness.
The medicines are donated by the National Cancer Coalition with headquarters in North Carolina and KrebsAllianz headquartered in Germany. The livelihood component of the Art of Hope and Healing has recently been joined by psyche-social mentors from the Health Futures NGO, accounting teachers from Micro Ventures, Inc and gardeners from the Armed Forces of the Philippines have volunteered to teach growing decorative plants and flowers and herbs for local restaurants.
While the health improvement in the program's women beneficiaries was heartwarming, most heartwarming surprise was the resilient smile, dancing and singing of 7 year old Pauline. When we first met her one year ago, she was not given much chance to survive due to a rare genetic disease. She had stopped attending school because of constant teasing by classmates due to her swollen mid-section caused by a radically enlarged liver and retention of fluid. Her family lives in a rural town a three hour drive on rugged provincial roads away from specialized treatment centers in the Capitol. Her parents could not dream of affording the medicines and professional care that would save her life. But thanks to the medical programs of AAI and support from cancer treatment and rare diseases organizations in the United States, Europe and the Philippines, Pauline has made a wonderful recovery.
On July 26, the AAI team visited the Pediatric Rare Diseases Ward at Philippine General Hospital where we met with Pauline and 13 year old twins Fatima and Erika who were all undergoing intravenous treatment. We joined them in celebrating their respective July birthdays with their families and the doctors and nurses who care for them. While they dream of being school teachers some day, AAI is hoping to continue our medical support of these very special children until a more long term and less arduous medical treatment is discovered.
The support of the more than 150 Global Giving community of donors is essential to sustain our program. We are profoundly touched by the support shown by those partners who share the $10 or $20 they can afford. We believe that "Every life does matter." And we appreciate that you are there in support of those children such as Pauline, Fatima and Erika.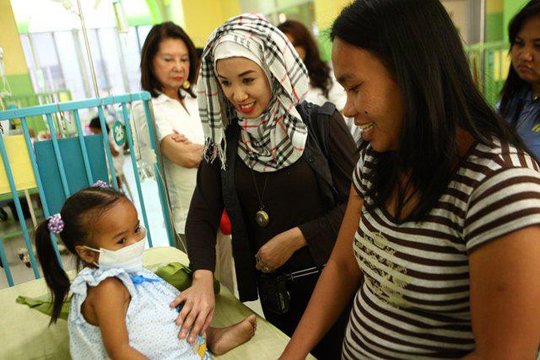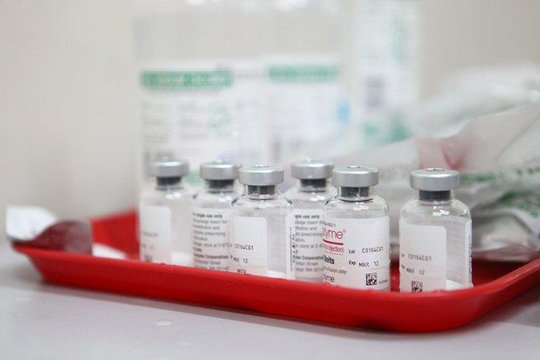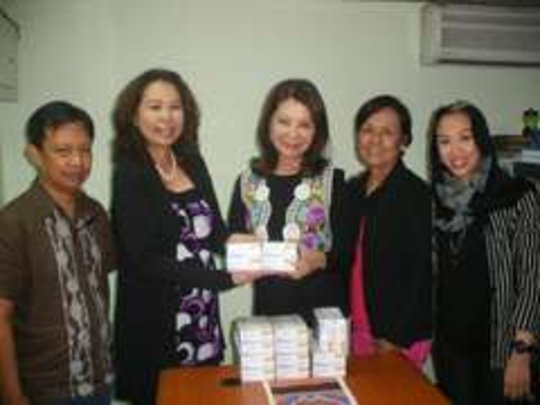 Links: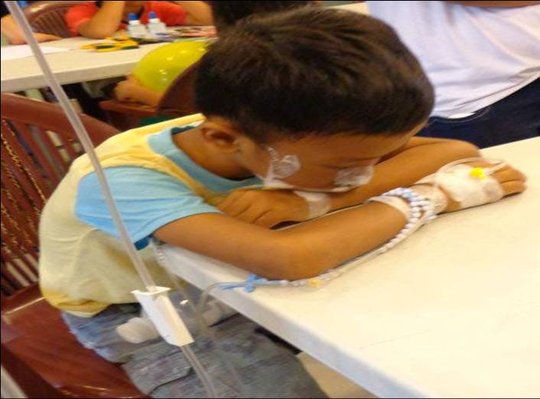 For Mothers Day we are especially focused on our Cancer Treatment for Women and Children program with growing support from outside and inside of the Philippines. We trying to build this program into a widespread international model with an emphasis that extended communities can make a difference in caring for the most underserved and underprivilieged members of societies. We are finding that "small miracles" can happen when people from corporate and private sectors choose to work together. Some people who have been blessed to overcome terminal disease [including program Director Albert Santoli] choose not to hide from life or pursue selfish "bucket lists" but give back to humanity with the support of many wonderful friends and allies. Visual arts, music and psycholical techniques to overcome feart and build a strong positive attitude is now integrated into our holistic treatment program. Please see the attached photos.
Asia America Initiative's program in the Philippines is structured to provide Medical Treatment, Basic Education and Vocational and Art Instruction to impoverished women and children with cancer. Due to extreme poverty, our cancer patientswere presumed to have their lives doomed to pain, suffering and death. Thanks to our donor partners, espcecially the GlobalGiving community the "kindness of strangers" effort is continuing despite a worldwide shortage in production of leukemoia medicines for children and other critical medicines for adults. In the first stage of our GlobalGiving partnership, donors helped us to provide supplemental medical assistance to ongoing treatment programs where 30 women and 20 children -- whose families earn less than $3 per day -- were at risk to have their treatment stopped. That would have placed their survival in serious danger. Thanks to the cancer treatment advocacy organizations in the United Staes and Europe, AAI has provided Tamoxifen chemotherapy medication for breast cancer patients and we have used funds from Global Giving donors to help coivesr the cost of additional supplemental medicines to address debilitating physical side effects and meals and some nutritional needs. All of this at no cost to the patients. We could not succeed without our incredible medical, artistic, educational and psychological volunteers and GlobalGiving members' heartfelt donations that have played a key role in keeping the childen and women, some of whom are mothers of young children, alive and in a healthy emotional and psychological mode.
Dr Jaime Galvez Tan, is the Former Secretary of Health for the Philippines and a reknowned holistic medicine practitioner combining both Western and natural medicines and psycho-therapeutic techniques is AAI's senior medical advisor for our Cancer Treatment Program. He says, "In serious diseases such as cancer, in addition to medicine and competent physicians, the art of healing depends upon a patient -- whether an adult or small child -- to overcome stress and fear by developing a strong will to live and the love that surrounds them. Asia America Initiative's cancer treatment program integrates the joy and hope of arts and education as inspirational compnents in the healing process."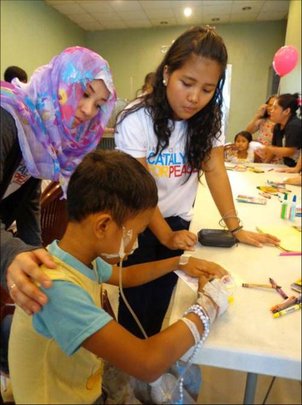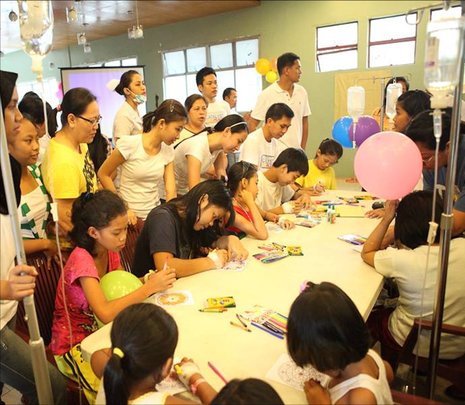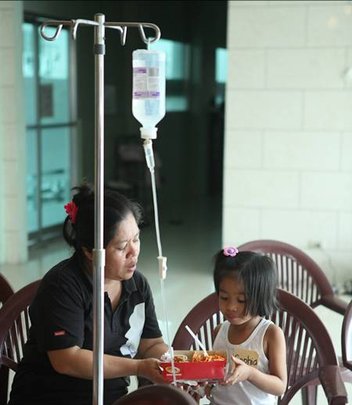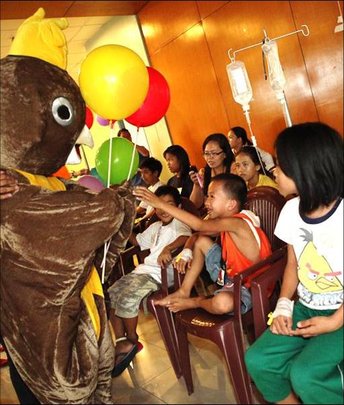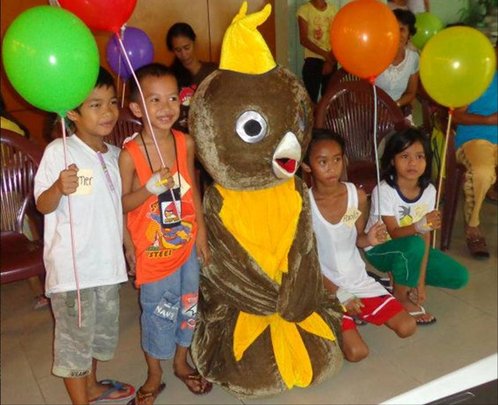 Links:
WARNING: Javascript is currently disabled or is not available in your browser. GlobalGiving makes extensive use of Javascript and will not function properly with Javascript disabled.
Please enable Javascript
and refresh this page.