Children in East Africa are struggling to survive the ongoing impact of one of the worst droughts the region has ever seen. Across Ethiopia, Kenya and Somalia, children are at risk of acute malnutrition due to the lack of food and water. These situations are growing worse by the day.
As East African families migrate in search of food and water, children are falling vulnerable to malnutrition, disease, and limited access to school.
Thanks to donor support, Save the Children has reached 4,352,747 people and counting. Our efforts have provided a total of 1,617,509 people with water and sanitation services. Our lifesaving health and nutrition services reached 3,496,584 people through screening for malnutrition. And 297,785 severely and moderately malnourished children were admitted to our nutrition centers. Read more about our efforts here. However, there is still much more to do.
We can continue to work alongside partners, governments and local organizations to support the immediate needs of those families who are slipping into famine. We must continue providing lifesaving assistance while supporting communities to build resilience and help them find new and innovative ways to overcome the recurrent crisis. Your continued support will allow Save the Children to reach more of the 12 million people in need of humanitarian assistance. Thank you!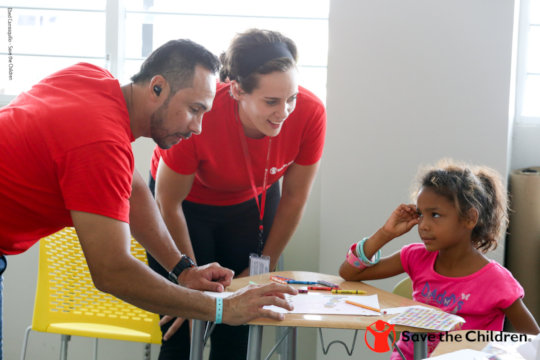 In September of 2017, Hurricane Maria broke records as the largest disaster in Puerto Rico since 1928. 155-mile-per hour winds knocked out power for the entire U.S. territory. Thousands of island residents continue to live without electricity, water and sanitation. Save the Children is committed to helping more than 200,000 children and adults who live in the 40 communities where the needs are greatest.
Recovery progress overall has been slow; the level of destruction is massive and families are struggling under the hardship and loss that the storm has caused. Many schools were damaged and continue to be closed for long periods of time.
Save the Children continues to be on the ground, providing ongoing support. We distribute clean water, family hygiene supplies, shelter/home repair kits and solar light kits. We provide emotional support to children dealing with stress and uncertainty. And our goal is to provide children ages 0-18 access to education, so they can continue to grow and learn. Read about our two-year commitment to help children, families and communities recover in Puerto Rico.
Save the Children is prioritizing rural, low-income communities where damage was extreme and where children and families have the fewest resources to aid in their recovery. We seek to ensure that children, families, caregivers and communities are resilient and ready for the next disaster. We seek to benefit more than 200,000 children and adults in 40 communities through September of 2019. Your continued support will help underpin this recovery work. Thank you!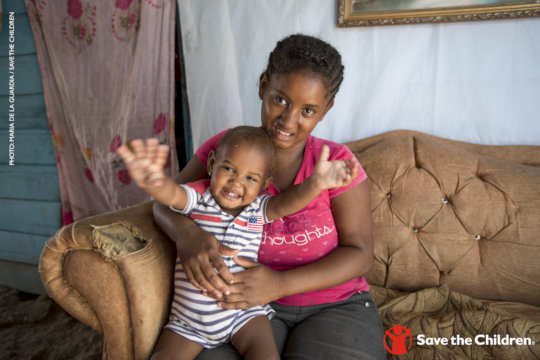 It's been 7 months since Hurricane Irma, the most powerful hurricane ever recorded in the Atlantic, tore its way through a string of Caribbean islands and the United States. The disaster left behind a trail of damage and flooding – with more than 4 million children at risk.
Families in low-earning and migrant communities are still recovering from the impact of Hurricane Irma. Families who depend on the land for income are struggling so long as the land remains in ruins. While access to safe and affordable child care remains a concern and an obstacle for those who can find work. Children are working through the post-traumatic stress and emotional exhaustion as a result of the hurricane.
Save the Children has formed strong partnership with local organizations to provide food vouchers to families in need. We opened child-friendly spaces programs to provide structured learning opportunities for children and ensure psychosocial well-being. Click here to learn more about the work we are doing related to Hurricane Irma relief.
We are committed to remaining in damaged Florida communities and by the side of children and families for the next two years. We will continue to work closely with local agencies to meet the needs of families and children as well as their teachers and care providers. Your continued support will help underpin this recovery work. Thank you!
WARNING: Javascript is currently disabled or is not available in your browser. GlobalGiving makes extensive use of Javascript and will not function properly with Javascript disabled.
Please enable Javascript
and refresh this page.