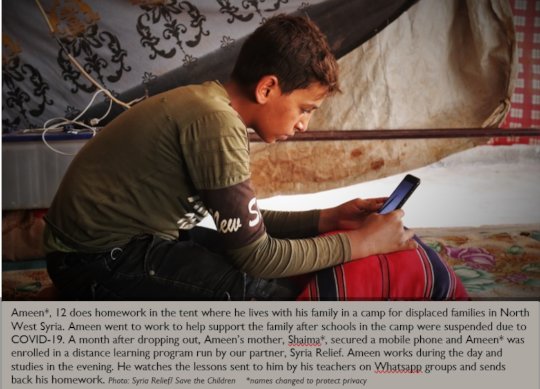 THE LARGEST CRISIS IN EDUCATION IN OUR LIFETIMES
The COVID-19 pandemic created an unprecedented global emergency in education in 2020. Over 1.6 billion children – 91% of the world's students – saw their education disrupted for months by school closings. For the first time in human history, an entire generation had their education disrupted. Millions of marginalized children in poorer countries, those whose families have suffered from the economic shock of the pandemic, children in refugee camps and war zones, or who are disabled may never return to learning. This is especially true for girls, who are now at increased risk of child marriage and early pregnancy. Without school, children are exposed to hunger, violence and abuse because school isn't just about learning – it's where they may receive their only nutritious meal of the day and where they are safe and protected.
There is a very real danger that the 2020s will become a "lost decade" in terms of progress made in education for all. Safe Back to School is Save the Children's commitment to help save a generation's education and one of Save the Children's two top priorities worldwide in 2021. Our aspirations are to:
· Support the return of over 150 million children to school and learning through our programs, national-level coordination and advocacy;
· Actively support the return to learning of approximately 1 billion children through a global campaign and related advocacy and partnership activities; and
· Use the COVID-19 moment to "build back better," ensuring more resilient education systems in countries both poor and wealthy.
Safe Back to School builds on the momentum that our teams in 88 countries established in 2020 while helping children continue learning and return to schools that eventually reopened. Our teams in every country where we work continue to support remote learning. As some schools reopen, we are prioritizing "back-to-school" campaigns, helping families made poorer by COVID-19 afford school fees, supporting teachers, and making sure schools have clean water and latrines. Across Asia in 2020, for example, we supported over 596,000 students through distance learning programs.
Last year, your steadfast support and compassion for the most marginalized meant that Save the Children was able to respond quickly and thoroughly. Thank you!