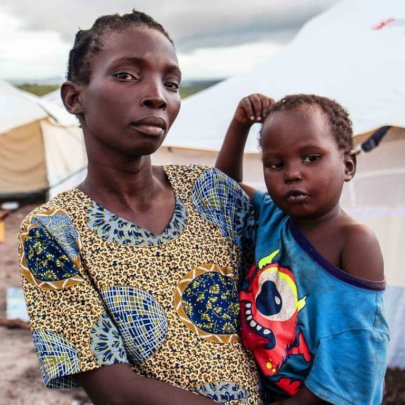 When Cyclone Idai struck northern Mozambique four of the country's 10 providences were already flooded due to heavy rainfall. Hundreds of thousands of people that had previously been evacuated, including some 60,000 children, were living in shelters not equipped to handle the impending cyclone. Moving inland into Zimbabwe and Malawi, Cyclone Idai left a trail of destroyed homes, schools, hospitals and infrastructure in its wake. A 30-mile-wide area in Mozambique's Sofala province had been completely submerged.
An estimated 1.85 million people, including close to one million children, have been affected by Cyclone Idai. The disaster is one of the worst in southern Africa in decades. The double impact of Cyclone Idai and Cyclone Kenneth, which struck Mozambique just six weeks later, will affect children for years to come.
Many families have neither a home nor a village to return to, as entire villages were wiped out. As valuable agricultural land disappeared under water, so too the region's food security. With crops destroyed and thousands of children already on the brink of hunger, the number of malnourished children under the age of five in cyclone-hit areas of Mozambique is expected to nearly double.
The contamination of water sources has created perfect conditions for diseases to spread rapidly. More than 6,500 cases of cholera have been reported in Mozambique. A drastic spike in malaria has led to nearly 20,680 reported cases.
More than 3,500 classrooms have been destroyed in Mozambique alone, with hundreds more in Zimbabwe and Malawi impacted.
Before Cyclone Idai made landfall, our Emergency Health Unit deployed to Mozambique and stood ready to respond to the needs of children in affected communities. In the immediate aftermath of Cyclone Idai, Save the Children delivered 112,400 pounds of critical supplies like tarps, hygiene kits, water jugs and tents to Mozambique via a cargo plane.
Our teams continue to deliver much-needed support to affected communities. Blankets, mosquito nets, buckets to store clean water and solar lights are being distributed to families. We're also providing seeds and farming tools so that families can plant a new crop – just in time for the growing season.
We continue to expand the range of our mobile health clinics and we're finding ways to provide health care in hard-to-reach areas that are still accessible only by air. As malaria is becoming a health concern, we continue to distribute mosquito nets to protect children and their families.
To ensure children don't miss out on months of learning, our education team has been assessing damaged schools for repairs, constructing temporary learning spaces and replacing school supplies to get classes underway.
To support the emotional wellbeing of children who have suffered loss or separation from a loved one, we have established child-friendly spaces in shelters. A child-friendly space provides a safe place to play and receive psychological and emotional support.
Thank you so much for your support of children in need. Your donation is helping provide this lifesaving relief to children and families impacted by these storms.