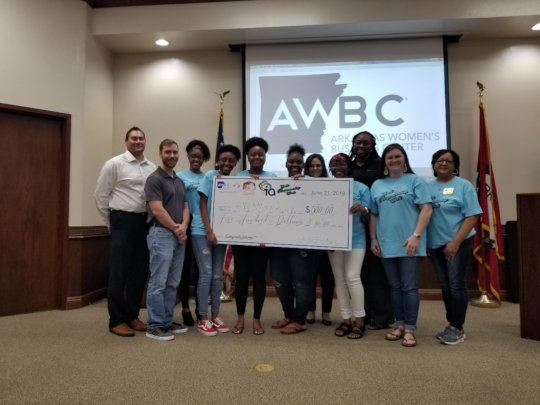 The Arkansas Women's Business Center has reached the midpoint of our ninth year, helping more women than ever start their own small businesses in the state of Arkansas. We are proud to report that in year nine alone the AWBC has assisted 92 new clients, with ten women formally filing entities with the state and one small business owner gaining access to startup capital. We look forward to continuing this momentum by assisting women in disadvantaged circumstances and rural areas to navigate the journey of entrepreneurship.
The AWBC this year hosted useful training and consulting sessions with aspiring small business owners while traveling to Arkansas small towns to meet civic leaders. We believe entrepreneurship can play a key role in revitalizing main streets across the state. AWBC staff consulted with mayors and other leaders in the cities of Stuttgart, Eudora and Searcy. While each community has its own unique needs, the AWBC looks forward to recreating the great progress we've made in our headquarters city of El Dorado.
On April 11 the AWBC returned as a judge for the Arkansas Economic Acceleration Foundation Governor's Cup. The Governor's Cup is a state-wide collegiate competition that gives students a crash course in writing a business plan and developing a feasible business concept. The winning team can be awarded up to $25,000 in startup capital. Also in April, the AWBC hosted an American Association of Retired Persons (AARP) Interactive Workshop with business plan software producer LivePlan. The workshop focused on individuals over the age of 50 looking for entrepreneurial guidance after retirement. We are so pleased to be able to assist aspiring small business owners in fundamentally different phases of life.
This year also marked the first conference sponsored by the AWBC with the She's D.O.P.E. Movement. She's D.O.P.E (Defying Obstacles in Pursuit of Excellence) is a series of networking events that aims to give young women graduating college a leg-up to start a business or careers. The AWBC's sponsorship helped attendees gain access to marketing and branding assistance, business best practices, legal counsel, headshots and resume reviews.
The month of May was busy for AWBC. We continued our work with the U.S. Small Business Administration through Boots to Business, an entrepreneurial education and training program that helps individuals transferring from active duty to civilian life. Continuing our commitment to revitalizing small towns, AWBC Director Chauncey Pettis joined a panel discussion at the Arkansas Rural Development Conference on supporting minority business and community development. The AWBC closed out the month by hosting a training for a group of leaders and small business owners from Global Ties Kazakhstan, a program of the Library of Congress and U.S. Department of State. Six visitors from Kazakhstan met with Pettis to learn about best practices for women's empowerment through entrepreneurship.
Lastly, June 17-21 marked the Arkansas Women's Business Center's Third Annual Youth Entrepreneurship Week. Joining with El Dorado Upward Bound, AWBC assisted 15 youth during the week with learning how to launch a business. The youth toured four small businesses in El Dorado to learn how different the road to entrepreneurship can be. They learned the concept of lean canvas and created pitch decks to present to our judges. Finally, four teams pitched their business concepts to a panel of judges, vying for $500 in startup capital.
The ABC has had a very robust and well-rounded quarter, assisting individuals from youth to 50+ aspiring entrepreneurs, from Arkansas small towns to international Kazakhstan. We Look forward to your continued support of the Arkansas Women's Business Center as we continue to connect the dots of women's empowerment and entrepreneurship!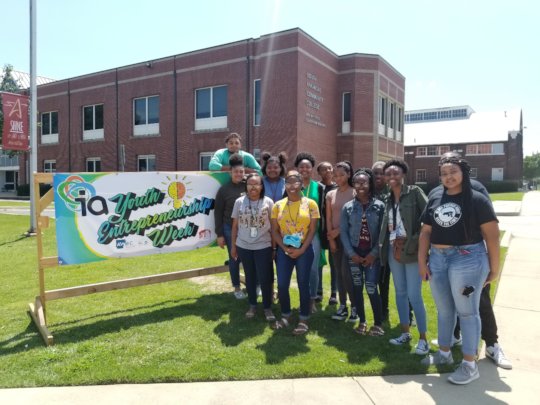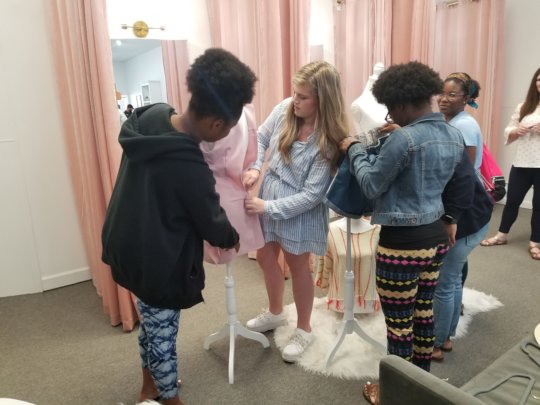 Links: