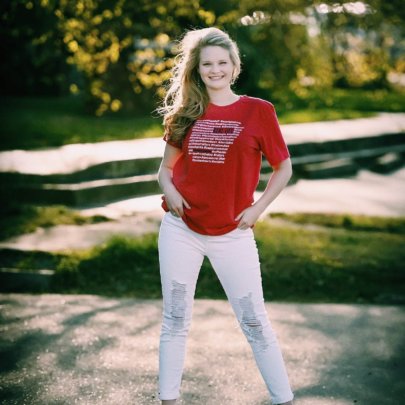 The Arkansas Women's Business Center is gearing up for another successful Mistletoe Market, our annual shopping event that showcases over 65 vendors in the ArkLaTex region. This is a great opportunity for small businesses to boost their sales during the holiday season. AWBC staff members enjoy getting to know each entrepreneur and by the end of the event we often feel like family. This year we have a new vendor, Real Life Apparel, with a unique story of how a high school youth's entrepreneurial idea was born. Here's Leighton's story:
My daughter, Leighton, has always had an obsession with t-shirts; therefore, she thought it only made sense for us to create our own t-shirt brand. I explained to her how difficult it is to have one's own business and how much time is required, but she was not deterred. In August of last year, my heart was changed by these words: "Mom, it's my last year at home and I just want us to do this together."
Our life had also taken a significant turn, in that I found myself a single mom of three after being a homemaker and homeschool mom for the last 18 years. The option of returning to the workforce did not prove to provide the income we needed. So after much prayer our family of four — Leighton, 17; Reece, 15; and Shepherd, 8, decided to go for it!
Our dear friend Suzanne, who is a graphic designer, immediately joined the team and amazingly turned the ideas in our head into magic. Our family, church family and friends began to buy and promote our brand and within four months, Real Life Apparel was available in over 30 stores.
As we brainstormed for a name for our brand, we contemplated how life had taken a difficult turn and had not turned out at all how we had hoped or imagined it would. But frankly, that's life. Real Life. Real Life is not a movie on a screen or a play with a script or a fantasy novel with a predicted happy ending; many times it's hard and unfair. Real Life Apparel celebrates life right where it is, not wasting days hoping for or living for dramatic events, but cherishing the thousands of little moments and the people that make life precious.
The kids and I are blessed and humbled by all the love and support that we have been given over the last year and the awesome opportunities God has given us.
Leighton works very hard developing and promoting Real Life Apparel as she attends Arkansas Tech University to pursue a business degree. Reece is developing a professional line of clothing, which is known as Real Life Gentlemen.