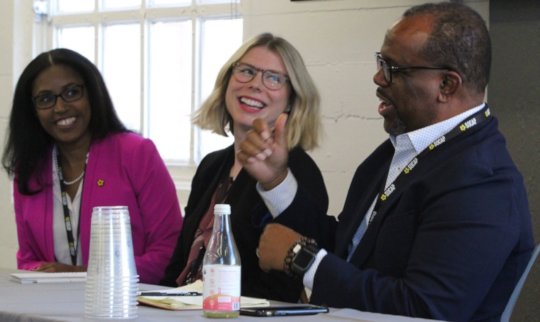 The Arkansas Women's Business Center (AWBC) has concluded the first quarter of our tenth year of operation. We are providing more women with technical assistance toward starting their own small business in the state of Arkansas. We are proud to report that the AWBC logged more than 600 hours in counseling and training in Quarter 1, with 136 clients served.
October was a busy month for the AWBC. In early October the AWBC was happy to participate in a panel in Little Rock's Woman 2 Woman (W2W) tour. The W2W Conversations Tour is the first of its kind: a candid, unfiltered, organic conversation with women across the country on America's most pressing issues. The tour allows women to speak openly and honestly about their perspectives on issues that impact their work and family lives. It offers women an opportunity to engage with thought leaders who bring unique expertise to this interactive setting.
W2W conducts survey research during each tour, capturing the attitudes and perspectives of women in real time. W2W uses qualitative and quantitative methods to collect data and track trend lines throughout the country. It is this innovative approach to collecting data that really sets the W2W Tour Conversations apart from other survey research platforms. On the W2W panel, AWBC Director Chauncey Pettis shared her personal road to entrepreneurship and the women's empowerment that can be channeled from entrepreneurship.
On October 14, the AWBC followed up with students who participated this summer in our Youth Entrepreneurship Week with the support of El Dorado's Wal-Mart. We trained over 50 high school students on the importance of entrepreneurship and how to start a small business in the state of Arkansas even at a young age. Thanks to Wal-Mart for seeing the value in investing in the next generation with us!
The AWBC was proud to be selected to present our innovative approach to entrepreneurship at SOCAP in late October. SOCAP (Social Capital Markets) is a world-renowned conference series dedicated to increasing the flow of capital toward social good. Held in San Francisco, SOCAP is the leading gathering for impact investors and social entrepreneurs. Along with the Delta I-Find and Southern Bancorp, the Arkansas Women's Business Center presented Using Innovative Training to Empower Women and People of Color to Be Entrepreneurial Leaders.
On October 23, the AWBC had the honor and privilege to host the Fourth Annual Spirit of South Arkansas Small Business Awards with the Union County Chamber of Commerce and South Arkansas Community College. We are proud of the six AWBC clients whose small businesses were nominated and voted upon by our South Arkansas community.
In honor of National Veterans Small Business Week, the AWBC joined forces with our fellow Small Business Administration resource partners to provide small business technical assistance to individuals in the military with our third Boots to Business program. Boots to Business is a two-day training session for military personnel who are transitioning out of active duty and looking to consider small business ownership as a career path. The AWBC offered training on business necessities such as proof of concept and the process of customer discovery interviews.
November brought our largest event of the year, our proof-of-concept market. The Ninth Annual Mistletoe Market is a two-day expo consisting of over 60 small businesses from three states including Arkansas, Louisiana, and Texas. The AWBC had over 1,000 people in attendance whom we encouraged to give feedback to entrepreneurs on their product offerings. The AWBC offers an opportunity for small businesses to set up booths and test their product offerings. We believe it's extremely important to not only train entrepreneurs, but also provide opportunities for proof-of-concept experimentation. Mistletoe Market gives our clients and other entrepreneurs a chance to sell their products, gain additional clients and attend condensed training sessions for overall small business growth.
Returning to our passion of fostering entrepreneurship dreams in today's youth, the AWBC also joined forces with the North Little Rock Chamber of Commerce ALPS Program. The AWBC staff hosted a four-hour training on how to create a lean canvas business template. Almost 30 youth completed their canvases and four teams created pitch decks and presented to our panel of judges.