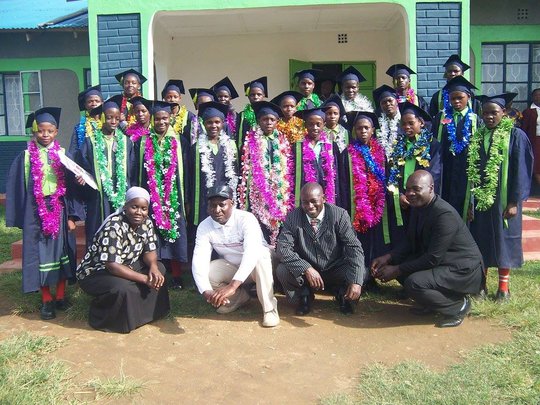 It is now three years since Tumaini children started joining high school. On the 4th Nov our grade eight pupils started their final national exams. After this exam our children will be able to join high school in January 2015.
We are living in a community where out of 235,560 pupils aged between 6-14 access primary school but only 10% happen to join high school. The destiny of the 90% is just realized through the high level of poverty, prisons with many young people, drugs and high prevalence of HIV/AIDS in young people.
Donors, all the pupils who have done their exams at Tumaini School have been able to join high school. The last two years of our primary national exams have been successful, all the pupils passed their exams and all are in high school, second and first year of high school. This year is our third year and we have 24 pupils who have just graduated and are now sitting for their exams.
We are very confident that all are going to pass their exams. This is because of their performance in trial interschool exams. First semester, our pupils became position 5 out of 123 schools, second, position two and third semester they became position one. This is actually better than last year and we are expecting better results in their final national exam.
What is making all these to happen, what is behind all these successful stories? Donors, you are all behind these successful stories. This has been achieved because of your commitment in supporting these children. Your monthly sponsorship and other donations have brought a smile on these faces. We are all grateful for the happiness you have brought in the lives of our children and our community.
Next year is another year which we will have these new students joining high school. As you all know our high school fee is high and that is why many students are not able to continue with their education. It is in this regard that I am requesting you to take a moment and share with your friends, families, clubs, social pages and churches about our cause. The word of mouth will work better and this will enable us pay the fees our children will need in January.
Global giving is giving us another opportunity to fundraise through the end year campaign challenge which will be matched and this may give as opportunity to get funds for the high school fees. Please take your time to share this with friends and let's join this campaign to prepare for the next year.
Donors, you have enlightened the lives of our children and we are grateful. Thank you once again and on behalf of Tumaini family, I wish you all a MERRY CHRISTMAS AND A PROSPEROUS HAPPY NEW YEAR!!!!!!!!!