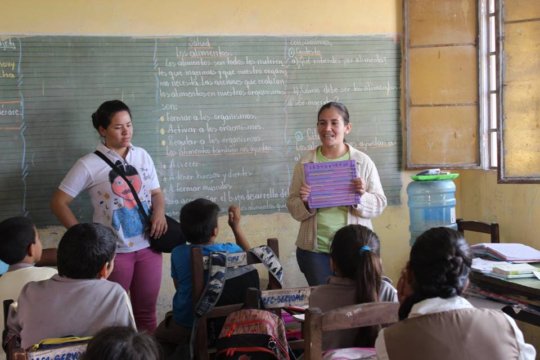 In addition to providing health care and educational support directly to the children that attend the Remansito Community Center, we also work with the schools in the community of Remansito to achieve greater range, bringing them workshops for teachers and play areas for children, among other activities.
During August and September, teachers from the Remansito Community Center visited local schools and led educational games to promote the children's right to participate.
The first activity was regarding the making of abacuses, a mathematical tool that encourages a child's performance with mathematical concepts.
Another activity was to make board games with recycled materials and new materials in order to develop math skills, such as calculations, concentration and attention skills. These games encourage free expression, critical thinking, and above all the joy of children during playtime. These board games are mobile, which allows the children to place them in different spaces within the institution when playing, sharing, discovering, and learning.
We count on your generous support towards this project so that we can continue leading workshops and play areas for all the schools in the Remansito community. Thank you!