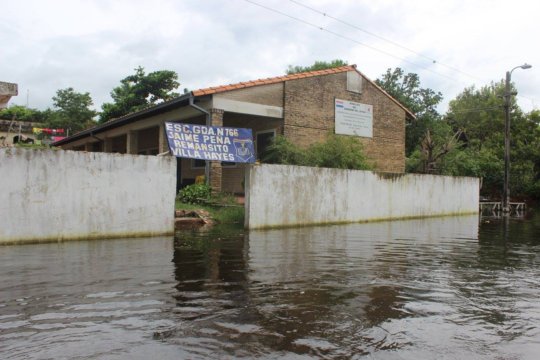 THE JOY THAT PROTECTS US!
Late last year, heavy rains overflowed the Paraguay River, leaving many families homeless living on its banks. One of the main affected areas was the lowest region of the Remansito community in the Presidente Hayes department.
Floods and storms affected several homes and two schools. This situation showed the need to work in emergency response capacities as well as the protection of children and teenagers, their families and community.
In this context, the Christian Children's Fund of Canada (CCFC) and Global Infancia Paraguay, within the framework of the initiative "Rory Nañe mo'a" (from Guarani language: the joy that protects us), developed the project "safe spaces" with the aim of establishing a suitable environment where through recreational and educational activities, children and adolescents shared hygiene practices and ways of protection against abuse and violence.
"This project helped a lot, we learned that people have to organise. In the neighbourhood there were many people who saw how the water was reaching their house, they despaired but did nothing" said Elvira, a woman from the community.
Elvira is one of the first settlers of the settlement La Esperanza, about 3 kilometers from Remansito Community Center and one of the main collaborators of the API program (Attention to Early Childhood) in their community, to the point of giving her yard so that classes could be given there.
Meanwhile, Maria Liz Paola (7), who attends the second grade of the little San Ramon School says that "when there is a lot of mud I don't like my community, that's something I want to change. Because when there is mud we cannot play, you cannot go to school. When it rains we can't even go down the street, you can't go outside. "
The project lasted two months, directly benefiting 308 children, adolescents and adults in the communities "San Ramon" and "La Esperanza". It included several activities, like the production of a document assessment of the situation of the community, implementation and equipping of a "safe space" in each community, and delivery of emergency kits to families benefiting from the project, resulting from a census implemented in the area.