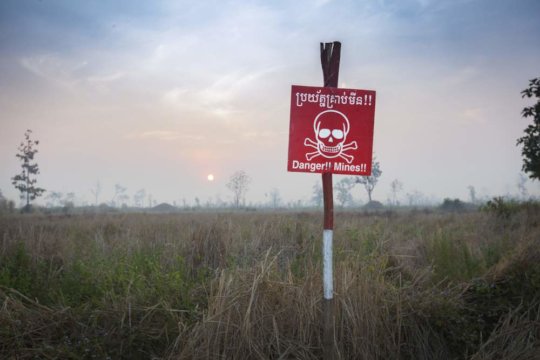 We're delighted to be able to provide you with your quarterly update for your adopted HeroRAT, Ratticus Finch.
In the months of April, May and June 2018, Ratticus Finch worked hard to clear a sizable 5820 square meters of land in just 839 minutes. Their sensitive nose and expert training led them to find 2 anti-personnel mines and 1 item of unexploded ordnance.
Ratticus Finch has already made a life-changing impact in Cambodia, a country with the highest ratio of mine amputees per capita in the world. During the Vietnam War, at least 26 million explosive sub-munitions were dropped on Cambodia, mostly in eastern and north-eastern areas. The bombing is estimated to have left upwards of 5 million cluster munition remnants and over 64 thousand landmine and other Explosive Remnants of War casualties have been recorded in Cambodia since 1979.
It's thanks to incredible supporters like you that we're able to continue our fight against landmines; deploying cost-efficient mine action solutions in affected countries whilst pushing forward our research and development in to innovative detection rats technology.
Ratticus Finch in Action
Through clicker/reward training, HeroRATs like Ratticus Finch are taught to scratch the earth above a landmine. During training, when a successful target is identified, our rats hear a 'click' and receive a reward. Ratticus Finch's training means he is able to identify items with an explosive scent making him faster and more efficient than a metal detector which also identifies scrap metal.
Every task requires a combination of assets from APOPO's comprehensive mine action tool box that includes a survey, metal detectors, and machines. It is however the Mine Detection Rats like Ratticus Finch that set us apart from other conventional methods.
You can find out more about our landmine detection process by clicking HERE.