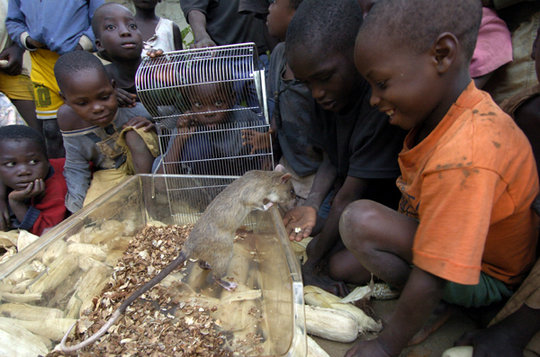 Latest results from the lab and field
To date, our tuberculosis (TB) detection HeroRATs have identified more than 1,438 people with TB that were originally missed by microscopy in the hospitals! Samples from these patients were reconfirmed under microscopy by APOPO's laboratory technicians, and the hospitals were notified of the missed positive cases.
If these 1,438 patients were left untreated with active TB for a year, they could have spread the disease to an additional 21,570 healthy people (and those 21,570 people could spread it even further). We are thrilled with the great work done by our team, in helping the hospitals we support to increase their TB detection rates by more than 40 percent!
Meanwhile, across the border in Mozambique, APOPO's Mine Action team is working hard to reduce the impact of landmines in the Gaza Province. APOPO and the HeroRAT team have helped to return 1,741,954 square meters of land to the population in Mozambique since the start of our operations!
So far in 2010, our HeroRAT team has found 596 mines, 308 unexploded ordnance, and 6,205 small arms and ammunitions. With the recent boost of 20 extra staff to the Mozambique team, we are well on track to complete clearance of the Gaza Province before our 2014 deadline.
COSTECH Award for detection rats technology
APOPO and SUA (Sokoine University of Agriculture, where we are based) have received the fantastic news that our HeroRATs have been honored with a TASTA – Tanzanian Award for Scientific and Technological Achievement.
In most of Tanzania, rats have long been considered a pest – so this is indeed an achievement! APOPO has until now received much of its recognition on a global platform; we are very excited to receive this accolade for our detection rats technology on our home soil!
The award from COSTECH (Tanzania Commission for Science and Technology) recognized our HeroRATs as a local 'innovation', with visible socioeconomic impact. The Tanzanian Minister for Agriculture, Food Security and Cooperatives, Hon. Professor Peter Mahmoud Msolla handed over the Award to the Vice Chancellor of SUA, Professor G.C. Monela.
General Assembly with HRH Princess Astrid of Belgium
The annual APOPO Board meeting and General Assembly took place in Belgium last month, and we were honored by the presence of APOPO's Honorary Chairperson, Her Royal Highness Princess Astrid of Belgium. HRH Princess Astrid became Honorary Chairperson of APOPO in 2009, supporting our endeavor towards a landmine-free future for vulnerable communities.
The General Assembly met to review APOPO's results and outcomes of 2009, followed by an overview of future plans for demining activities and our three year tuberculosis research objectives. Two new members of the General Assembly were welcomed on board – Professor Herwig Leirs, Dean of Sciences at the University of Antwerp, and Professor Bob Colebunders of the Institute of Tropical Medicine in Antwerp.
We also welcomed a number of our major funders for the first time: the Belgian Ministry of Foreign Affairs was represented by Ambassador Luc Teirlinck and Mr Paul Ghysbrecht; the Flemish Government was represented by Mrs K. Vandepladutze of Flanders International Cooperation Agency; and the Province of Antwerp was represented by Mrs I. Verhaert, a member of the Provincial Government.
APOPO appreciates the efforts of all involved in helping our organization to further develop our capacities to reduce the impact of global problems such as landmines and tuberculosis.
Flora Family Foundation visits APOPO headquarters
In June, APOPO and the HeroRATs were excited to welcome Flora Family Foundation President, Steve Toben, and his family for their first visit to our headquarters in Morogoro, Tanzania.
The Flora Family Foundation supports public benefit organizations working throughout the world in education, health, arts and culture, the environment, global security, civic engagement, and the advancement of women. In 2009, the Flora Family Foundation awarded APOPO with a general support grant over a two-year period.
The Toben family came a long way to see our heroes and their human counterparts at work, and we are grateful for their interest and dedication in supporting APOPO's work. After an initial introduction and overview of our facilities, we got down to business…holding and petting the HeroRATs!
APOPO is honored to partner with the Flora Family Foundation in working towards bridging the gap between rich and poor, utilizing local resources and empowering communities to help solve local and global problems.
Nane Nane Agricultural Festival
During the first week of August, we joined the whole of Tanzania in celebrating Nane Nane, a huge annual agricultural festival. Nane Nane literally translates to 'Eight Eight' and it takes place each year on the eighth day of the eighth month. As Morogoro is Tanzania's agricultural capital, there is always a large arena set up with a variety of exhibits including produce, livestock, sugar, and NGOs from the region who are working on farming and conservation practices.
This year, Sokoine Univeristy of Agriculture (SUA), our partner institution, invited us to set up a display in their designated area to showcase our landmine detection rats. Two of our experienced HeroRAT trainers, Mark and Shirima, set up a mock landmine field with small TNT-filled tea eggs where APOPO demonstrated the HeroRATs' ability to sniff out the scent of landmines. Over the week, we welcomed many visitors, including families, government officials, and the South Korean Ambassador. Our heroes definitely loved all of the attention (and earned some extra banana rewards)!
Creative ways to support HeroRATs
HeroRATs love weddings!
In June, we were delighted to receive word from soon-to-be-wed Simon Stumpf and Ashely Kiehnau (pictured left) of Washington, D.C., USA, that instead of receiving wedding gifts, they would be directing their friends and family to HeroRATs! Simon and Ashely are committed to a life of service, and the couple recently moved to Nairobi, Kenya, to strengthen the Ashoka East Africa office. A huge thanks goes out to Simon and Ashely for choosing HeroRATs to be a part of their special day, and raising awareness of our cause. So, if you have a special celebration coming up, and you have enough plates, cloth napkins and cutlery sets to last you a lifetime – why not think about suggesting a worthwhile cause for your friends to support in your honor?
HeroRATs are the life of the party!
HeroRATs love to party, especially when they are the center of attention! We are very grateful to Karen Riccio, Allan Debelak, Margie Frazier, and Dave Lippert, from Colombus, Ohio, USA, who threw a HeroRAT beer-tasting fundraising party. In addition to gathering together with friends to enjoy good beer and food, their guests each contributed to a collective donation that was generously given to APOPO. We are extremely appreciative of their efforts in fundraising to support our heroes in their life-saving work.
Want to help raise awareness & funds to support our heroes in their life-saving work? Get started with the Get Involved page of our website, or write to us and pitch your ideas!
Parry Gripp gives a cheer for us!
There is a new song circling the globe, and it is about HeroRATs! Singer-songwriter Parry Gripp chose our rats as the inspiration and subject matter for his highly addictive song, "Hero Rats". His song has already attracted over 63,000 views on YouTube! Be sure to listen to the catchy tune, if you haven't already done so. You can also download the song as an MP3 at Parry Gripp's website. Happy listening!
As always, thank you for your ongoing support of APOPO and the HeroRATs!
The HeroRATs team
herorats@herorat.org
www.herorat.org
http://twitter.com/HeroRATS
http://www.facebook.com/heroRAT
Links: