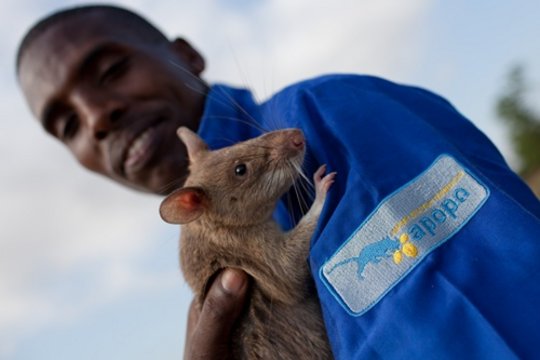 Give a rat. Help save lives.
Looking for a unique gift for your dad this Father's Day? Support our HeroRAT project on GlobalGiving, or give a rat and help save lives!
Make your contribution in honor of your father, and watch as his face lights up when he realizes that together, you've helped provide banana treats for one of our life-saving, bomb-sniffing heroes in Mozambique, or tuberculosis screening for villagers in Tanzania.
Alternatively, you can surprise your father and Adopt-a-Rat as a gift for him. Not only will he receive an adoption certificate and updates on the life-saving work of his expertly trained rat, but he will also have the satisfaction of knowing he raised his child to care about the well-being of those around the world.
Through your support, our HeroRATs will be able to continue saving people from becoming landmine victims and reducing the spread of tuberculosis. It's the gift that keeps on giving!
For more reasons on why to give a rat, take a look at the Support HeroRATs section of our website or read Nick Kristof's Father's Day article from last year in the New York Times, "Dad will really like this".
Make a donation in your Dad's honor to the HeroRAT project on GlobalGiving or click here to give a HeroRAT adoption today!
Tuberculosis program sniffing successes
In Tanzania, our HeroRAT team at the Tuberculosis (TB) detection center has been busy sniffing away to save lives. In the first three months of 2011, we have already found 91 TB-positive patients, bringing our total to over 2,000 patients that were initially missed by microscopy at local hospitals.
As a result of these tireless efforts, more patients can begin their life-saving treatment sooner, thus significantly reducing the spread of TB. In fact, using projections from the World Health Organization, we have helped to prevent at least 20,000 new cases of TB to date! In a country where about half of all active TB cases go undetected, these findings make a huge difference in reducing the spread of this deadly disease.
20 new HeroRATs embark on their first mine-sniffing mission

On May 18th we said farewell to 20 new graduates of our HeroRAT landmine detection training program, who embarked on their first life-saving mission in the Gaza Province of Mozambique. There was a flurry of activity at APOPO's headquarters in Tanzania on the morning of departure: making transport arrangements, providing in-flight entertainment (peanuts in a small container, just waiting to drop down!) and settling the rats into their first-class transport cages.

Before they left us, our future heroes feasted on tomato, apples, peanuts and small fish, along with plenty of water. We then proudly waved them off on the first leg (or paw) of their journey to Dar es Salaam to meet the connecting flight to Maputo, Mozambique. The rats were accompanied by some of their human colleagues, to make sure they arrived at the airport in peak condition and ready for their new adventure: saving lives! We wish the new graduates well in their work in the real minefields, and trust our Mozambique Mine Action team will take good care of them as they settle into their new homes.
UK reception for ASHOKA Fellow Bart Weetjens

ASHOKA UK hosted a reception in London for our founder and ASHOKA Fellow, Bart Weetjens, on May 11th. Although none of our four-legged heroes could be present for the event (they were busy saving lives), Bart represented them well, sharing his experiences with an intimate audience of dedicated HeroRAT supporters and members of ASHOKA's network.

ASHOKA's Communications Director, Julie Whittaker, noted, "Bart captivated his packed audience about his work with HeroRATS and their contribution in clearing mines and detecting TB. His enthusiasm left many of the audience inspired to offer help to ASHOKA or directly to HeroRATs."
Dr Sima Barmania was among those who attended the reception, and followed up with a blog post, 'HeroRATs – No Ordinary Rat', on The Independent's website. She wrote: "Quite sheepishly, I admit that until recently the triumph of the HeroRAT had managed to escape my attention. I suspect my lack of knowledge of these furry labourers was partly due to my self-confessed rat prejudice."

It's a common perception, held by many who stumble across APOPO's work for the first time, before they learn the facts behind the fiction (and discover that our rats are in fact lovely and sociable creatures!) Bart's talk aimed to challenge these preconceptions about rats, inviting the audience to look beyond the surface to the social problems that exist which his "heroes" are helping to solve.

And as Dr Sima Barmania's blog post concludes, it appears at least some perceptions were changed: "Given the affection Bart has for his workers, it is hard to not find the HeroRAT endearing; admittedly, it may be a while before I can have a face to face interaction with a rodent but perhaps I could be convinced to adopt a HeroRAT."

The APOPO team wishes to thank Jenny Prosser and the team at ASHOKA UK for organizing the night, which was a fantastic opportunity for people to hear first-hand the story of how our HeroRATs came into being.

Hot off the presses: APOPO's 2010 Annual Report
If you are interested in what APOPO accomplished in 2010, curious about how far we have come, or wondering what the future might hold for detection rats technology – download your copy of APOPO's 2010 Annual Report!
Links: