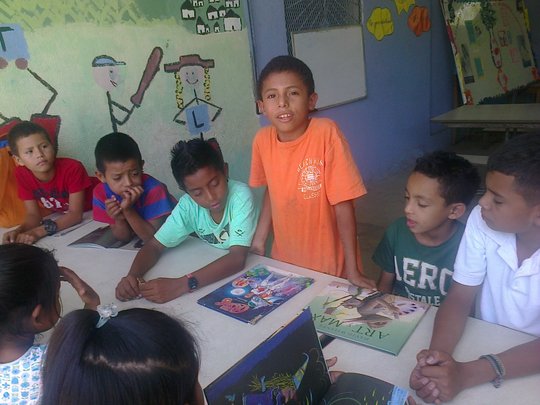 The month of July has arrived and Nicaragua´s primary school students are halfway through the 2013 school year. The last time Fabretto spoke to you we reviewed the 2012 highlights and accomplishments and gave you a little sneak peak of what to expect for the first half of the 2013 school year. Today we will go into some of the details of this 2013 school year.
One of the surprises and great news so far for this year is that Fabretto managed to not only meet its projected number of enrolled students, but also far exceeded it by over 300 students. Initial enrollment figures have been collected by education and Fabretto technical staff across all Fabretto-supported schools and the official enrollment for primary students is 9,328 for this school year. That adds up to over 500 students higher than in 2012, equivalent to an increase of just over 6%.
In an effort to help overcome the barriers to mathematical learning in basic arithmetic and geometry, Fabretto has provided teachers, students and indeed, entire classrooms with Math Baskets or "Canastas Matematicas", distributing about 50 of these in several dozen schools. These math baskets are filled with up to 30 different items that allows teachers to diversify teaching techniques and facilitate learning for children while making the process fun. Legos, abacuses (or abaci), dice, bingos, dominos, cards, just to mention a few, are among the items found in these baskets. Manuals and guides for teachers and students alike are also part of the basket. Moreover, teachers who received these baskets also participated in related workshops in order to optimize and efficiently use the baskets and their items accordingly, and to increase the impact of this dynamic exercise.
As part of the ongoing efforts to increase reading proficiency in Nicaragua, Fabretto highly trained technical staff, and teachers applied a diagnostic test to students in first, second and third grade, across all Fabretto-supported schools, to gauge the level of reading and comprehension proficiency among its beneficiary population. In addition, 718 Nacho books with differing themes like Spanish, math, civics, etc., have been distributed to primary school students this year, alongside teaching and learning materials for teachers to be used in the Montessori methodology.
During the month of May, a Reading Fair was held in Cusmapa, Sabanas, Somoto, Ocotal and Esteli. During this event, boys and girls, teachers and even parents participated in the reading activities. The participating boys and girls were the most excited of all. They needed very little encouragement from their caretakers and some even consider the fair as the highlight of the school year thus far.
In the last 3 months, Fabretto´s activities in primary education have also focused on more organizational support as well as training workshops for teachers and faculty members as a way to strengthen the primary education program being offered in Fabretto-supported schools. To that end, the following training workshops have been implemented by Fabretto educational staff:
- Key educational personnel in several centers received training in Mathematics, Language & Literature and Student Government Organization.
- Training was held for teachers on ABC books for a pilot reading project in several centers in the north.
- Educational personnel in Somoto, Esteli, Matagalpa, and Managua received training in Montessori methodologies and teaching dynamics.
Half the school year has passed but Fabretto still has a lot of work to do in the coming months. Working for and alongside these marvelous kids, dedicated teachers, and hopeful parents not only makes our work easier, but makes it all the more worthwhile. Fabretto believes in the power of education as a positive and enduring driving force of social and economic change. Help us make a difference and continue to support the children of Nicaragua and forever touch the lives of thousands of children.