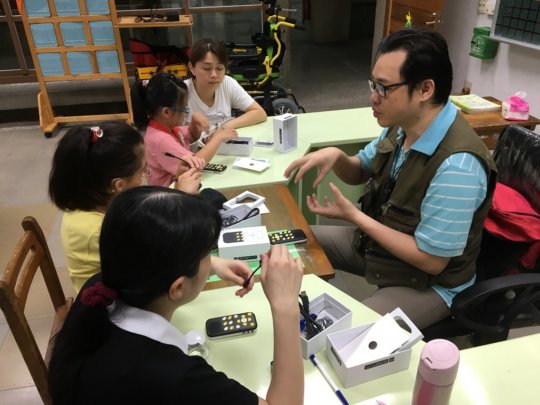 With your support, we have held many computer courses as we can. From April. to June 2017, we have focused on two kinds of classes:
1. The iPhone/DAISY player class:
We hired visually impaired teachers to teach visually impaired people (VIP) how to use iPhone. With VoiceOver (screen reader) and SIRI, iPhone is the best accessible smart phone for VIP. Therefore, we provide FREE iPhone tutoring classes for VIP. If VIP learned how to use iPhone, they can browse the internet, watch YOUTUBE videos, shopping online, use APP to check bus or taxi…., and so on. They can really satisfy their needs and enjoy the fun of convenience with smart phones.
Secondly, we provide free class of DAISY player. DAISY player is a small size, convenient tool for VIP to read. You can put books, songs and texts into the player, and DAISY player will be able to read them all.
2. Computer group classes:
We focus on NVDA (screen reader) and WORD classes. If the VIP can use PC, they have to learn screen reader called NVDA. It's a free and powerful screen reader for VIP, and it can almost read every word on the pc system or webpages. And, if VIP can learn to use WORD and correct typing, they can read articles, improve their skills and have more possibilities to find a job.
3. One day trip for VIP
With your support, we provide one day trip for VIP. Visually impaired people hardly go for a trip because of their vision disability. We provide trained volunteers to help every person to travel safe and sound. We went to National Taiwan Museum in May to see historical buildings. We also went to Taipei Confucius Temple in April to understand ancient culture. Lastly, we went to Taipei Fine Arts Museum in June to touch Installation art.
Finally, we offer psychology counseling services. Firstly, our social workers talk over the visually impaired face to face and learn to know their real needs. Secondly, we will find licensed counselors to arrange therapy. After the therapy, we expect them to recover their mental health gradually.
Maintain and Enlarge the Taiwan DAISY Library continually.
This Online DAISY library is constructed in 2010, and all the visually impaired people are welcome to be our members from then.
Vocational training
A nine months vocational training, we teach various vocational skills to help visually impaired people find a job. Those classes include: computer skills (file management, Office, internet searching…), screen reader, DAISY books, web accessibility, vocational preparation, vocational training (typing, assistant...).
When they finish their training, we will help them to interview and to find a job.
At present, our TDTB library has over 500 members and provides over 6,142 DAISY books.
(June. 2017)