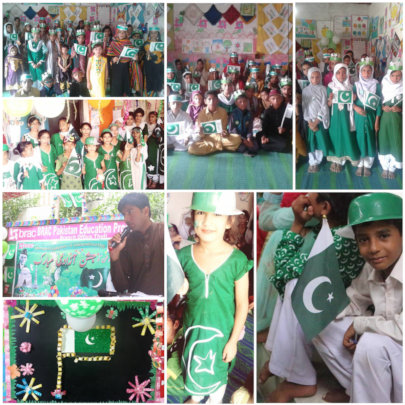 As we near the end of 2017, it feels difficult this year to celebrate with family and friends. It has been an arduous year. And yet, thanks to your support, there is lots to celebrate. The good work goes on – here, from a Pakistani village.
Located in Sindh, Pakistan, the village of Karo Mallah is comprised of about 160 households, or roughly 1,300 people, most of whom are farmers and laborers. Despite the village's needs, there is a paucity of infrastructure, and no government schools. Only a small number of boys receive an education, and access to schooling for girls is virtually nonexistent.
"We had lost hope, particularly for girls' education, as we cannot afford to send them faraway for school," said Mallah, a community member.
When BRAC first visited the village, it discovered that about 70 children between, ages five and 12, studied in extremely poor conditions. They sat in an open space, and were taught by two volunteer teachers. There was little furniture, and no sanitation. The complete lack of sanitary facilities posed a serious challenge, especially for girls, who might not come to school without a gender-sensitive facility.
BRAC's approach towards sustainable development starts with the community. A new school, no matter how well built, would not operate long nor grow to reach many children if the effort did not belong to the community. BRAC's local staff held forums with community members to discuss their concerns and discover solutions that reflected the village's priorities.
After finding agreement, the community and BRAC collaborated to construct two classrooms. The village provided half of the funding (around $350), designated a location, and helped with the physical construction. Thanks to your support, BRAC provided matching funds to construct sanitary toilet facilities and supply classroom materials.
The two classrooms and accompanying toilets are now open and operating, and more children in the community enjoy access to a quality education. Samad, who was one of the voluntary teachers before the schools were built, is thankful to see such support for children's education in the community. Mallah added, "I'm happy for this golden opportunity."
This project originally started as part of BRAC's resolution to provide access to an education for more Pakistani children. At the end of 2017, BRAC is glad to report that we have built 1,700 community-based schools, like the one in Karo Mallah, and enrolled more than 52,000 students, 66 percent of whom are girls. As we head into 2018, the BRAC team would like to wish you a warm holiday season, and invite you to make a resolution with us: Let's continue to create educational opportunities for Pakistani children.