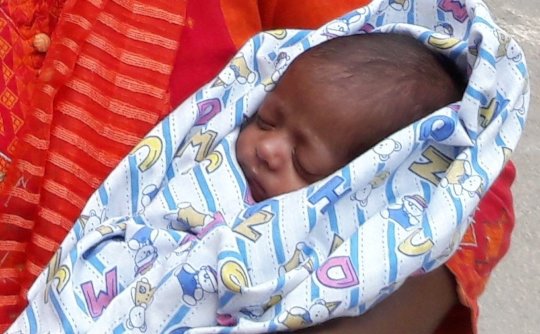 Khushbu joined her new family
It was a huge victory to see Khushbu going with her adoptive family. Khushbu was separated at birth form her mother. She was pre maturely born and weighed only 800 grams. The doctors at the hospital battled for her life. After 4 months of hospital stay, her weight doubled and it was 1.63 kilogram. She was ready to come to Asharan. Khushbu developed slowly with the help of loving care givers, occupational therapist and speech therapist. She is one and a half years old, happy and healthy today.
When the time came for her adoption, many parents were skeptical and decided not to take her. They feared that she might become a slow learner in the future; but a beautiful family from India fell in love with her. They have a two year old son. Their attitude was very different from others. They said, "We are prepared to face the future. Any child can turn to become a slow learner; fear for the future will not stop us from adopting Khushbu".
Khushbu's victory is your victory too. We wouldn't have been able to take care of her and bring her to this stage without your support and God's grace.
Asharan Orphanage, HOPE foundation, Delhi was started in 1997 to give care and protection to young children who have no one else in their lives. Asharan has cared for 694 children since 1997. The children here are at the age group of new born to 7 years presently. In 2018, Asharan cared for 74 kids. Six orphan children found families through adoption since June 2019.
Asharan's fire exit and external stairs works are in progress. The building needs complete rennovation now after a gap of 11 years.
Wish list
- Asharan requires more well-wishers to provide regular monetary support to care for the orphaned and lost children.
- We definitely need more support to complete the renovation work of Asharan.
- Our future dream is to raise a corpus fund to sustain Asharan's work for the future.
We are extremely grateful to all those who have extended your support this quarter. Thank you for being socially responsible. May you be blessed in increasing measures!
Thank you
Mrs. Jolly Geevarghese