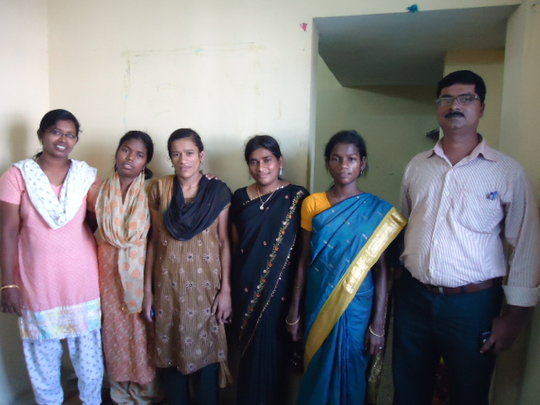 Success Story of Rehab
Tamilarasi, Devi, Shenbagam and Lakshmi came to HOPE foundation at average age of 12, from different districts of Tamilnadu. All of them contracted HIV/AIDS from their parents and after the death of their parents were taken care by the extended members of the family. With the time, these girls started facing some very serious skin problems and were brought to Tambaram Government Hospital for Thoracic Medicine (GHTM). While undergoing treatment, it came to light, that these girls too were infected by HIV/AIDS. Their family member were not ready to take them home, they started behaving differently with these girls, would not come regularly to the hospital to meet them. In short, started neglecting them, thus they were referred from the hospital to ARIAS Home of HOPE, a program HOPE foundation.
After coming to the Home, they underwent treatment and then admitted to regular school and now, after 7 years, they have completed their 12th grade and pursuing their Under Graduation from Annamalai University through correspondence.
These girls took up training in basic computer courses and passed with good grade. Tamilarasi was lucky to do one more course called Tally with the support of a donor.
HOPE foundation staff helped Tamilarasi to find a job of computer billing in one of the big shops in Madurandhagam, she is been working for past 6 months and earning Rs.4000/- a month.
Devi , Shenbagam and Lakshmi are working in Madras Export Process Zone (MEPZ) , Tambaram, Chennai and each of them earning nearly Rs.4300/- per month.
They express their gratitude towards HOPE foundation for providing food, secure accommodation, medical support, counseling and education. Also, they are happy to stand on my own feet and willing to give hope to those who have lost hope in their lives. They thank God for this wonderful life.
These four girls have developed so much confidence that they have taken a separate house and are staying there. They have been rehabilitated in the community and now they are on their own feet facing the world with full of hope and courage.
Tamilarasi's Testimony
Tamilarasi says that, when I lost my parents I thought there was no one in this world for me and when I came to know that, I too was infected by HIV/AIDS, I thought, I will die soon. I was expecting death to come any time as I had seen many children of my age dying through this disease every day. I was hopeless, and was not willing to think straight and positive. But now, when I see my life, it's totally changed and I have gained so much of confident to face the world.
Sometimes I wonder ,"Is this all true, am I really doing my graduation, am I really going for a job, am I really living with this big family or am I dreaming". I just can't believe that, I'm still surviving in this world. I can only say that, this is all true and it is all because of HOPE foundation. I was hopeless but they gave me a hope for my life. I will never forget the love and affection the staff has given me and the care and support they provided me for my life.