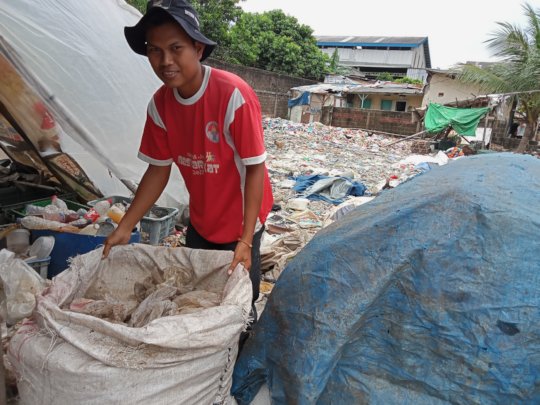 In 2020, The Circulate Initiative worked through its GlobalGiving initiative, "Supporting Waste Pickers through the COVID Crisis," to provide basic protective gear, food, and other essentials to informal waste collectors and waste pickers who were heavily impacted by COVID-19. Funding provided through this campaign is being used to support partners on the ground in providing relief to some of the families and communities of the over 15 million people who make their living informally collecting and selling what others think of as trash.
The COVID19 pandemic has hit waste picker communities in Indonesia and Vietnam hard, with many people forced to shelter in place and not work, leaving them with no income. Many do not have enough to buy daily food for their families, while those that can work lack basic protection and risk infection as they perform a vital public service.
The generous gifts provided to our campaign have allowed us to support partners on the ground who are working directly with these communities to help them through the crisis. One such partner is Yayasan Vital Ocean Indonesia (VOI), an Indonesian non-profit founded by waste management experts with over 30 years of experience. Since March 2020, Yayasan VOI has organized distribution of hand washing stations, disinfectants, personal protective equipment, and basic necessities such as food and drinks for waste pickers and their communities. Funding from this campaign has allowed Yayasan VOI to expand its work into an innovative program that sources hot meals and basic foodstuffs from local food stalls and small shops and provides meals to waste pickers and waste workers and their families and communities.
Yayasan VOI is working across Indonesia with communities that live and work in landfills, waste treatment facilities, and waste picker settlements, as well as related waste workers such as truck drivers, loading and unloading personnel, and also those who sort, clean, and aggregate recyclables. As a result of this program, these workers are able to stretch their reduced incomes farther, while also saving time they would otherwise have had to use to walk home for lunch. At the same time, we have created a market for the small food stalls and shops, allowing them to keep their businesses open and feed their own families.
This program is ongoing. Our goal is to reach waste picker communities in more than 30 cities in 10 provinces across Indonesia, including Bali, Jakarta, West Java, Central Java, DIY, East Java, North Sumatera, Riau, Ambon, and Papua. We expect to benefit at least 18 food stalls/food providers and 3,350 waste pickers/waste workers in those locations. We have already reached people in almost 25 cities, with the remainder of the project expected to be completed in the first part of 2021.
Your generous contributions allow programs like this to continue, with direct benefit to the people on the ground who are most vulnerable. Thank you.