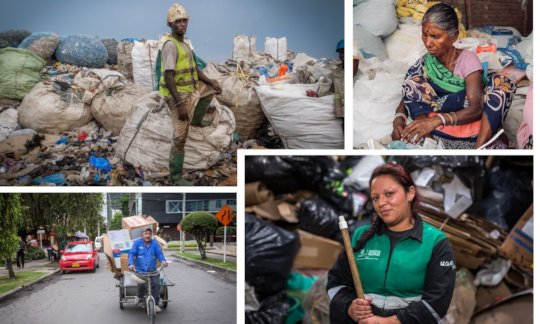 Thank you for your support of waste picker lives and livelihoods. We want to share these exciting updates with you on the good work that your support has enabled across a range of organizations and geographies.
Mr. Green Africa (Kenya) is creating 500 COVID-19 relief packs that will contain essentials of food, masks, soaps, etc. The relief packs will go to informal waste pickers in the Eastlands/Embakasi section of Nairobi, which is very impoverished and is sometimes overlooked in philanthropic ventures. It contains some of the largest informal dumpsites in Nairobi.
African Reclaimers Organization (Africa) is providing as many communities of reclaimers as possible with masks and food parcels, as well as education on how to protect themselves from the virus. Specifically, they are helping with logistical needs like paying for reclaimer organizers transport, communications, and personal protective equipment. They are also conducting clean-ups in informal sorting spaces used by reclaimers to ensure they are safe.
Plastics for Change (India) is utilizing funds to support their low interest loan guarantee program which enables businesses that collect plastics to immediately compensate the waste pickers who rely on daily earnings. Not only will this enable waste pickers to put food on the table that night, it will also give the suppliers some flexibility so they will not fall prey to loan sharks and can start trading in the supply chain again.
Chintan Environmental Research and Action Group (India) is working to create models of nutrition-resilience amongst the urban poor by increasing gendered access to food in four vulnerable communities. In India, women and girls typically eat last and eat the remains. Chintan is training 2000 women to grow seasonal vegetables and providing basic supplies for one year (containers, seeds, and compost). Cooking classes will be offered to foster an interest in eating what they grow, and cooking contests will intensify the learning. Chintan is interested in creating a path for nutritional empowerment for women for better physical and mental growth, so insights from this work will be used to scale up activities in the future.
It is because of you that all this great work is possible. These diverse aid strategies are helping to empower and support these communities, so vital to creating and maintaining a circular economy. We are committed to continuing to help waste picker communities with both near-term necessities and long-term change.
We thank you for your support.
With Gratitude,
John