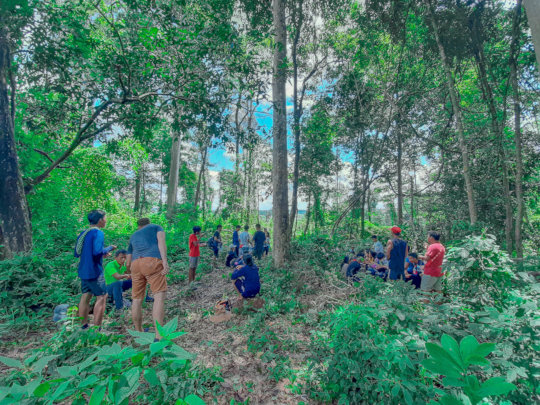 Theme: Learning from each other through community in nature
Purpose: To bring DOVE's growth groups together so these groups can learn from and spend time with each other in a challenging environment, and DOVE's community can grow deeper and wider.
Growth Groups: Al Anon, Leadership Club, and Men's Group with leaders and helpers from ONYX 2.
# of Participants: 33 Campers ages 16-30. Elders; 8, ages 27-37.
Location: Brian and Bophal's Farm in Ratanakiri
Narrative
Campers and leaders left Phnom Penh on the night bus on Thursday night and arrived a bit bedraggled at 6 am in the pouring rain in Banlung, Ratanakiri. After a short trip to the market for breakfast and supplies, and clearing skies, they began the short 15 Kilometer ride to the farm on 2 motorcycle pulled trailers and in Brian's truck. After stashing their gear they set up 7-8 tents, which was a new learning experience for many of them. After getting all squared away, Virak had a few teaching sessions and a gallery walk in the pepper plantation that touched on the topic of how we unconsciously build and maintain our ego at the detriment of the more important parts of our humanity like our emotions and soul. Campers met in small groups during the afternoon.
Mr. Virak (Youth Learning Center Manager) planned the campfire so that the growth groups could present and share how they have been transformed through their growth group. Some gave testimonies, others were interviewed and one group presented a skit. At the end of the campfire, every understood the value and purpose of DOVE's growth groups. Both nights during the campfire the moon and stars played hide and seek with wild cloud formations that added to the whole mystique of being in nature, in a wide-open field under a huge expanse of sky.
The next morning after breakfast prepared by ONYX and HOP helpers, Elder men attended a men's work workshop led by Brian, and women went with Bophal and the younger men with Justin where both groups identified both a positive and negative defining story in their lives to share with their peers.
At 10:30 am, we split them into their assigned groups with ONYX leaders and they were to prepare a meal from what they found on the farm. We supplied pots, pans, some spice and matches. Off they ran, some built the fire, others got water, some prepared spices, and others went to find the food; leaves, roots, tubers, fish, etc. Thinking it might be too tough Mr. Virak hid some simple greens like morning glory around the meal prep site so the test tasters wouldn't suffer too badly. It was hilarious to watch the face of Ms. Pha Lin, the camp cook test each meal. The meal that won the contest, was actually quite good, and all the campers had a blast putting their heads together, working under their leader and collaborating together.
After real lunch and nap, we arranged a scavenger hunt for the 4 teams. Some items on the list were 2 kilos of cow manure, a snake, a live fish, an very ugly insect, a wild flower, a frog, photos of the small group in the fish ponds, pair of red underwear, bring two huge logs (3.5 meters long), and other miscellaneous items. Again, they had work in collaboration to collect all their items and some teams had to lose time in order to help another team.
Through both these exercises campers who were only vaguely familiar with each, now knew one another a bit more deeply.
The second campfire rolled around, where there was singing, another wicked night sky. Mr. Kimlien, who brought a young man from Siem Reap to experience the retreat, shared about his alcohol addiction and he recovered through AA. The campers then stayed up late and roasted corn and potatoes in the embers of the campfire under the ever-changing night sky.
The last day was a hike in the community forest where each camper walked silently for 3 kilometers to reflect on nature, God, or just to enjoy the solitude, fresh and air and listen to wild jungle birds call to each other through tropical jungle. The hike ended at a swimming hole where most went swimming or splashed each other with the water. Halfway back, the group stopped at a copse of very large tropical hardwoods to debrief on their reflective walk.
Back to the farm to pack up, take down the tents, eat lunch, clean up the area, and rest before heading off to swim in the pristine crater-lake called Yek Laom, and do some more retreat briefing. At 6 pm, 35 tired but happy campers arrived at the bus station and prepared to board the night bus back to the PP. They arrived in PP at 4:30 am the next morning.