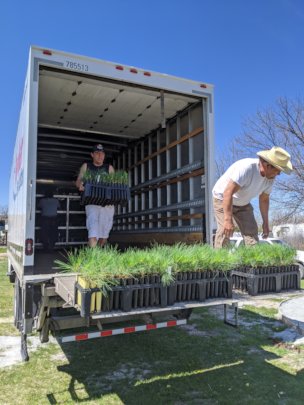 Last month, a dedicated group of indigenous tree planters in Pine Ridge put 15,500 trees in the ground, species varying from ponderosa pines, to narrow-leaf cottonwoods and a mixture of cultural-based fruit trees.
The challenges brought on by the unprecedented health crisis forced us to take serious health precautions, and work very closely with our partners in Pine Ridge to evaluate the safety of tree planting amid COVID-19. Our partners on the ground ultimately decided that by taking proper safety precautions and working closely with the Oglala Sioux Tribe(OST) government, it was possible to get the tree seedlings in the ground in a safe way. With the approval and partnership of the Tribal government, we were able to deliver seedlings to Red Cloud Renewable in early May. The tree planting crew successfully planted pines across OST lands in areas such as Porcupine Butte and the hills of the Wakpamni district. Planting of cottonwoods and fruit-bearing trees also took place in more communal riparian green areas where locals will be able to harvest fruits from trees soon. We also delivered 300 cottonwoods and fruit trees to Rebel Earth Farms, our newest partner located in Martin, SD, to support their indigenous-led food sovereignty efforts on Pine Ridge. You can read more about this new partnership in our recent spring newsletter here.
In accordance with travel restrictions, TWP limited travel of staff to Pine Ridge exclusively to deliver seedlings, so the documentary mentioned in the previous report has been postponed to 2021. However, we are already taking this time away from the field to plan bigger for next season! We are keeping a close eye and in frequent contact with our Tribal partners in New Mexico for the upcoming planting in August, and will likely have to limit travel there as well to ensure the safety of the local indigenous community. However, your ongoing support of this project is making it possible for Tribal members who have been affected by COVID to both generate income during this difficult time, and develop strategies to combat food insecurity and climate change.
Thank you for all that you do!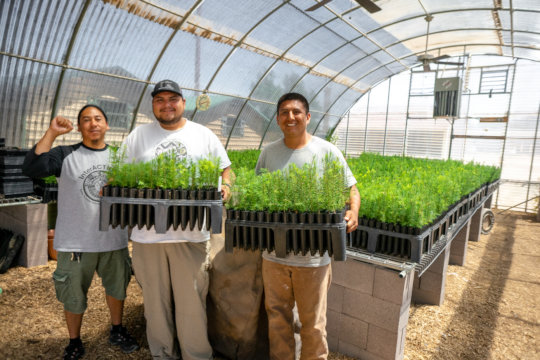 Our final order for the Colorado State Forest Service has gone in and tree seedlings are growing healthily at their nursery! By this spring and summer, all these seedlings will find their new home on Tribal Lands in South Dakota and New Mexico. Aside from pines and a variety of fruit trees, we have a diverse list of tree species that we will be reporting on as the season comes closer, as we are excited to begin supporting tribal food sovereignty this reforestation season. Our partners in both locations are hard at work to determine exact coordinates for planting sites. On the Pine Ridge reservation, we will be reintroducing cottonwood trees as well as partnering with local schools and other small communities to receive a variety of traditional fruit trees across their tribal lands.
As you are reading this, our team is also traveling to New Mexico to monitor our first season of tree planting from last year, and evaluate successes, failures, and improve strategies for the upcoming year. Several Pueblo community members will be joining us to learn monitoring techniques and understand the idea behind gathering data for personal uses (e.g. agriculture or other purposes), and hopefully increase involvement and participation of more volunteers in the summer. We hope that this in-field mapping workshop and session will empower these natural resource leaders to continue the process of monitoring trees down the road.
We are also thrilled to share that we will begin working with Ute Mountain Tribe in Colorado this year to restore riparian areas with culturally relevant trees such as cottonwoods and Coyote Willow. With your support, we are able to increase our capacity to partner with more tribes such as the Ute and expand the possibilities of what we can accomplish.
Finally, a grant funder has opened the unique possibility for us to develop a professional documentary short film that will capture the work we've been doing, and focus on how tribal communities are leading the restoration of their natural lands. Stay tuned for more updates and be sure to follow along on our social media to receive the latest updates on the progress of this film!
Thanks to your unreserved support, 2020 marks only the beginning of a new phase for TWP's reforestation arm that will bring with it new territories, stronger partnerships, and better results for the communities we serve. We could not do this without you.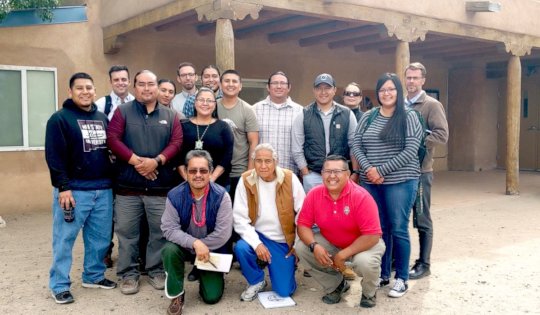 On October 17thof 2019, Trees Water & People National Program staff facilitated the very first "Tri-Pueblo" ecosystem management meeting at the Santo Domingo Pueblo community center!

The Pueblos of Cochiti, Jemez and Santo Domingo all came together to ideate and plan conservation and management strategies of their natural resources on Tribal lands. Thanks to your support, we are playing an active role in forming a coalition of indigenous communities that work towards regenerating their Tribal lands. Massive wildfires have devastated an abundance of their culturally important trees and sacred sites of prayer over the last decade.
Each tribe shared how their current projects and future aspirations could merge with one another, ultimately to increase the capacity of Tribal communities to protect natural resources on their homelands.
As a result of this meeting, we are already beginning to order seedlings for next year's tree planting season from the spring through the summer. We are thrilled to begin planting beyond ponderosa pines, as we will be supporting tribal food sovereignty initiatives by planting indigenous food species in South Dakota. This will bring culturally-based diets back to tribal communities by reintroducing chokecherry, buffalo berry, and wild plum in the region.
We set our sights towards these future opportunities that will strengthen potential collaborations together and rehabilitate the ecosystems that these communities call home. In honor of Native American Heritage Month in November, we hope you will continue to support our GlobalGiving fundraiser to Reforest the Indigenous West, and please stay abreast of all our social channels for the latest updates!
WARNING: Javascript is currently disabled or is not available in your browser. GlobalGiving makes extensive use of Javascript and will not function properly with Javascript disabled.
Please enable Javascript
and refresh this page.