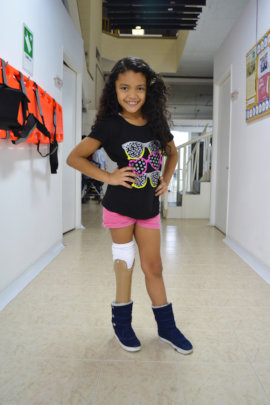 When it comes to breaking the ice, few things are as effective as a smile; some of them, which have an honest naturalness, are so powerful that they can soften even the hardest heart. Darlys smile is one of those.
The little girl is one of the 900,000 Venezuelans who have migrated to Colombia in the last 20 years because of the increasingly deplorable political situation of the neighboring country, which makes her part of the largest Exodus ever seen in the northernmost state of South America (2017, March 30. Venezolanos, la migración más grande en la historia del país. EL TIEMPO. Recovered from https://goo.gl/9HVV2h).
"We cannot live in Venezuela anymore, we came here looking for an opportunity to give our children a future," says Deilys, Darlys' mother, when we asked her about the reasons that brought her and her family to Colombia . However, beyond the search for a stable job or a more peaceful environment to live, the primal motive that led them to leave behind Caracas, their home, was Darlys.
Little Darlys, who has already turned eight years old, was born with a strange malformation in her right leg; reason why she had to undergo surgery, when she was two years old, which ended in the partial amputation of her leg.
"There are no drugs in Venezuela, much less prosthetic legs," says Deilys. However, the desire to give Darlys an opportunity to have a normal childhood was not enough reason to leave the country, because prosthetics are very expensive and the girl's family never believed they had the means to give one to the child:
"She has used prosthetics since she was two years old, but our health insurance used to give them to us before the new government; now, with Maduro in the presidency, the Venezuelan health system is in chaos. When the prosthesis that she had began to deteriorate, we became frightened, we had no idea what we were going to do, that's when we heard about Mahavir Kmina, "says Deilys.
With great difficulties, international calls are restricted in Venezuela, Darlys' family was able to get in touch with the Mahavir Kmina Corporation, a non-profit organization that manufactures prosthetic legs and provides them free of charge to anyone who needs them, and whose facilities are located in Medellin, Colombia. It was then that Deilys discovered that all was not lost.
As soon as it was confirmed that the sweet little Darlys would be benefited by Mahavir Kmina, Deilys and her husband did not think twice and began preparations to leave behind the world they knew. The family arrived shortly afterwards to Medellin and settled down in Villanueva, one of the busiest neighborhoods of the active and noisy downtown. However, the plans were not as they imagined and the lack of opportunities forced Darlys' father to leave his family and travel to Barranquilla, where he got a job as a farm keeper.
For Deilys, the situation has not been very different. "I worked as a manicurist in Caracas; We've been here for two months now and I have not been able to find a job opportunity", she says. Also, now that her husband is absent, the entire responsibility for raising her children falls entirely on her.
At least, now she has one less reason to worry, because thanks to Mahavir Kmina, Darlys not only got a prosthesis that will replace her leg, she also gained an opportunity to have a more autonomous and happy childhood. "I am very grateful to the Corporation and its benefactors because they have given my daughter the opportunity to be a special girl with a normal life", she says with great joy.
For her part, Darlys is happy to be able to return to school, she is already in her third year of elementary school, and to play soccer again, her favorite sport. When we ask her what she wants to be when she grows up, she replied: "I want to be a doctor, to help others as this institution has helped me."
Like Darlys, the Mahavir Kmina Corporation has given more than 3,500 people an opportunity to regain their mobility, self-esteem and independence. This work, however, would not be possible without the support of all our benefactors and, therefore, we are deeply grateful.