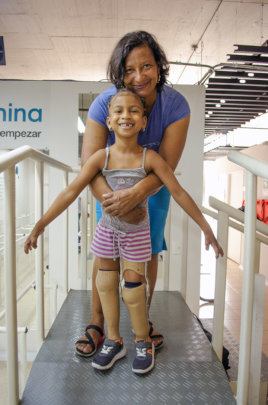 Before Evony arrived into the world nobody noticed that she would come with a special condition. She was born with twisted hands and deformed feet. A unique phenomenon that took by surprise all family members, all except Julia, her grandmother. She had been thinking about it for months as a palpable possibility because she knew that the mother did not take care of her pregnancy. She smoked incessantly, ate badly, and it was usual to see her come to the house with her eyes bulging and staggering because of the drunkenness.
The mother despised her from the first moment she saw her. Her daughter's appearance seemed to her atrocious, freakish; but it was the skylight of her imagination, through which she could glimpse a future at her side, which produced a vivid terror in her. "Too much responsibility", she must have thought. That morning would be the first and last time she would hold her in his lap.
That was the first of many encounters that Evony will have with rejection, that inquisitive shadow that will breathe in the back of her neck from time to time to remind her that she was born with twisted hands and deformed feet. That is the reality that harasses many children in Colombia because being born here with a special condition is facing the jaws of rejection.
For Julia, the birth of Evony was also a squeeze in her spirit, but one of a different nature from the mother's. The morning the little girl was born, the grandmother looked at her with the eyes of someone who suddenly finds a little bird with a broken wing. She saw her so helpless, so in need of protection and care, that she felt the irremediable power of love touching the surface of her soul. Her heart was beating so hard that she was sure it was going to come out of her chest. Finally, Julia extended her arms to receive the child from her mother's hands. She raised her since then with unreserved affection.
The malformations brought a series of inconveniences with them. The first of which became evident from the beginning: "she will not be able to walk in these conditions", said the doctor, "we have to amputate both legs". As if a bad birth and the rejection of the mother were not enough tragedies. But that's the way things should be. Julia did not hesitate. "Is it what should be done?", she asked. "Yes, it is what must be done", the doctor replied, "If the girl wants to walk someday". "Then cut them off!" she said firmly while a wave of feelings condensed on her eyes.
Six years have passed since then and, despite the absence of her mother, Evony has grown without lack of love. The grandmother, or "Mommy" like the girl calls her, has sought a way to make her happy. She has fought strenuous battles against the henchmen of rejection for this: she has shouted at the children who point at her with their fingers and say, laughing, "there goes the girl with one leg". She has faced the scathing looks of people who see her as a circus freak. She has begged the girl's mother to visit the house from time to time so that the existence of one is not a nullity in the life of the other. Her most bloody battle, however, was with the Colombian health system.
The Colombian law includes prostheses in the list of medical devices that the State grants at no cost to its citizens ... in theory. In practice, Julia found herself, as many others have done before her, with a reality that drains your strength and sucks your hope like a leech. "Getting Evony a couple of prosthetics was a journey", she says, "they had me moving from here to there for almost two years to give her the first pair, two years! Can you believe it?" I do, I already have heard many similar cases. When Julia expresses that she had to move from here to there, she means that she is tired of fighting to get her granddaughter what she deserves by right.
Finally, Julia succeeded ... a battle won. Evony walks. She walks for the first time with her first pair of prostheses. "What a joy!", Julia yells from the bottom of her heart.
A battle won from a war that cannot be gained.
"Those who gave her are no longer useful, but the wait takes longer than what they last", Julia complains. That is true, children grow so much in such a short time that for those like Evony there is no expectation that it is worth it, they will wait two years for a prosthesis that will not fit in less than one and then they will have to wait again. "But that's the way things are, there's nothing I can do", the system says with all the cruelty its bureaucracy is capable of. Julia can see it, it appears before her as a hurricane that comes to destroy the foundations of her future. Will she have to fight for all her life?
By the time Evony used her first pair of prosthetics, she was already five years old. During those times she did not think, even for a fraction of a second, of all the legal battles that her "Mommy" had fought for her. It is a subject that belongs exclusively to the world of adults, of which she still understands very little. On the other hand, what she did think with recurrence was in all the things she could do with her new little legs.
She not only thought about them, she made them part of her routine. At school, Evony used to run at break times with other children and, after doing her homework, she used to play soccer on an improvised field in the street in the afternoons. Running after the ball became a regular hobby, but if she was not in the mood for it she also used to enjoy dancing in the living room or playing in the park. Always in motion, in any case.
The prostheses helped her to appease the shadow of rejection. "She's so active that you forget what she has", says Julia; and, to tell the truth, Evony is passionate about sports activities. She executes them with so much effort and with such control of her orthopedic limbs, that it is easy to understand the amazement that she arouses in Julia and the admiration she provokes in her classmates.
A year later, however, the prostheses that Evony obtained by right are already small. She has grown, she has grown a lot, but the State will not give her new ones. If Julia wants happiness for her granddaughter, she will have to adjust her shields again and set out on another battle. At least, that's what she thinks. The idea rounds her thoughts without respite, it drills her head, again and again, stealing her calm. It was like this until that day when Mahavir Kmina appeared in their lives as a great revelation.
Julia was doing some shopping at the supermarket when she happened to hear it. "An institution that donates leg prostheses", said one stranger to another. Julia opens her eyes like a pair of pearls, her body paralyzes and, stupefied, she turns her attention to the dialogue that takes place between them. "I just arrived from Medellin, I left on Sunday morning and look! Here I am with my prosthesis", said the first man. It was Friday and, if his words were true, that organization had done in less than a week what she had fought for years.
"It's not possible", she told herself, but she was wrong.
Then, the man lifts his pants and proudly shows his prosthesis. Julia sees it and feels like a twinge in her chest. What was happening at that moment, she thought, could not be a casual event. No, what lay before his eyes would have to be a revelation of Divine Providence, an elaborate sacred machination that opened a way to save her from the bleak confines of despair.
She approached the men and found out what they knew. From them, she knew that Mahavir Kmina is an institution that has already benefited almost 4,000 people with the prostheses that are manufactured in their production workshop. From them, she also knew, the man had to tell her twice because Julia thought she had heard wrong, that the prostheses that the organization produces are delivered to those who need them at no cost and that it was enough to pick up a phone and make a call to request them.
She called Mahavir Kmina that same afternoon. A kind voice on the other side of the line asked her about the girl. The conversation took no more than five minutes and the voice guaranteed that Evony would receive a pair of prostheses. That easy. At the moment she hung up the phone, Julia already had the feeling that her whole world and that of the little Evony would change forever.
The hardest thing was waiting. When you have the tunnel exit in front of your eyes the most unbearable feeling is not being able to run towards it. But she had to wait. The kind voice told Julia that there was a waiting list of two to three months and asked her to be patient because for everything there is a moment. She repeated herself every morning that if she had waited so long, she could wait a little longer, but in reality, the wait of those days was the most terrible of them all, she bit her nails, walked around the house like a caged lioness and felt that her heart would explode every time she heard the "ring ring" of the phone.
Evony lived, along with that waiting, the throbbing pain of anguish. She used to crawl to the door of the house to see the children playing soccer on the street. She longed for the day when she could run after the ball again, but she had resigned herself to not doing it again. Julia had not told her anything about her own anguish, she did not want to delude the girl with a possibility she still did not hold in her hands.
Then the phone rang.
The kind voice told her what she had been waiting for two eternal months of restlessness. In less than what a rooster sings, they were already on a bus on the way to Medellin. Julia was no longer afraid, she put aside her weapons because she saw in front of her the blessing she sought for what she loved most in the world. Evony would finally have an opportunity to start over.
This is one of many stories that I have had the pleasure of finding in the years that I have been working in Mahavir Kmina. Now, I share it with you so that you understand the impact that this institution creates in the world. For the happiness of Evony and many other children who need a prosthesis to walk again, to play football ... to be happy.
Please consider becomming a recurrent donor to helps us change more lives like Evony's. You can also share this story with all your friends and family members and follow us on our Facebook page and Youtube channel.
See you soon with another amazing story.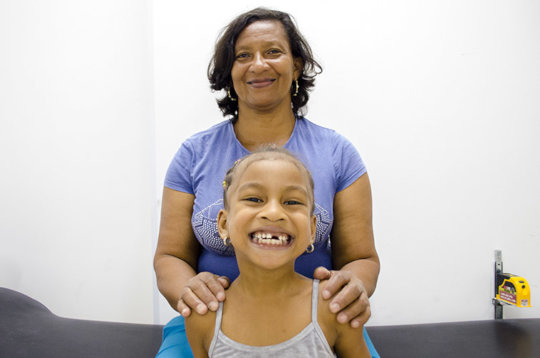 Links: