The summer was a busy time for LEND! We spent a lot of time coordinating our plans for this upcoming year. We have added a student organization to our nonprofit which will allow us to spread awareness about the work that we do. We are currently going through our annual recruitment process now and hope to bring a lot of new talent onto the LEND team. Since our last update we have dispersed another loan and provided numerous business consulting services. We continue to look for new partnerships in the Evanston area and are hoping to grow our monthly donation program this year. Thank you for all of your support this past year, we look forward to updating you on our projects as we move forward!
Supporters of LEND,
Meet our newest client, Terry! Terry runs Higher Level Maids, an Evanston-based cleaning company. She started her business in August of 2016 after identifying a gap in the market for high quality deep cleaning services at low prices to residential clients across Evanston and Chicago. She's bootstrapped her way to profitability, now servicing upwards of 100 houses per month and employing six people.
The most critical component of Terry's business is her car, as she shuttles employees and cleaning supplies from house to house throughout the day. After a visit to her mechanic, she was told that her only car had just 1-2 months of life left. This is where LEND came in. With no business credit and insufficient capital with which to buy a new car, LEND was the only option for Terry. LEND disbursed a loan to Terry, enabling her to pay in full for a new car (pictured above).
We've learned a lot from Terry about what it really means to be an entrepreneur. Having to balance running a profitable enterprise with raising three young children, Terry definitely has her work cut out for her. The drive, care, and ingenuity with which she approaches her business has definitely stood out. It is what we believe will drive the consistent growth of her business.
Moving forward, LEND will continue to be engaged with Terry as she seeks to expand her current residential cleaning services, break into commercial cleanings, and create opportunities for her employees to expand their roles. Terry has worked with LEND previously to strategize methods of attracting motivated employees and has six stellar employees to show for it. We're eager to be a part of Terry's growth and continued success.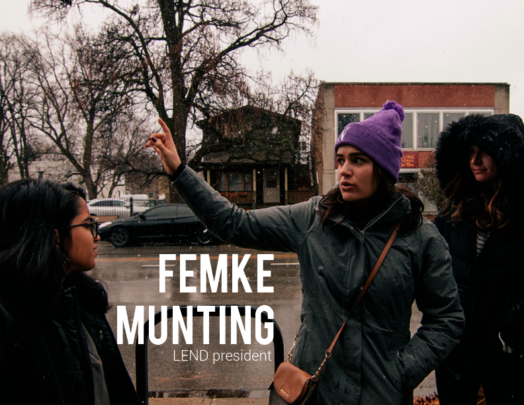 Supporters of LEND,
I am excited to announce that Femke Munting is the new President of LEND! Femke brings to the table a deep passion for economic empowerment and the energy required to lead an organization as dynamic as LEND. In Femke's own words: "I look forward to working with my tremendous team as we continue expanding LEND's positive impact in the Evanston community."
As the outgoing President of LEND, it is bittersweet reflecting on the journey LEND has taken during my tenure. I've grown more than I could have ever foreseen and have been amazed by LEND's trajectory. LEND is one of the few organizations that has the capacity, mission, and people to drive real change in our community. Having interacted with community leaders, government officials, Northwestern administration, students, and local entrepreneurs, this sentiment has been pervasive and is one we should be emboldened by.
Femke will have her hands full, as LEND is as busy as ever this Spring Quarter. We'll be having our annual Social Impact Symposium on May 16th. Speakers from the Obama Foundation, Google, and more will be attending and speaking to the topic of "How the Public and Private Sectors can Collaborate to Generate Social Good". Our Alumni Event will be the very next day, May 17th, and will celebrate LEND's 10 year anniversary.
Look forward in the coming weeks to a deep dive on our most recent loan recipient, Terry Level, who runs an Evanston based cleaning company called "Higher Level Maids". Terry typifies LEND's ideal client: bold, enterprising, and determined. Running a successful business while also raising three young children, Terry has taught myself and the entire LEND team important business and personal lessons. It is supporting these types of clients and interactions that makes what LEND does special and that makes your contribution invaluable.
Thank you,
Suhaib Khan
WARNING: Javascript is currently disabled or is not available in your browser. GlobalGiving makes extensive use of Javascript and will not function properly with Javascript disabled.
Please enable Javascript
and refresh this page.