Dear supporters,
It has been a while since we last informed you about our activities regarding the development of an indicator for solar radiation. We are interested in such an indicator because solar radiation is a very effective means to disinfect drinking water (see www.sodis.ch for more information on the SODIS method), and one of the factors limiting the widespread use of this method is the fact that radiation dose is difficult for laypersons to estimate. With a simple SODIS indicator, this hurdle may be overcome and thus the task of bringing safe drinking water to millions of people in the world made easier.
In 2010, we were invited by GlobalGiving to set up an open innovation challenge for such an indicator. The challenge was presented on one of the leading open innovation platforms (www.InnoCentive.com) and participation has been overwhelming. Among more than 70 entries we identified a winner, which at that time was a team of students from the University of Washington. Motivated by this success, the team then developed a business plan and in 2011 won an international business plan competition. During this time, the students set up their own company (PotaVida.org), which will now focus on the technical development of the indicator.
The key point in advancing the idea of a low-cost SODIS indicator is to produce it in large quantities. However, at the current stage, we want to try these indicators in the field and keep improving them, so we need small quantities. We expect the final price to be below 5 USD per unit and thus even cheaper than we originally anticipated. But for the moment, we are making small productions of prototype series, which are costly. However, we are confident that within a few months we will have a product which meets the needs of users and which can be produced massively.
Currently, we are negotiating with several groups who are working on the idea of a SODIS indicator in order to produce a next generation prototype which can be field tested. In the next few weeks, we will inform you about the results of these negotiations and the next steps of our project.
We also want to inform you about an important fundraising opportunity coming up soon: Between February 1 and 29, all donations received through www.globalgiving.org to our project will be matched by 200%! That is, for each dollar donated, Global Giving will add two more, thus tripling the amount you donate. We think this is a great opportunity to achieve a great impact and support this important initiative further. Please share this information with friends and families who may be interested in making a donation.
Best regards from the whole project team,
Matthias Saladin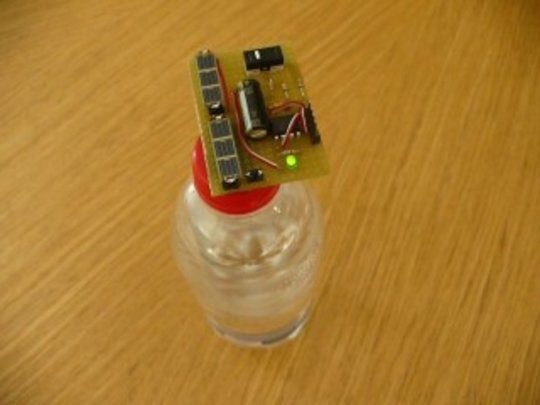 Links: