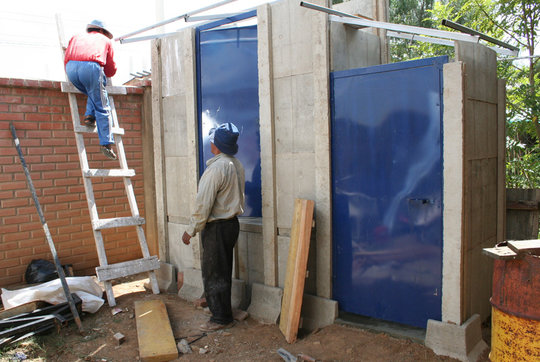 Dear supporters,

This is a short update from the SODIS Foundation and from the project to provide micro-credit to families in Cochabamba (Bolivia), which you supported in the past.
The big news is that the SODIS Foundation managed to sign an institutional agreement with two strong partners: KIVA is a world-leading non-profit organization with a mission to connect people through lending to alleviate poverty (www.kiva.org), and EMPRENDER is a Bolivian micro-finance institution focusing its work on supporting micro-entrepreneurs in the peri-urban an rural areas. Together with the SODIS Foundation, these two organizations now are launching a new phase of the project in order to help people and families to improve their water and sanitation conditions. The promotional phase is in full swing, with posters and fliers being handed out to potential customers at the offices of EMPRENDER. We are truly excited about this recent development, which shows that carefully testing and developing the mechanisms and tools for this project over the past two years were worth the effort.

On the technical side, important innovations were pushed ahead as well. As toilets are an important component of our project, we joined forces with a local company who produces pre-fabricated construction modules. With the use of these modules, it now is possible to construct a new toilet in 4 instead of 20 days - that's an important step ahead which also will help us reducing costs. The design is an Eco-Toilet, meaning that it will allow users to produce their own compost and fertilizers, rather than having to pay to dispose of a stinking cesspit. It also includes a shower, which will add additional value to the product and was a clearly expressed need of our pilot customers.
We hope that with these recent developments, we are not in a position to really bring to scale the projects. In only one week of full promotion, already five customers have gone through the whole process of credit application and approval, and dozens are still in the process.
Please feel free to let us know if this report was useful to you and what kind of additional information you would like to receive. We are always trying to learn and improve, and reporting to you is an important part of our work.
Looking forward to hearing back from you,
Best regards from the whole project team,
Matthias Saladin
Links: