The long-standing partnership between Global Giving and Surgeons of Hope remains a source of inspiration for us, our faithful donors, and Surgeons of Hope's program to provide access to first-rate cardiac care for infants and children in Nicaragua.
This past July, a Global Giving representative, and her mother, visited our Pediatric Heart Center in Managua to tour the modern facility and to meet the dedicated staff who are working with us to see that the hospital reaches its full inspired potential.
The Global Giving representative praised the experience of meeting with the director of the Heart Center. "A wonderful host; his enthusiasm was contagious as he showed my mother and me around La Mascota Hospital's brand new Heart Center in Managua. We were truly touched by the difference this state-of-the-art facility is making in the lives of Nicaraguan children and their families."
Summarizing our program, "Surgeons of Hope is providing an invaluable service to the people of Nicaragua, helping to ensure that children with heart-related complications have the same opportunity at a long and happy life that we often take for granted in countries like the United States. Access to quality healthcare continues to be a poignant issue in countries like Nicaragua, and Surgeons of Hope is helping to change that. Keep up the great work!"
Terming the visit a "privilege", comments included that the facility was exceptional, but the care providers were even more impressive. "You could sense the quiet competence, dedication, and honor of their work from every staff member we met. As we moved through the building, the Director and his fellow providers were unfailingly respectful, attentive, gentle and kind to each young patient, also to the palpably anxious but relieved and grateful parents hovering nearby. Despite being a hospital, the children's cardiac center felt like caring, and compassion, and hope. Our visit was inspiring and profoundly moving. I'll never forget it."
August brought a surgical mission from Colombia, South America, to provide surgery and continue collaborative training to the staff. September has brought a special event honoring the work of Surgeons of Hope at the U.N. in New York, where French, Nicaraguan, and Costa Rican diplomats praised our program and the very real progress we are making toward access to health care in Nicaragua.
This cannot be done without you, our Global Giving donors. We are profoundly grateful to each of you for your collective caring. If you are thinking of a donation of any size, this Wednesday will offer a chance to have your donation matched by Global Giving. Matching funds are available beginning at 6:00 am, Eastern time and continuing until the matching funds run out. So, the race is to the swiftest. If you can give something to us this week, do it on Wednesday morning.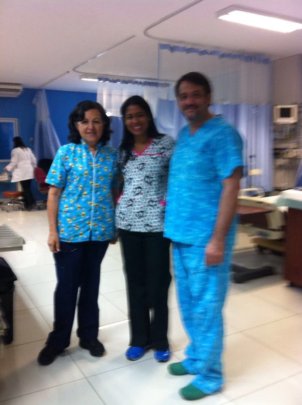 Links: