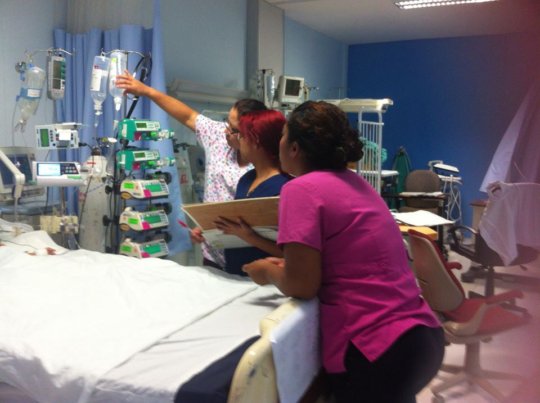 Sustainable progress is made real when a child with a heart problem gets urgently needed care at the hands of skilled surgeons and cariologists. That's what Surgeons of Hope continues to be about.
Since our Pediatric Heart Center opened in Managua, Ncaragua in 2012, progress has been steady, as has the loyalty of our GlobalGiving donors. We opened our modern facility on the grounds of La Mascota Children's Hospital. It boasts 2 operating rooms and 8 ICU units, all designed to bring developed-world care to the underprivileged children in Nicaragua, the 2nd poorest country in the Western Hemisphere.
The pediatric heart center has flourished, now attracting leading medical teams from Europe and South America. Each visiting team of 15 specialists volunteer to perform surgery, and while there, to train the local physicians and surgeons in complex procedures. This is a team effort, combining the talents of surgeons, pediatric cardiologists, nurses, perfusionists, and anesthesiologists. The result is healthy young children, returned to their families, free of the heart trouble that they were either born with or that they acquired due to something as simple to cure as a strep throat.
During this month (August, 2017) a team from Bogota and Bucaramanga, Colombia, will visit our heart center for a full mission of surgery and training. GlobalGiving donors are helping to make this mission possible, and for that we remain grateful. The mission will begin on August 12 and continue until the 20th.
In October, a team will travel to our heart center from the children's hospital in Madrid, Spain. You can imagine the progress this will bring. It's always best when Spanish-speaking teams visit, particularly when they are repeat visitors, renewing associations and friendships. Everyone benefits.
This week is International Youth Week beginning August 7 and continuing until August 12, designated as International Youth Day. The purpose is to do what we can to help children to reach their potential, the promise of a childhood free from heart worries. Children in the developed world have access to this promise. Surgeons of Hope is determined to deliver on that promise in Nicaragua.
When little Arlemis, and Angel, and other babies and children weakened by heart problems can walk free from their heart problems, then Surgeons of Hope has fulfilled its promise.
Please help us to continue that promise during International Youth Week.
Links: