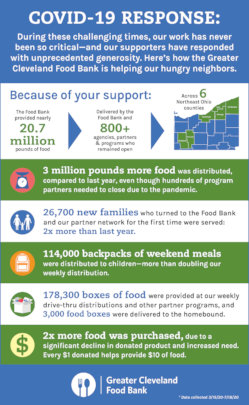 As the largest provider of emergency food in Northeast Ohio, the GCFB is uniquely positioned to support our community during this time of crisis. We are continuing to expand and augment our efforts to best meet the growing needs of our food insecure neighbors during the COVID-19 pandemic. We are serving thousands of individuals throughout our six-county service area, with many individuals turning to us and our partners for support for the first time.
Although we continue to serve an increased number of individuals every year, we know there are still many more people across our six-county service area who are eligible for our services, yet are not currently receiving them, including children, seniors and families from our most marginalized communities. As COVID-19 continues to create a growing urgency for food resources within our community, we know that many more people will turn to us and our partners for support in the years it will take for our clients to recover from job loss, economic hardship and more. We continue to be flexible and innovative in our approach to our program delivery and seek to find more ways to safely distribute increased amounts of emergency food resources to those in need.
We remain so grateful for your partnership, which has helped us to make significant progress in our work, even in the face of unprecedented challenges. Below please find an interim update of the accomplishments we have achieved thus far during our FY2020 emergency response to COVID-19 (March 15, 2020 – July 18, 2020):
Our Emergency Response to the Community
As we are able, we have been modifying and expanding much of our targeted programming so that we can continue to meet the unique needs of our most vulnerable populations while keeping clients, volunteers and staff safe. Below are some updates to our work:
Since March 19th, the GCFB has been offering weekly drive-through, non-contact distributions of shelf-stable items and perishable product. Due to a larger need for space, and to accommodate the increasing number of cars, we are now holding these distributions in the City of Cleveland's Municipal Parking Lot. Each week, we typically serve an average of 1,600 households and distribute between 90,000-120,000 pounds of nutritious perishable product and shelf-stable items. We plan to keep hosting our Cleveland distributions as long as there is a need, and will continue to make changes as they are necessary.
We have expanded our Backpacks for Kids program to run throughout the summer months, which provides take-home bags containing six-child friendly meals per student. At our peak, we were distributing approximately 9,100 backpacks each week – nearly double what we would provide in a normal week. Traditionally this program would pause for the summer, but as part of the program expansion, we have extended it to run through August and will continue to provide 7,500 Backpacks per week. Additionally, we have been using two of our GCFB trucks to deliver meals to 16 locations each week in underserved communities. Summer Feeding generally provides one meal per distribution, but through our trucks, we are providing each child with one prepared breakfast, two prepared lunches, and a backpack with six shelf-stable meals.
We are also continuing to work with our 820 partners that remain open at this time - helping to provide food for their respective distributions, including emergency resources in order to help them continue to serve so many in-need at this time.
Prior to COVID-19, our Help Center fielded on average about 100 calls a day. Now with the great need brought on by this pandemic, our Help Center has been fielding calls at approximately three times its normal daily volume, with peaks in March as high as ten times the daily volume. In addition to providing application assistance, this team has been helping to coordinate our home deliveries and now our Summer Feeding distributions using our two outreach trucks. They have also been working to connect clients with food pantries and resources in their area that remain open and helping individuals without computer access register for our weekly distribution.
The GCFB remains committed to our mission to ensure that everyone in our communities has the nutritious food they need every day. Through the generosity of individuals, corporations, foundations and civic groups, we have had the opportunity to help support the emergency needs of the community in addition to investing in our programs and our partners. Your giving is critical to making our work possible and we value your support. As stewards of these important contributions, we will do our best to keep you informed of our work and your impact to our efforts. Should you have any questions, we encourage you to reach out to our team.
Links: