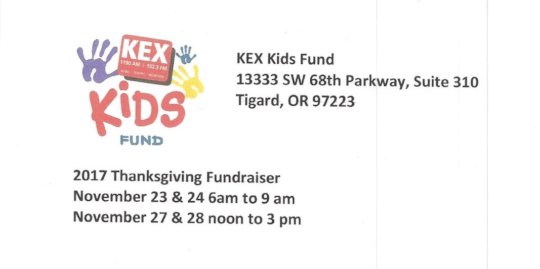 Dear Donors,
Thank you GlobalGiving donors for your generous support this year! Several donors have set up recurring donations and we appreciate this ongoing support. Thank you, too, for helping us to continue to provide vision and hearing care for all eligible children requesting our help!! As we mentioned in previous reports, in addition to meeting our goal the KEX Kids Fund was selected to receive a National Outstanding Service Award from the NAB Education Foundation for Service to Children presented in Washington DC on June 16, 2015!! In addition to this National Award, the KEX Kids Fund received local recognition by the Oregon Lions Sight and Hearing Foundation as their Partner of the Year at their Gala Award Dinner on October 3, 2015. The award was presented by Dr. Eric Jones, Legacy Health Systems. Thank you again for your help to make this recognition possible!
In 2016 year your support helped us raise $237,886.01 (including payments from our November 2016 pledge drive) to provide both hearing and vision care for needy children in Oregon and SW Washington. Most of our operating expenses for 2016 were pledged and collected during our annual Thanksgiving Fundraiser. In November 2016, we received $124,470 to be used for our $175,000 budget for 2017. To date we have received $169,160 from 2016 Fundraiser pledges. We are very pleased with this support as the radio time for the fundraiser included only the four morning broadcasts and not the two afternoon commuting time broadcasts which have historically brought in $15,000 to $20,000 in pledges. Our funds are kept in one account and are used for both of our Hearing and Vision Care programs. During the first three quarters of 2017, we received $54,568 to be used for both our Hearing and Vision Care programs that include pledges from our 2016 Thanksgiving Fundraiser. Please see attachments for details about our 2017 Thanksgiving Fundraiser. This is an opportunity for you to call in and talk to our local volunteers about our program and make a donation.
We also added four counties in Oregon and Washington to our vision and hearing programs: Crook County in Oregon to Vision Care and Lane County in Oregon to Hearing Care; Klickitat and Walla Walla Counties in Washington to Hearing Care.
Hearing Care Program Services expenses for the first three quarters of 2017 were $21,865 and the KEX Kids Fund provided care for 40 children. These children received hearing care services valued at over $80,000. Our board member, Sherry Brown, is keeping the KEX Board updated on state funding changes and suggesting ways that the KEX Kids Fund can continue to serve children in need of hearing care services. Sherry encouraged another ESD audiologist from the Salem area, Glenda Smith-Fowler to join our board and they have recruited additional audiology providers to provide services to our children to bridge some of the gaps from Oregon ESD funding cuts. Sherry and Glenda are helping us consider options for providing hearing care to needy children outside our current 24 county service area. We currently have 16 audiologists supporting our hearing program.
We recently received an $8000 request to create a bank of loaner hearing aids for children (birth to high school graduation) from all over the state. Funds were used for a one-time purchase12 behind the ear type hearing aids and 3 bone conduction type hearing aids, including a 3 year warranty for repair and 3 year warranty for loss or damage and mailing costs. So far in 2017, we have 6 behind the ear hearing aids and 2 bone conduction hearing aids on loan to 5 children.
Throughout the year we receive thank you notes and photos from our hearing care children. We attach copies of these items to our reports. Thank you again for helping us to bring sound to needy children in Oregon and SW Washington.