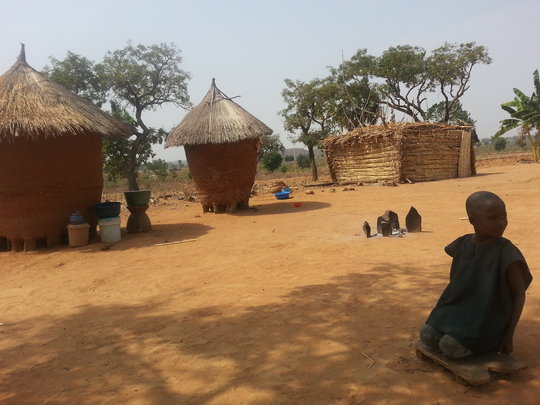 For this end-of-year update, we bring you the story of how your donations saved the life of Malik, a six year old boy (see attached picture) who lives with his parents in one of the scattered remote settlements around Faje village. Our team was moved by the resilience of Malik's mother who hoped against all odds when Malik was attacked by malaria. Residing in a remote settlement where no health facility or trained health personnel exists, Malik's mother had resigned the situation of her child to fate when he came down with malaria. Fortunately for her, this period coincided with the scheduled period of our mobile clinic team's outreach visit to Faje. Hope came in the horizon as soon as a neighbor announced to her that the Mobile Clinic Team had arrived Faje, the village neighboring her settlement. However, by the time she brought Malik to the Mobile clinic post beside the village head's palace, the line of waiting patients had swelled with hundreds of women and their babies already lined to be attended to by the consulting physician who led the Mobile Clinic Team.
Rather than despair or turn back, Malik's mother persevered and quietly stood on the queue for over three hours. When it finally reached her turn to present her child to the consulting physician, she narrated her ordeal, and told the doctor that Malik had been running high fever with occasional vomiting for five days before presentation, and was slowly slipping away as his health condition continued to deteriorate day after day since the illness began. Unfortunately she and her husband could not afford to take them to the nearest rural hospital facility in the township due to lack of routine transport services to convey Malik, as well as the anticipated unaffordable medical bill if they succeeded in making the trip.
After medical consultations and laboratory test using a rapid diagnostic kit, Malik was diagnosed of acute malaria with associated anemia (reduction in red blood level due to breakdown of red blood cells probably due to delay in treatment). He was placed on Artesunate Combination Therapy (ACT) at no cost to his parents. Five days later, young Malik made a full recovery. Malik's parents were full of praise and gratitude to all those who donated and supported the malaria clinic outreach; for providing life-saving health services to poor and vulnerable families like theirs right at their door-step.
Just like Malik's parents, outreach after outreach, mother, fathers, parents and communities continue to express their profound gratitude and appreciation to you our donors for saving the lives of their children, for reaching out to them with your heartfelt donations that enables us continue to serve them. On behalf of these families and communities, we express our deepest appreciation you our donors, for your enormous financial support and donations, which for most part has been recurring; you have donated over and over again to this project.
This December, we reached and crossed the 16000th child with malaria treatment and 3000th nursing mother with Insecticide Treated Nets (ITN); thanks to your generous donations over these past years. That means about 16000 more children's lives saved!
Just imagine how many more children would have died of malaria without your donation?