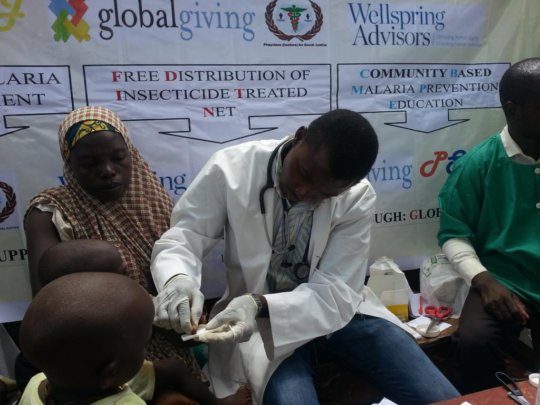 For this reporting period (Q1 2017), our malaria outreach team revisited Kwati village, a small village in rural Mashegu, which lacks modern health infrastructure and health personnel. The only village health volunteers in the community are those training by Physicians for Social Justice, PSJ, to provide essential first aid services to vulnerable children and families affected by HIV under the REACH project (Rapid and Effective Action Combatting HIV, which PSJ implemented in the community between 2011 and 2014).
As is the usual practice, our team paid courtesy visit to the village head and his council of elders on arrival. The village head and elders welcomed the malaria outreach team and expressed their gratitude to all the donors who made financial donations that enabled their people to benefit from the project. Thereafter, the outreach team proceeded to the village square where the community members and patients were already gathered and anxiously waiting. In order to provide maximal health benefit to the community members, the outreach was synchronized with other health promotion packages including distribution of multivitamins to pregnant women and lactating mothers; Albendazole (deworming treatment) and vitamin A supplementation for children under-five (made possible thru donations from Vitamin Angels) ; as well as HIV Counselling and Testing (HTC) offered to all community members.
Our outreach medical team comprised a consulting physician, two nurses, laboratory technician, and one pharmacy technician, provided both preventive and curative malaria services to both children and pregnant mothers free of charge. All cases of fever among children and pregnant women that presented to the consulting physician during the outreach were subjected Rapid Diagnostic Test (RDT) to diagnose malaria. Those who tested positive were immediately provided with the full course of Artemisinin Combination Therapy (ACT), made possible by you, our donors.
Also, Long Lasting Insecticide Treated Nets (LL-ITNs) were distributed free-of-charge to pregnant women and households with children under-five.
Immediate results of the outreach include;
54 children who presented with fever (24 male and 30 female) were tested for malaria using RDT kit, 38 children (15 and 23 female) tested positive for malaria, and they were treated with full doses of Artemisinin Combination Therapy (ACT).
98 LLINs was distributed to households having under-five children, pregnant women and nursing mothers.
34 pregnant and nursing mothers who presented with fever were tested for malaria using RDT kit, 24 tested positive for malaria, and they were treated with full doses of Artsemsinin Combination Therapy (ACT) free of charge.
165 households received malaria prevention education with specific focus on behaviour change and environment sanitation. Trained IPC facilitators used the local dialect to educate community members on how malaria is transmitted, early signs and symptoms, the role of mosquitoes, the need for early diagnosis and treatment especially for children and how malaria attacks can be prevented through environmental sanitation.
At the end of the malaria outreach, community members expressed their deep grateful to all those who made the malaria outreach possible, most especially all our global giving donors. A 26 year old mother testified as follows- "During your last visit to our community some months ago, my two-year old son was having persistent fever for four days. We treated him with local herbs but the fever had persisted. I did not know what to do, and was already losing hope until the malaria team visited our village that fateful day. The doctor tested my son and said that he is suffering from malaria. The doctor gave him some medicines, and asked that I give him the rest at home for three days. The medicines worked like magic, the fever disappeared by the second day. My son has now fully recovered. They taught us that people who sleep under ITN are less likely to suffer malaria attack, and I make sure he sleeps under and ITN now, which was also given to us by the malaria team. They did not collect any money from me or the other women. Everything was given to us free of charge. They said some good people have already paid for the medicines and the ITNs. May God bless those who donated the medicines and the sleeping nets to us".
Once more, the testimonies of beneficiaries such as the 26 year old mother goes to show the depth of the impact of your donations in the lives of people in these communities we serve. Your donations made it possible for us to procure medical supplies such as the Insecticide treated Nets, malaria medicines including ACTs as well as pay for transport costs for the malaria team to reach these remote rural villages. Those five, ten dollars, and 200 dollars recurring donations, have added up to make such a huge difference in the lives of dozens of these poor rural dwellers. Your donations will save the lives of dozens of infants and young children as this year's rainy season beckons; the period when malaria attack and deaths are highest.
Thank you very much for your generosity even in this hard economic period. Remain blessed!