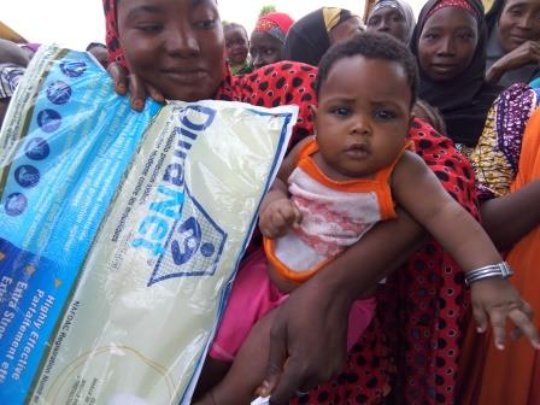 "With this Long Lasting Insecticidal Net (LLIN), my infant daughter now has a chance to live through her first and fifth birthday and beyond. I have witnessed the deaths of other young children in our village, who developed high fever and convulsions and succumbed to their illness, which was most likely malaria. Thank you Likita (Doctor) for giving us this mosquito net (LLIN), help us to thank all those who provided the resources for you and your health team to visit our community. We cannot thank them enough". The above statements were the elated remarks of the mother of eight (8) month old baby Hannatu, who was among the beneficiaries of our LLIN distribution and malaria treatment outreach under the 'Preventing Childhood Malaria Deaths in rural Mashegu' project of Physicians for Social Justice, PSJ. In early July 2017, our mobile health team conducted an integrated malaria outreach visit to Hannatu's community, Kawo, a rural village inhabited mainly by poor peasant farmers who are daily confronted with poor health and sanitation facilities, that often results in preventable deaths among infants.
Having witnessed firsthand the devastating impact of malaria in the lives of infants and young children, Hannatu's mother fully appreciates what difference just one Long Lasting Insecticidal Net (LLIN) can make in the life of her infant daughter. So, when she heard the village announcer going round the village to announce the arrival of PSJ's outreach health team, she hurried to the village square to stand in the LLIN distribution queue and waited patiently until she received one. She was extremely elated, and could not hide her joy. Like Hannatu's mother, hundreds of mothers in rural Mashegu recognize that receiving an LLIN or timely malaria treatment for their sick children, is often what makes the difference between life and death for their infants and young children.
The outreach to Kawo village offered both preventive and clinical health services that included the use of Rapid Diagnostic Test Kit (RDT) to confirm malaria case, distribution of Long Lasting Insecticidal Nets to children and pregnant women, treatment of malaria confirmed cases with Artemisinin Combination Therapy (ACT), as well as health talk on environmental hygiene targeted at malaria prevention.
A total of 104 sick children and 52 adults including pregnant women tested for malaria using RDT kit. Of this number, 56 children (30 males and 26 females) tested positive for malaria, and were treated with Artemisinin Combination Therapy (ACT). Also, 120 LLINs was distributed to households having under-five children, pregnant women and nursing mothers.
The integrated nature of the outreach also enabled the health team to administer Vitamin A supplementation and de-worming medicines (albendazole) to children under-five. Also, 113 adults (26 men, 63women, mostly pregnant women) received HIV testing and counselling.
For some of the project beneficiaries in Kawo and other villages we recently visited, including pregnant women and children, it was the first time they had an LLIN either of their own or for their infants/ young children. Because of this project, tens of hundreds of children in rural Mashegu and surrounding villages achieved the milestone of witnessing their fifth birthday alive. Because of this project, thousands of nursing mothers were saved the nightmare of sleepless nights due to high fevers, convulsions and associated complications attributable to malaria.
This malaria health outreach to Kawo community was sponsored chiefly from the massive donation we received via the Ford Foundation Matching Gift Program which was made possible by our staunchest supporter; Bess Rothenberg, PhD, who also continues to make recurring personal donations to this project. We also acknowledge the immeasurable contributions of all our other donors whose donations have made it possible for us to procure medical supplies including Long-Lasting Insecticidal Nets, malaria medicines (Artesunate Combination Therapy, ACTs), Rapid Diagnostic Test Kits as well as to pay for transport costs for health workers (community physicians, nurses and midwives, pharmacy & laboratory technicians) to reach these remote rural villages to provide life-saving clinical and preventive health services. On behalf of the communities we serve, we thank you immensely for all your donations and support to this project. The testimonies of project beneficiaries such as the mother of 8 month-old Hannatu demonstrates beyond doubt, the positive health outcome and impact of your donations to the health and wellbeing of children in these rural communities. Thank you very much!