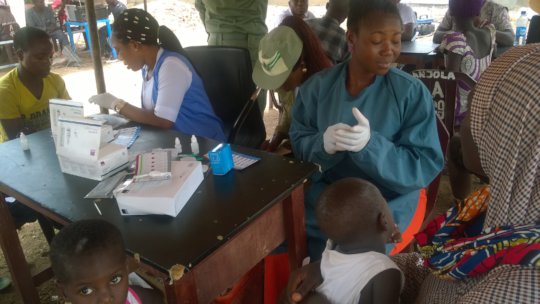 In continuation of our malaria prevention and control activities, PSJ's medical team visited Tegina, a rural community in the central district of Niger State. The team conducted an integrated malaria and other endemic disease medical outreach. This outing was particularly important given that this is the period of rainy season with the resultant increase in the malaria vector (female anopheles mosquito) breeding sites that inevitably leads to more malaria cases and attacks among children and pregnant mothers. Tegina being one of the poorly-resourced communities in rural niger State, continues to struggling with inadequate health care resources.
During the outreach, over 650 community members received malaria prevention education, including environmental sanitation and the importance of sleeping under an insecticide treated net especially for under-five children and pregnant women who are most vulnerable to malaria attacks and malaria related deaths. With the assistance of the new Rapid Diagnostic Test technology, our team was able test and treat 160 children and 37pregnant women who tested positive for malaria. Our team also offered pregnant mothers malaria prophylaxis and treatment.
In addition, community members were also treated for other common ailments such as diarrhea, respiratory tract infections, typhoid fever and other common ailments. Our team also distributed Vitamin A supplementation and deworming for all under-five children that presented during the outreach. Pregnant women and other community members (145 ) were also provided HIV testing and counselling services. It was a well synchronized package of malaria and other medical clinical services.
As the medical team rounded up activities on that day, we were wondering aloud how many more children would have succumbed to malaria attack in Tegina community without the support our donors who provide all the resources to sustain this malaria outreach project. It was a day that will linger in the memory of Hadiza, the mother of 3year old Nasiru for a long time. She heard about the outreach through the village announcer and hurried to present Nasiru to the medical team on the day of the outreach. Nasiru had been very sick and having a running battle with recurrent episodes of high fever two days before he was presented to the outreach medical team. Young Nasiru tested malaria-positive using the rapid test, and was immediately commenced on a three-day therapy with artesunate combination therapy (ACT), without his mother paying a dime. He made a complete recovery two days later, as corroborated later by his mother.
Community members were full of gratitude for the free medicines and malaria testing. On behalf of the communities we serve, we express our sincere gratitude to all our donors who made financial contributions to this project so far. We know some of you have donated over and over again to this project. Gradually, we are inching towards achieving our overall goal.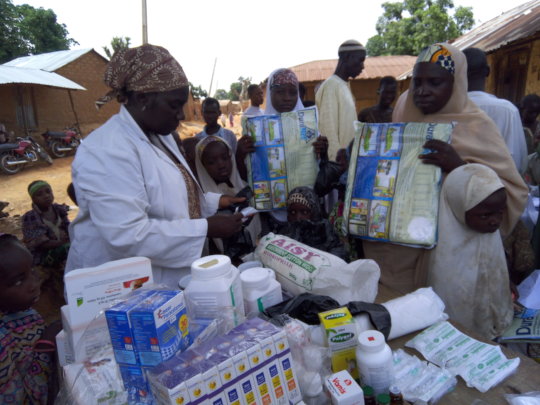 Within this reporting period, in December 2017, PSJ's mobile health team revisited Kawo-Kontagora community and their vulnerable households with targeted malaria prevention education, prophylaxis, testing & treatment services, and insecticide treated nets distribution. The outreach visit provided another opportunity for the malaria team to reinforce already delivered messages to families about ways of malaria prevention. Our health team continued to emphasize and educate families especially nursing mothers on how to recognize early symptoms and signs of malaria and on the need for sick children especially the under-five children to be taken to health facilities to receive prompt medical attention. This is particularly important because most of the deaths due to malaria among under- five children in the communities we serve are due to delays in instituting treatment for such children. Thousands of young children who suffer acute attacks of malaria frequently develop complications such as anaemia and convulsions, because they do not receive prompt treatment, and such complications are usually the cause of their death.
Our health team delivered health talk to the villagers on the importance of sleeping inside insecticide treated nets, which our team had already provided free of charge to most of the households during our previous visits. Pregnant women were educated on the dangers of malaria for themselves and their unborn babies, and had the opportunity to be tested for malaria using the rapid diagnostic test kit for malaria. A total of 375 community members received health education, 62 nursing mothers and pregnant women had RDT tests and 50 ITNs were given out to nursing mothers and pregnant women. 42 sick children who tested positive to malaria were treated with artesunate combination therapy (ACT), while 34 pregnant women received antimalarial drug prophylaxis, administered by the primary care physician who accompanied the mobile health team.
Community members were very grateful to the team and our donors for remembering them once again, even as they expressed delight at the ITNs given to them free of charge. On behalf of these communities we serve, Physicians for Social Justice expresses our deep and profound gratitude to all our donors who have contributed to this project. We know some of you have donated over and over again to this project. Your donations have saved thousands of lives, and just imagine how many more children would have died of malaria without your donation last year. Your donations added up to raise over $9000USD in support of our work in 2017. May the year 2018 bring fulfilment and prosperity to all of you.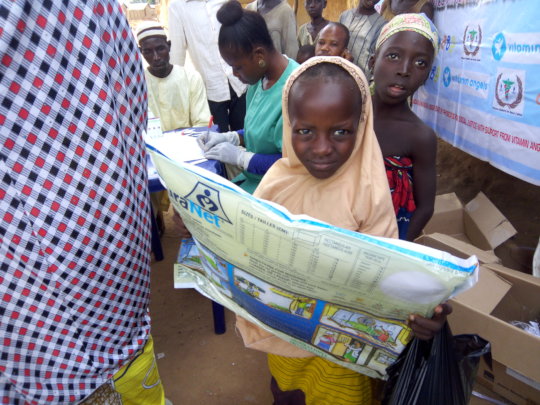 As we approach the end of the rainy season, we can only be grateful to all our donors for your generosity these past months in supporting our malaria team with the required medicines, diagnostic tools and medical supplies that enabled us effectively serve the communities that form part of our catchment areas for were malaria control efforts during the peak rainy season, when malaria transmission and deaths are usually highest. Through your generous donations and support, we reached 2400 families and households in eight rural villages with targeted malaria interventions including free distribution of insecticide treated nets, malaria prevention education and chemoprophylaxis. Our service delivery efforts were focused mainly on pregnant women and under-five children who are among the most vulnerable groups to malaria attacks and deaths in this region. We also boosted malaria prevention health behaviours among vulnerable families residing in remote rural villages that we have prioritized in our work. Nigeria's malaria statistics shows that more than 50percent of pregnant women will have at least one episode of malaria during pregnancy which in some cases progresses to severe anemia-in-pregnancy (low blood levels in the body, resulting in increased risk of maternal and child deaths.
During our last outreach in rural Kontagora, our team treated 154 children for malaria attack using artesunate combination therapy (ACT), and also provided 42 pregnant women with Intermittent Prophylactic Treatment (IPT), as recommended by World Health Organization. The malaria team also educated caregivers about the importance of environmental sanitation (clearing bushes around their houses and not leaving any standing objects that could collect stagnant water), early clinical signs and symptoms, the role of mosquitoes, the need for early diagnosis and treatment and using insecticide treated nets, as well as the importance of seeking early treatment at the earliest suspicion of malaria (fever and or generalized body weakness), from the two trained community-oriented resource health volunteers resident in their communities.
On behalf of the children and communities we serve, Physicians for Social Justice is immensely grateful to all our donors for donating generously to our malaria project through GlobalGiving platform. We thank you very much for your generosity. We thank you in a special way for donating over and over again to this project. Indeed, this Preventing Childhood Malaria Deaths Project has come a long way. In the coming months, we shall be telling you the extent of the impact you have made in the lives of children and people in the communities we serve over these past years. We are indeed very grateful. The children, women and the entire villagers are very grateful as well. Because of you, we have beautiful testimonies from the likes of Salamatu, a 22 year old - "Thank you for visiting our village with your health workers and free medicines for our children. Now that I have been given a mosquito net ( ITN), I will have less to worry about malaria for my 1-year old son again. Thank you for treating diagnosing and treating her for malaria free of charge. We thank all who paid for the nets on our behalf".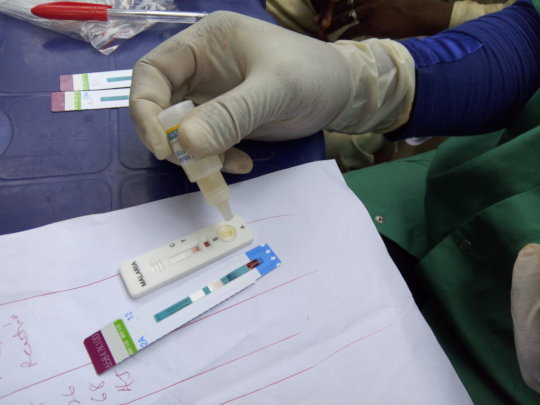 WARNING: Javascript is currently disabled or is not available in your browser. GlobalGiving makes extensive use of Javascript and will not function properly with Javascript disabled.
Please enable Javascript
and refresh this page.