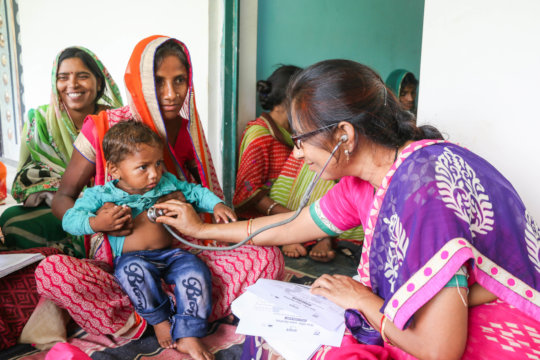 Dear Friend,
Seva Mandir organizes community-based camps to provide Severe Acute Malnourished (SAM) Children from highly-remote areas in Rajasthan, India with medical care and treatment.
Malnutrition is a significant issue effecting children throughout Rajasthan. Government data shows only 3.4% of children aged between 6 - 23 months receive an adequate diet & 61% of children are underweight. People tend not to see malnourishment as a medical problem so do not seek treatment. When they do, hospitals are located far away, and parents lose vital income when they take children for treatment. Seva Mandir's intervention reaches children aged from 7 months to 5 years old from poor rural and tribal families. Our Doctors & nurses provide treatment for SAM children with Ready-to-Use-Therapeutic Foods & routine medical care. SAM children who have larger medical complications are referred to hospitals for more intensive treatment. Seva Mandir runs 40 camps a year, providing approx. 700 children with life-saving treatment.
Lakshmi, a young and vivacious 4-year-old girl, has experience of medical care administered through Seva Mandir camps. Sharing Lakshmi's story is her parents; Inder, her father, who is an agricultural labourer takes care, alongside his wife, of Lakshmi and her younger sister. Despite their efforts, both daughters suffer from malnutrition from combined causes of infrastructure absence and rural poverty. Lakshmi and her sister accompany each other to Seva Mandir's camps, where vital care is given from nurses and a Balsakhi (children caretaker trained by Seva Mandir).
Like many other infants in her village, Lakshmi used to be a patient of diarrhoea caused by malnutrition through decreased nutrient absorption. She receives two daily meals from the Seva Mandir caretaker ensuring her dietary requirements are met by providing her with carbohydrates, protein, iron and other vital minerals. Now, Lakshmi weighs 12 kgs, showing she is well nourished and with continuous striving from family and nurses she will soon live a healthy and prosperous life.
Lakshmi also attends Seva Mandir' Balwadi (pre-school) and is enjoying the start of her education. At the Balwadi, she involves herself in daily fun activities like building blocks, learning numbers, and playing with other children of her age. When asked what Lakshmi wants to be when she grows up, she answered that she would like to become a nurse. This shows Lakshmi has grown into an ambitious girl and reflects many stories of children growing up to give back to their own communities that helped them.
Thank you for your support and for the confidence that you have placed in us. Lakshmi's story and many others like hers would not have been possible without the help of donors. Through further intervention we will see a reduction in cases of malnourishment in rural areas, along with increased awareness of early prevention. When children have recovered from malnutrition, their general health and happiness improves which in the long term will enable them to focus on their education. We run follow up systems, where Seva Mandir's community health workers will visit children who have benefited from the camps to ensure they have not relapsed into further malnourishment.
Thank you so much.
Regards
Atul Lekhra and the Seva Mandir Team
Follow us on www.facebook.com/sevamandir
Links: