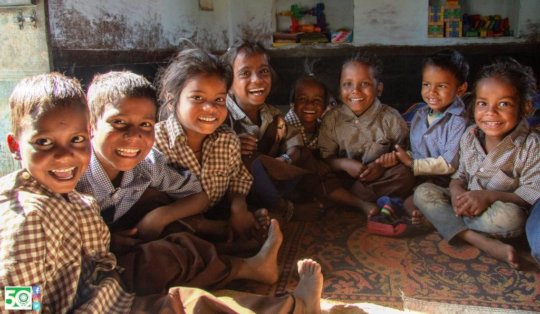 Dear Friend,
Wishing you and your family a very Happy New Year!! May this New Year brings with it an abundance of joys and infinite happiness to you!
Thank you for your support to our project 'Fighting Malnutrition Through Child Care in India'. Your support is bringing real changes in the lives of small children.
Seva Mandir, which was initiated in 1968, works in more than 1300 tribal villages of Rajasthan with the mission of ensuring that the poorest members of the society have access to quality education, health care and stable livelihoods by empowering every individual to create a true democracy.
One of the most vulnerable groups with which Seva Mandir works are young children. Huge poverty faces parents to work to make ends meet and so often mothers of young children are unable to look after their children properly. Either the mothers have to carry young children to agriculture field, forests or labor sites or leave them in the care of elder siblings who themselves are quite young. As a result, children suffer from lack of security, care, health and full development. Seva Mandir runs Balwadis, day care cum pre-school centers which provide care, health and pre-school education to such children.
Ghanashyam attends a Balwadi located in Kotra block, one of the poorest areas of India. The instructor of the Balwadi was told by a Balsakhi (woman trained by Seva Mandir to provide care to children) that the child was malnourished and the mother was leaving him at home while she worked in the fields. The Balsakhi told the instructor that the child was not being looked after properly and was in desperate need of the day-care service which the Balwadi provides. The instructor went to Ghanashyam's house to talk to his mother, Bhuri, who was at first sceptical about leaving her child in the care of another person not from their family.
She gave excuses and avoided the Instructor, but he was determined that the child required appropriate care. After some persuasion, Ghanashyam was enrolled in the Balwadi in July, 2018. He was given fresh porridge with hot oil poured over it for extra nutrition and he receives a daily spoonful of iron supplement and six-monthly doses of Vitamin A.
When Ghanashyam enrolled in the Balwadi, he weighed 6.5 kg. In September 2018, after two months of regular care and nourishment, he weighed 7.5 kg. He is now in the 'well-nourished' category and his mother Bhuri is grateful that she decided to send her son to the Balwadi regularly so that he could become healthy and beat malnutrition.
It is due to generous support from friends like you Seva Mandir has been able to run these Balwadis. Currently 178 Balwadis are operational in tribal areas of southern Rajasthan reaching out to 5000 underprivileged children. A donation of $10 from you will help us in providing life saving nutritious meals to 1 child for 3 months. We look forward to your continued support.
Seva Mandir is delighted to congratulate long-time academic collaborators and supporters of its work, Professors Abhijit Banerjee, Esther Duflo and Michael Kremer, who have been awarded the 2019 Nobel Memorial Prize in Economic Science 'for their experimental approach to alleviating global poverty.'

Seva Mandir's research association with Abhijeet Banerjee, Esther Duflo and Michael Kremer began in 1996, you can find out more here https://bit.ly/2YUO9aJ.
Thank you again for your generosity in choosing to support our project.
Best Wishes

Atul Lekhra & the Seva Mandir Team

Follow us on www.facebook.com/sevamandir
Links: