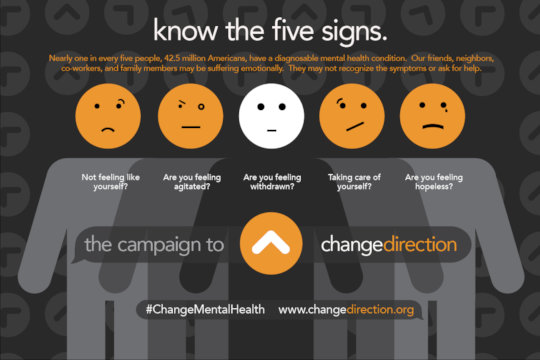 "There's an issue in our country about mental health in general. It's not just in the military. But we as a nation don't do very well in responding to mental health needs within ourselves and our families. We need options."
- Dr. Barbara Van Dahlen, founder and president, Give an Hour
1 in 5 Americans has a diagnosable mental health disorder - but only 40% receive the help they need.
More Americans are expected to die this year by suicide than in car accidents.
According to the World Economic Forum, mental illness will account for more than half of the economic burden of disease over the next two decades – more than cancer, diabetes and chronic respiratory diseases combined.
"Give an Hour is harnessing an entire profession that has the skills needed to respond. We are reaching those who are serving and those who are struggling and make it easy for them to prevent a whole generation of suffering."
- Dr. Barbara Van Dahlen, founder and president, Give an Hour
The majority of our active military and veterans return to our civilian world with new skills and a sense of purpose for their lives. Unfortunately, thousands returning home struggle with wounds we can't see: anxiety; depression; post-traumatic stress; and traumatic brain injury. Though their service and injuries may have occurred decades ago, our veterans still suffer.
Each day, 20 veterans end their lives by suicide. Almost 40,000 veterans are homeless, with more than 13,000 unsheltered or living on the streets, and more than 181,000 are behind bars, most often resulting from their hidden wounds and emotional suffering.
Since 2005 Give an Hour has harnessed the expertise of volunteer mental health professionals. Our network of 7000 mental health professionals have given over 250,000 hours of care, valued at $25,000,000.
"Here is what we know for certain: mental health is not a military issue, a guard issue, a veteran issue; it's a human issue." - Dr. Jill Biden
Since 2015, we've been working to change the culture of mental health in America and around the world through the Campaign to Change Direction, so that all of those in need receive the care and support they deserve. The Change Direction initiative is a collection of concerned citizens, nonprofit and private sector leaders, who have come together to change the culture about mental health, mental illness, and emotional well-being.
The Campaign encourages all Americans to pay attention to their emotional well-being. It reminds us that our emotional well-being is just as important as our physical well-being. It encourages us to practice healthy habits for our emotional health just as we practice healthy habits to keep ourselves physically fit.
As a society, we don't openly acknowledge, discuss or address our mental well-being – nor do we value our mental health the way we do our physical health.
If you recognize that someone in your life is suffering, now what?
You connect, you reach out, you inspire hope and you offer help.
By harnessing the skills and generosity of citizens across our nation and around the world, Give an Hour provides those in need with help and hope.
Please support us. Thank you.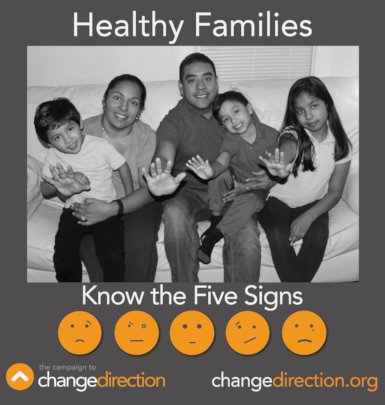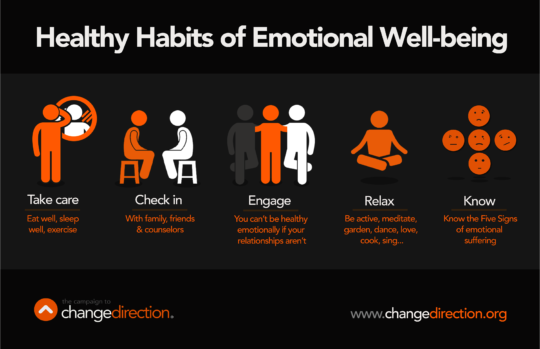 Links:
Attachments: