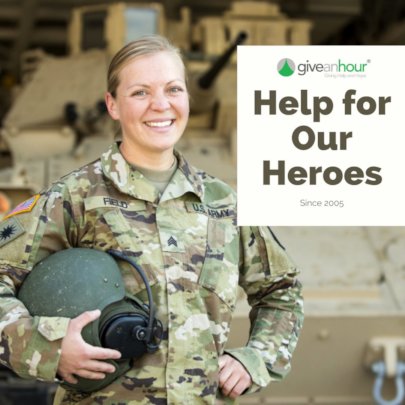 Dear GlobalGiving Supporters,
2020 was an extraordinary year for all. With COVID-19 gripping the world, nearly half of Americans report that the coronavirus crisis has harmed their mental health. Before COVID, 20% of Americans suffered from a mental health condition during any given year. But those numbers have doubled during the pandemic, with over 40% of adults now reporting depression, anxiety and substance use problems. Suicidal ideation is up among young people, with 1 in 4 people ages 18-24 yrs. seriously considering suicide in the prior 30 days.
The need to care for emotional health during this pandemic is as important as caring for physical health.
Through our network of 4,500 licensed mental health professionals who volunteer their services, Give an Hour has provided over 330,000 hours of free care to veterans, U.S. service members and their families.
In addition to addressing increased needs for mental health services in the military and veteran communities due to COVID-19, Give an Hour started a new program to provide free counseling to COVID hospital workers through our Hospital Heroes and First Responders First programs. And, since our clients have been unable to see therapists in person, we doubled the capacity of our volunteer mental health professionals to provide virtual counseling.
"I didn't realize how much I was truly struggling until I met with my provider." – Give an Hour client
Our Hospital Heroes program offers free mental health treatment to front line hospital workers and their loved ones. The treatment is available to both clinical personnel and non-direct care hospital employees.
"I was having a lot of anxiety and anger through it all. Talking to someone about my experiences and what was going on truly has helped me." - Give an Hour client
Give an Hour launched the Emotional Life Skills (ELS) training program, a psychoeducational group model about early identification of emotional suffering, self-care and the use of support systems. Due to COVID, we converted ELS to an online format, and continue to deliver it in diverse venues including hospitals, schools, prisons, and for victims of gun violence and wildfires. We are currently rolling out a version for businesses called ELS at Work, which will be widely available in fiscal year 2021.
Looking ahead to 2021, Give an Hour will focus on the three pillars that support our 15-years of success of providing free and confidential mental health care to the military and veteran community.
Increasing access to free mental health services for high risk populations
Providing mental health education for early identification and prevention of emotional suffering

Changing the negative culture of mental health
Give an Hour (GAH) is a small mental health nonprofit with a big impact nationally, and we are very engaged in helping during this pandemic. Our work to help improve the mental health and emotional wellbeing of all.
We are grateful to the generosity of our GlobalGiving donors. I look forward to sharing Give an Hour's accomplishments with you on a more regular basis. To that end, please sign up for our newsletter at https://bit.ly/2UXoVY2
We know that times are tough right now, but please consider donating to Give an Hour so that we can continue to maintain our vital programs. Thank you.
Stay Safe,
Randy Phelps, PhD, CEO Give an Hour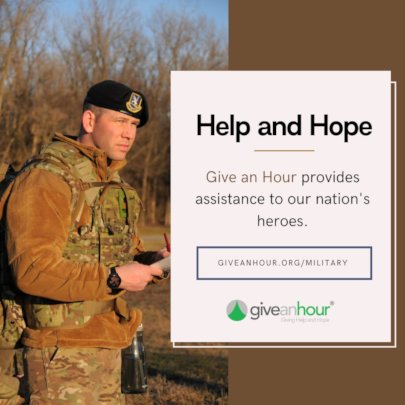 Links: