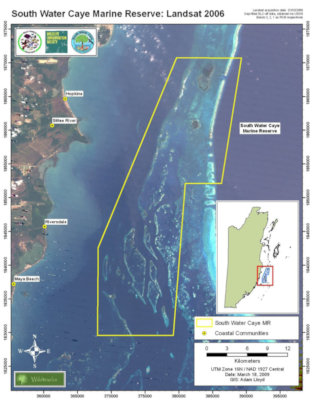 Moving through the south side in Belize, we find ourselves in South Water Caye Marine Reserve, located on the shallow reef platform of the Atlantic coast of Mesoamerica and part of the Mesoamerican Reef. It is the second largest marine reserve in Belize, covering 117,875 acres (approximately 47,700 hectares) of mangrove and coastal ecosystems, stablished in 1996 by the Belize Fisheries Department (BFD).
The Belize Fisheries Department under the Ministry of Agriculture, Fisheries, Forestry, The Environment and Sustainable Development, is the manager of this great reserve.
As part of the Lionfish Strategy, BFD lunched a lionfish awareness program that entails a lionfish tournament and an awareness campaign. As part of the awareness campaign BFD lobbied with the Dangriga Town Council, to merge their September celebration activities along with the BFD efforts to spread awareness on the lionfish threats, marketability, safe handling and consumption.
Being able to participate in the Dangriga Marketing Day and September Celebrations Kickoff, the BFD Education and Outreach Officer prepared an information booth, in which he shared information about this deadly predator raising awareness of the threats it posed, local marketability, taste and safe consumption, economic benefits of harvesting the lion, handling, harvesting and cleaning techniques, among others.
They were able to reach a total of 42 peoples, who learnt about this species and were able to taste its delicious meat.
All of our work has been possible thanks to your support and trust.
Thank you for being part of our work.
The MAR Fund Team