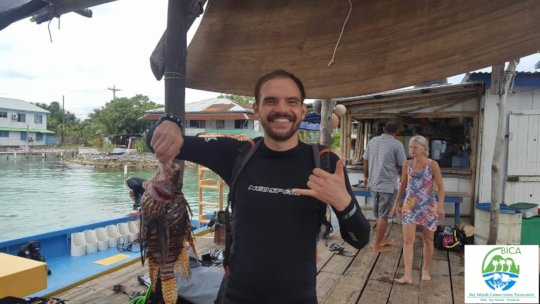 Heading to the south of the Mesoamerican Reef ecoregion, we come back to Utila in Honduras. The NGO, Bay Islands Conservation Association-UTILA (BICA-Utila), manager of the Turtle Harbour Rock Harbour Special Marine Protection Zone in Honduras, continues hunting the predator.
In 2009, the first lionfish was spotted in Utila. Since 2011, BICA Utila has developed 13 lionfish hunting competitions known as "Utila Lionfish Derbies", to fight this invasive species. These competitions allow BICA-Utila to raise awareness within the community about the risk this species represents to the reef ecosystems. Of these 13 competitions, we were able to support seven and with them a total of 1,820 specimens were extracted with the help of 415 hunters and observer divers. This was possible thanks to your support.
It is important to mention that all specimens hunted are delivered to the dissection team made up of volunteers from BICA, Reef Leaders, community volunteers and volunteers from other organizations (Bay Islands Foundation, Kanahau, Whale Shark and Oceanic Research Center and Operation Wallacea) who develop conservation work on the island. These dissections are developed with the objective of collecting information that allows the manager of the protected area understand their distribution, diet, impacts on the reefs and proper management of the species.
Since not everything is work, BICA-Utila also develops a "Lionfish Cook-off" competition. Once all specimens have been analyzed, they are delivered to five restaurants (Neptune's at Coral Beach Village, Islanders, The Venue, Mango Inn Bar and Grill and Mr. Peter's Goods) who then compete for the best lionfish dish. This competition serves to educate community members and tourists on how the lionfish is a sustainable option for consumption.
To be able to make this activities a reality, BICA-Utila developed a work-plan that describes the steps to take for a proper development. The area manager also imparts licensing courses for lionfish hunting, so that all divers who participate in the derbies, have the proper knowledge of how to handle the Hawaiian sling and hunt the predator.
Because you have helped us provide support to BICA-Utila, in turn we have helped them with their financial sustainability, since the development of this competitions helps the organization generate income from donations to continue with their activities.
Thank you for believing in the work we do.
The MAR Fund Team