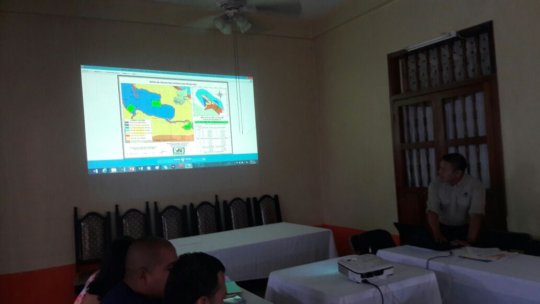 As part of the fish recovery sites initiative in Guatemala, the National Council of Protected Areas (CONAP) has held important meetings with all actors, institutions, organizations and the representatives from the three communities where the refuges are stablished (La Graciosa, Punta Gruesa and Santa Isabel), involved with the initiative.
So far five meetings have been held in 2016 and a final meeting was developed on December 13-2016. In each meeting important topics are discussed such as, the legal process to approve the Fish Recovery Sites, involvement of the community members in the process of water quality monitoring and fish recovery sites monitoring, fishing closed season, control and surveillance, among others. All this information is shared so every representative is well informed of the activities under taken in the sites.
For the final meeting, CONAP presented the results obtained from each monitoring done to evaluate the fish stock in the fish recovery sites, this monitoring have proven an increase in fish stock, size and the presence of larvae within the sites. Helping the community members and fishermen understand the value this sites have for the sustainability of the resource. As well as, the final report was delivered to each institution and community leaders.
The importance of developing this meetings and keeping everyone informed is a best practice that, not only provides information to all actors involved, but also demonstrates the progress and benefits the fish recovery sites have had on the resources health and stock.
Being able to develop said meetings and promote the importance of this initiative has been possible thanks to your support.
So thank you, for taking the time on being part of this extraordinary initiative and helping us boost community participation and understanding of our natural resources.
We also want to take the time and wish a Happy Holidays, may this New Year bring blessings your way.
All the best
The MAR Fund Team