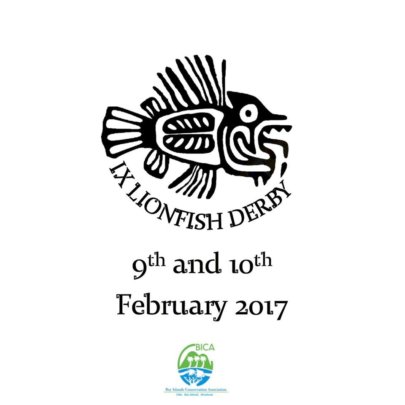 Moving a little to the south, until we reach the Bay Islands in Honduras, Utila a crystal water paradise faces a threat, lionfish.
As part of the Lionfish Strategy, the NGO Bay Islands Conservation Association-UTILA (BICA-Utila), manager of the Turtle Harbour Rock Harbour Special Marine Protection Zone in Honduras, developed the IX Lionfish Derby at Utila.
Making sure that the all regulations are met, they have been carrying out lionfish hunt workshops, where they teach all of those who want to learn how to hunt for this deadly predator. So, once with a license in hand, they got a total of 86 competitors divided into 22 teams from different dive schools capturing a total of 294 individuals.
In collaboration with Whale Shark and Oceanic Research Centre (WSORC), all individual caught where dissected, in order for the NGO to create a database that will contribute to generate information, thus supporting decision making towards an effective management for the control and mitigation of this invasive species.
But this is not all, after all proper measurements were taken, a "Lionfish Cook Off" took place, where six restaurants (Mango Inn, Hot Spot Cafe, The Venue, Mario´s Place, Neptunes, Buccaneer's) from the island prepared all the lionfish captured in different culinary options, thus showing the community the different dishes that can be created from this delicious fish.
All of this has been possible because of your support and belief in a better and healthy MAR.
Thank you
From the Mar Fund Team