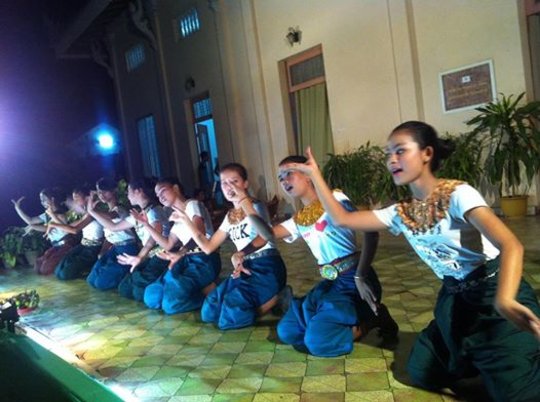 Dear Donors and Friends of Kampot Traditional Music School for Orphaned and Disabled Children - Khmer Cultural Development Institute - KCDI,
Achievements:
Over a year has passed since you all began supporting our project, "Free arts training for over 400 children, Kampot Cambodia" at our school. Thanks to your generosity and continuity, our project has been running ever since, reaching out to the hundreds of very poor children in Kampot Province and providing them with a free training in traditional Cambodian arts.
Your help has been fundamental in ensuring the success of this project, we would not have been able to continue without your support. Did you know that this project is important for the following reasons and has achieved these same goals?
- Poor children can at last have access to free traditional performing arts education of the highest calibre, thus sharing in their cultural heritage and learning about their identity.
- Talented children can pursue the arts from primary school to high school level and take exams at KCDI to prepare them for entrance into the Royal University of Fine Arts and a career as a professional musician or dancer.
- Tuition of the arts helps towards the goal of preserving traditional Cambodian culture for the next generation of young Cambodians and ensures the survivial of this World Intangible Cultural Heritage (UNESCO).
- Our school is part of a far-reaching program by the Ministries of Culture and Education to promote traditional Cambodian culture and to ensure that every primary school child has access to this learning. Unfortunately the Ministries in question do not have the resources to reach out to all of Cambodia nor do they have enough teachers, that is why this project in Kampot Province is held to be so important and unique and why our school, the Kampot Traditional Music School is held up as a role model for the rest of Cambodia.
Where do our Students Come from?
Students currently atttending these courses of Pin Peat, Mahori music, Classical Cambodian ballet, Folk dance and Yike Theatre are from three main state schools, "Samdech Ta", "Dipok" and "Kampot Krong". This is a quote from the head teacher of Dipok state school,
"Sometimes our students come to school without shoes on, or shoes which are falling apart. They come to school without books or stationary. They come from outlying rural areas in Kampot which are very poor. If the Kampot Traditional Music School didn't provide free tuition, these students would never be able to attend the arts lessons there."
From the photograph included in this report, you can see our Yike students giving their first major performance. These young students have in the space of one year, gone from being absolute beginners, to giving important theatre performances.
Future:
It is vital for the well-being of our students currently attending these arts training courses and for future primary school students to come, that we continue this extraordinary successful project. We have organized the coming academic year's curriculum, our current arts teachers from the Royal University of Fine Arts and the Ministry of Culture and National Theatre remain with us and are enthusiastic in continuing this program.
We will be expanding our program to include the tuition of Small Shadow Puppet Theatre (Sabaik Lakoun Toch) and Miniature Instrument Making:-
Sabaik Lakoun is an ancient art form dating back over 1000 years. It is a much loved and revered art, but yet in Kampot Province there is no puppet troupe. Learning the skill of shadow puppetry and how to make puppets will enable our school to learn a new and important art, reach out to more students, provide a therapeutic and holistic art form, as both our residential students and outreach students work on new educative story lines, practice funny voices and learn new ways of self-expression. Above all the citizens of Kampot can come and enjoy wonderful puppet performances and help contribute through small entrance fees, towards the upkeep and running costs of our school.
Miniature Instrument Making is a way of learning a new handcraft skill, directly connected to the mission and central theme of our school....Traditional Cambodian Musical Instruments! We can't afford to make large real instruments like gongs, because they require a metal foundry to melt bronze. But we can promote miniature instruments using local materials and help students and teachers learn new skills and through the sale of these tiny instruments, for our school to raise money to help us be more self-sufficient.
Please help us make sure our Free Arts Training continues for this coming academic year 2015 and help us with the start-up costs of these two worthwhile curriculums in our arts-training program; by joining our:-
GlobalGiving Fundraising day on the 15th October, where your donation will receive 30% matching funds from GlobalGiving. The Fundraising day starts at 09:00am Washington time and ends 11.59pm (23.59) Washington time.
Please check the World Clock Website for the right time to donate from your part of the world!
Thank you for all your very precious support and please keep on helping our important work.
Links: