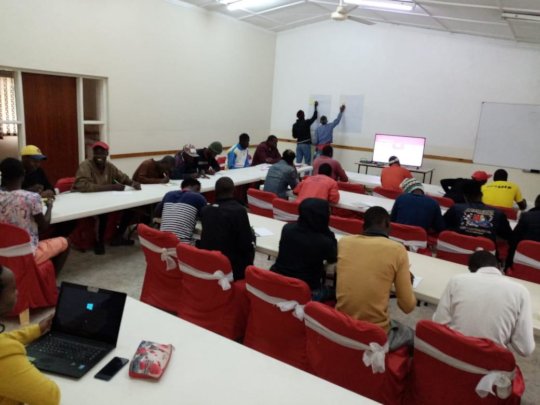 In preparation to launching Secure Futures project that will focus on pregnant adolescent girls and young mothers, a group of boys and young men from various parts of the targeted areas who are close to the targeted participants converged for a one day workshop. The aim of the workshop was to engage boys and men who will implement supplementary activities that will positively influence pregnant adolescent girls and young mothers' safety and security. The boys and young men will be involved in a parallel football-based program dubbed 'Heshima' (Respect) which aims to teach male partners (boyfriends, husbands) of pregnant adolescent girls and young mothers about positive masculinities, women's rights, violence and child development.
Secure Futures Training of Traininers' Workshop
With all systems geared to go, VAP female coaches went through an intensive 3 days training of trainers' course on Secure Futures project. The trainings conducted by Women Win, one of VAP's partners focused on utilizing girl-centered approaches, designing activities in safe sports spaces to increase the social impact support-life skills and livelihood opportunities to young moms. Through partnership with mom in balance, the project will strive to help expectant young mothers to keep fit, healthy and in shape during their pregnancy journey and those who have given birth to help them get back in shape during motherhood period.
World Youth Day
VAP's Employment +Entrepreneurship youth participants were amongst the youth invited by standard chartered bank at their headquarters to celebrate World Youth Skills Day on 20th July. With over 200 youth both boys and girls from different schools across Nairobi in attendance, the youth were engaged in interactive sessions with staff mentors from the standard chartered bank. The bank's staff shared life experiences as they trained participants on career planning, personal discipline and branding, financial savings amongst other topics.
Providing Medical Care
20 year old Anita (on the left) who is now a nurse at mater hospital is the latest entrant of VAP's Achievers Club (a group of participants who have been empowered both socially and economically).Anita has had a roller-coaster ride, since her first participation in the skillz mabeste HIV awareness program while in her primary school, and moved on to secondary school and participated in Skillz Mtaani HIV awareness program as well as Mrembo program, and finally after finishing her secondary school, she was enrolled into vocational training under Employment Entrepreneurship project where she majored in nursing. "Am happy for participating in the social and economic programs that have really equipped me with the necessary life skills." Said Anita.
My First Job
Fresh from the 'Employment +Entrepreneurship Job Preparedness Boot Camp' Natasha landed her first job with Hue Agency. Belonging to the 3rd cohort of Employment + Entrepreneurship 2019 with focus on Information and Technology as her vocational training course, she also participated in the Business Plan competition supported by standard chartered bank and won herself a computer for her business and marketing research studies." The teachings and skills displayed by various invited well established entrepreneurs and employers during the Employment +Entrepreneurship job preparedness boot camp was of great value and impact towards my career. Am economically ready to support myself" Said 21 years old Natasha.