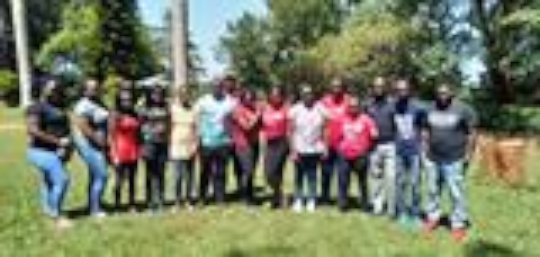 No sooner had the year started than VAP staff including master coaches and heads of different departments had a 3 days workshop plan for 2019.The meeting provided an opportunity to look at the mirror and reflect on the past programs, successes and the challenges accompanied with some S.W.O.T analysis that had to cut across every section of the programs and the organization. With 2019 programs on VAP's face, the team had to strategize, including making some adjustments and realignments in readiness for the effective deliverance of programs and what is expected out of them by the communities that they serve.
Gloab Giving Honors VAP
Stepping into the doorsteps of the New Year and bumping into some honors is what VAP found itself into. In celebration of VAP's 2018 commitment of reaching and working with young people through innovative football based programs, GlobalGiving honored VAP with several badges including: Top Ranked Organization 2019 and Effective organization 2019.The 'Effective' badge has been as a result of the programs evolvement and innovativeness through globalgiving's 'Listen, Act, and 'Learn' platform. Both globalgiving and Mchanga are some of the online fundraising platforms that VAP has been utilizing to support and sustain its existing projects.
Micro-Finance & Entrepreneurship Training
As they prepare for their graduation, the last cohorts of the 2018 vocational training participants were taken through a 2 days micro-finance training. The trainings focused on:Key principles for success in a Micro-finance operation, Savings modalities/Policies, loan modalities/Policies, risk Management in Micro-finance Operation, group lending methodology, personal finance, default management, microfinance leadership and governance, investment appraisal, conflict management, and trading profit and loss accounts preparation. " I have learnt a lot on how I can start and manage my own business. I have a few savings made and I will top it up with a small loan to start my business." Said Everlyne.
Standard Chartered Bank Supports The Girls
For the 4th year running, standard chartered bank has been in the fore front of supporting VAP's Goal program that seeks to instill both social and economic life skills to girls and young women. Despite running in schools and community centres, the program has been a breeding ground for many girls who have found their economic pathways and careers through participating into various vocational training courses of their choices. With a few topics touching on financial literacy, the whole program has been a boost towards the holistic social and economic development of the girls and young women who graduate from the program. "I managed to complete the program and decided to take on tailoring course, and now am doing my own business as a tailor." Said 20 years old Janet.