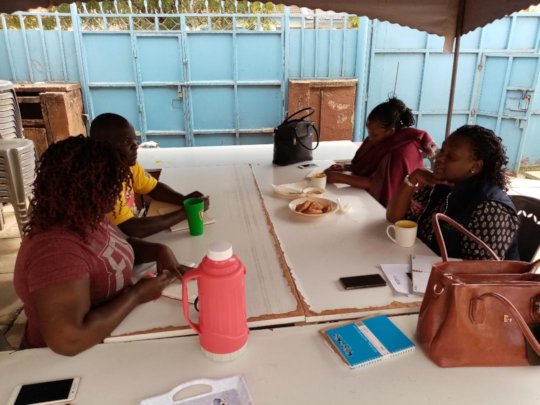 For the last couple of weeks since the official partnership with Kenya Community Development foundation (KCDF), VAP has been engaged in a vigorous local fundraising campaign with a target of raising Kes, 400,000 (USD 40,000) before 15th June. The target would result into receiving a matching fund of Kes, 1,600,000 (USD 16,000) from KCDF that would be channeled into supporting VAP's youth who are enrolled in 'Employment +Entrepreneurship'project.It's now official that VAP reached the target and would like to express its utmost THANK YOU note to all the supporters, friends, and volunteers from every corner of this world who charged up this fundraising drive.The funding will go towards supporting and recruiting more girls into 'Employment +Entrepreneurship' project that will see participants taking up various vocational training courses of their choice.
VAP At Women Deliver Confernce 2019
The city of Vancouver came to a standstill when it played host to 2019 women deliver conference. Being the world's largest gathering on gender equality and the health, rights, and well-being of girls and women, it brought together world leaders including: presidents, influencers, innovators and change-makers who made each main stage plenary sessions memorable and provocative. Officially opened by Canadian Prime Minister , all attendees were engaged in empowerment dialogues that drive girls and women agenda forward into the 21st century.
VAP Trains With Mom In Balance
With every piece put together in readiness for the official launch of Secure Futures project,VAP female coaches received a one day training activities and guidelines that would be integrated into Secure Futures project.The trainings focused on how to help expectant young mothers to keep fit,healthy and in shape during their pregnanacy journey and those who have given birth to help them get back in shape during their motherhood journey.Mom In Balance will be working closely with VAP for the success of Secure Futures project whose aim is to utilize girl-centred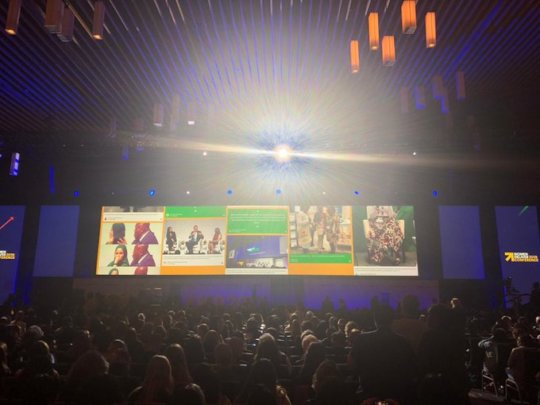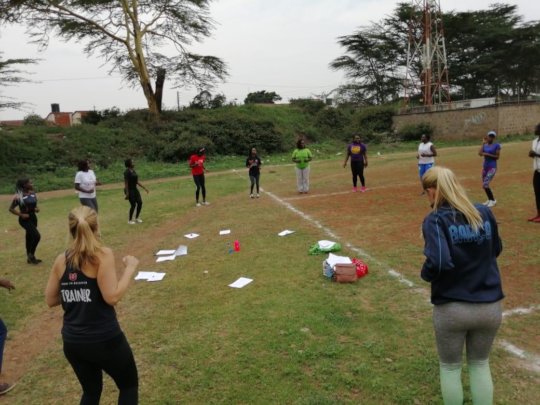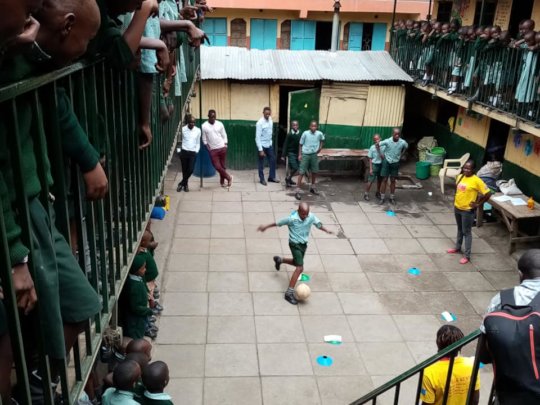 After running a couple of hiv-self testing research studies integrated with football tournaments in partnership with Medical University of South Carolina in the slums of Nairobi, the manuscript submitted for publication was approved by the journal of HIV/AIDS &Social services courtesy of Taylor & Francis authors: VAP is scaling up its HIV testing strategies by making door-to-door distribution of oral self-testing kits to its target groups who fear stigmatization and discrimination by visiting conventional testing sites. The kits are also distributed at the Kick N Test VCT tournaments as an alternative to visiting VCT tents. Here is the link for the publication
https://www.tandfonline.com/eprint/UKNrWdcTVJ7ngVVqCumj/full?target=10.1080/15381501.2019.1620663
Skillz Mabeste
Kiamberene primary school is one of the primary schools that actively participate in the Skillz Mabeste HIV prevention program. Located in the middle of mathare slums, the school has a total of 543 children and has been on Skillz Mabeste program since the start of the year. Skillz Mabeste is a football based fun activity that's coiled up with HIV awareness messages targeting primary school children aged 12-14 years both boys and girls. "Being in an area that is surrounded by a myriad of economic and social challenges, including having students who have lost one or both parents to HIV, Skillz Mabeste program has contributed heavily and positively in the lives of these youth who have managed to bounce back and stay resilient on issues regarding HIV." Mr John headmaster of Kiamberene.
Scaling Up HIV Testing
As a way of scaling up HIV testing, Skillz coaches have been making door to door visits distributing and providing rightful information on HIV oral self-testing kits targeting youth in various slums of Nairobi. The distribution exercise is targeting youth both girls and boys who fear stigmatization and discrimination by visiting conventional sites for HIV testing. Despite the door to door visits, kits will be available at VAP's Kick 'N' Test VCT football tournaments and leagues." Now that I know about this alternative of HIV testing, I will do it by myself at my own private place." Said 19 years old Mweni.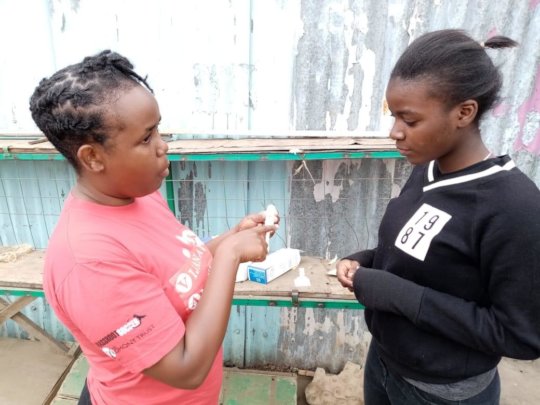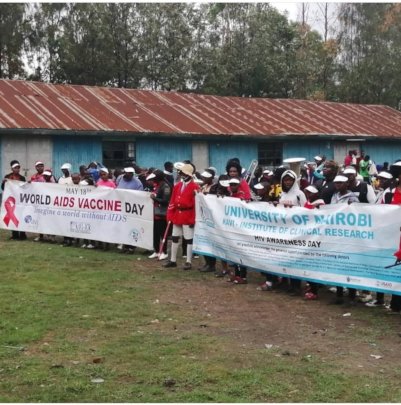 A day full of community events including: HIV vaccine awareness procession walk, football games, HIV testing and hiv football based awareness activities, is what HIV scientists from university of Nairobi under the banner of institute of clinical research (ICR), and their counter parts community health and sports practitioners VAP teamed up together to celebrate world Aids Vaccine day on 18th May 2019.Despite the vaccine awareness piece of the event, the spot light of the event was the football games that involved a string of 30 football teams of both boys and girls who had to compete both ON and OFF the field by scoring regular football goals ON the pitch by using their best feet, and scoring OFF the field by using their fingers to get tested on HIV while earning bonus points towards their respective teams.
Scoring On The Field
Drawing from all the walks of Nairobi, the 30 participating teams of mixed gender played on a football pitch that was divided into four to accommodate 7 aside football matches. As a custom of the Kick N Test football tournament, during the intervals and after the matches, all participating players were engaged into side activities that included: participating in the hiv awareness football based activities, HIV testing provided by VAP's health service providers, promotion of VMMC services amongst adolescent boys and with the day's additional special activity of 'Blood Testing' provided by Nairobi university clinicians
Scoring Off The Field
A total of 320 youth both boys and girls got an opportunity to know their HIV status.The testing services were provided by VAP's health service provider,EDARP who had pitched VCT tents along side the football pitches.Additionally a total of 83 adolescent boys were reffered for voluntary medical male circumsicion to EDARP clinics and other nearest clinics.All teams encouraged their fans and community members to get tested to donate to them the extra bonas points. "Am happy to know my HIV status and am willing to encourage other to get tested"Said 19 year old Maliku.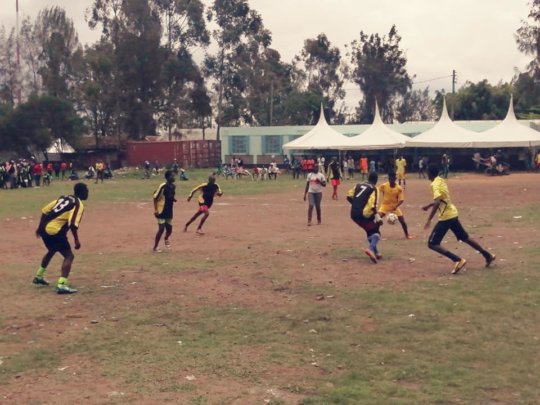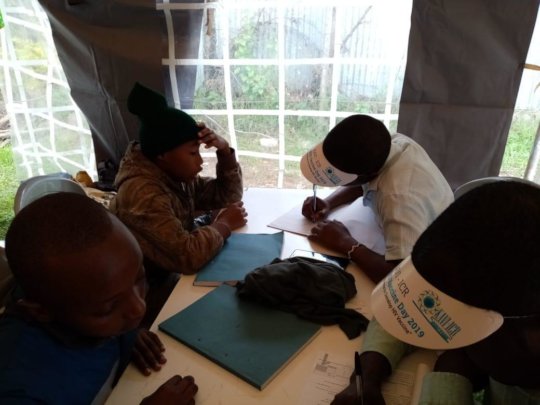 WARNING: Javascript is currently disabled or is not available in your browser. GlobalGiving makes extensive use of Javascript and will not function properly with Javascript disabled.
Please enable Javascript
and refresh this page.