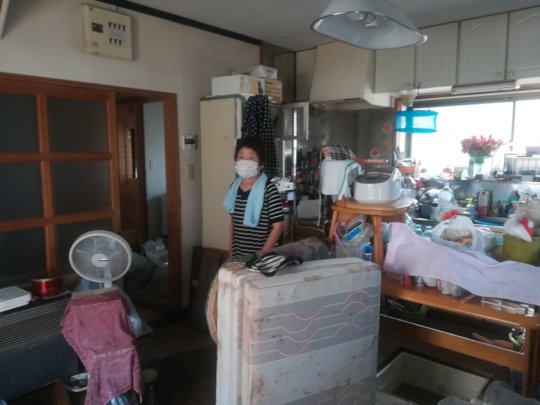 My partner and I were making a delivery of body wipes to one of the many evacuation centers in Hongo, Hiroshima Prefecture. Carrying boxes through the automated doors that now had to be slid open manually, the volunteers there pointed to where we could put them down.
In our path was a woman who looked to be in her 60s, wearing a black and white striped shirt and a white surgical mask, crouched and slowly copying down an announcement that was on a sign panel. We waited patiently for her to notice us so we could pass, but her face was too close to the sign, her eyes squinting - she obviously could not see very well. After about a minute, my burning forearms compelled me to take the long route around. We made several trips from our car to unload all the boxes and when we finished, the crouching woman was gone.
After we spoke to one of the center's volunteers, the woman reappeared with a plastic bag of food in hand and attempted to squeeze by us at the same narrow walkway she had previously blocked. She suddenly stopped and looked curiously up at us. We returned the curious look.
"Sumimasen (excuse me), …"
She said something but we couldn't understand through her mumbling and mask. My partner leaned in closer and asked her to repeat what she had said. Her house had been ruined by the flood and she wanted to take pictures of the aftermath to send to her daughter but couldn't because of her poor vision. So we agreed to help and we walked out with her. She said that her house was close by and about 50 meters later she led us down to a house that stood right near the bank of the Numata River. The first thing I noticed was the mud completely covering the pavement around her house. It was still damp and my shoes sunk in a bit as I stood surveying the area. She had laid small pans in the mud to temporarily serve as a walkway to the door and we tread lightly across them.
As we looked around, she opened the door and disappeared behind a small curtain draping the entrance. She yelled, inviting us to enter. We pulled the curtain to the side and stepped through the doorway. In Japan, people take off their shoes by the door before entering a home, it would be extremely impolite and dirty to not do so. The heel of my left shoe tightly pressed against the heel of my right shoe to hold it down as I slipped my right foot out – an action as familiar as breathing, and my partner did the same. However, I looked up and noticed small heaps of dirt and the sunlight reflecting off the still wet puddles of mud across the floor. We glanced at each other, hesitant as to how to proceed. My partner asked our host if we should take our shoes off and she said no, pointing to her own feet – she was wearing shoes. I stepped forward with my muddy shoes and felt guilty for disrespecting our host's home and making it dirty, as if I was adding insult to injury.
In the kitchen area, salvaged, undamaged items and bottles of clean water were stacked on top of a table. Less fortunate items remained on the floor, serving only as obstacles to navigate past. However, I felt a sense of relief seeing the area was somewhat cleaned and organized – restoration felt within reach. The host repeated her request to take photos so my hand slipped into my pocket and took out my phone but in her hand was a small plastic wrapped package which she extended to my partner. I didn't recognize what it was until he opened it revealing a rectangular, green and black device I hadn't seen in ages, a disposable camera. I realized then that her house probably did not have electricity to charge her phone or perhaps her phone broke or had washed away in the flood.
As we moved from the kitchen to the hall to the main living area, the previous sense of relief I had felt dissipated as I observed the extent of the damage. Instead of pans, blankets were now our walkway. The walls of the bathroom were stained brown, caked with mud, and clothes were thrown into a corner. The normally spotless bathtub of a Japanese house looked like the set from a horror film, I was afraid to step forward and look inside. The living room was dimly lit, the sole source of light emanating from a window far across the room. Fortunately, a few dressers along the wall still held up precious photos depicting her daughter and granddaughters.
The woman warned us to watch our step as we made our way across the room. She stooped down to pick something up and after examination, she carefully placed it in a pile. She rapidly pointed out the areas she wanted pictures of and my partner hastily obliged. The entire shoot did not take very long.
We all came out of the house and she showed us how high the flood water was – a gray line stretched across the wall. I couldn't help but notice that the line came up to her shoulder, but when she walked off the step, the line was to her chin. It was fortunate that she was able to evacuate in time. She thanked us and asked our names and what organization we were with. She offered us towels to wipe off our sweat and headed back inside but we replied that it wasn't necessary. We thanked her for her time and returned to the evacuation center.
While driving back to our office, I thought about how I would react if I were in her shoes. The sense of desolation was palpable and I pictured myself bulldozing my house down to simply start over to avoid the pain of rebuilding. The torn walls, stained walls, muddied floors, and broken personal belongings were painful to behold. Her daughter would probably experience that same pain tenfold when she receives the pictures of the destruction. But I remembered the woman bending down to pick things up amidst the ruins – how carefully she examined and organized her belongings. Her granddaughter's baby shoes may be crusted with dirt, but it can be cleaned. That scene gave me hope that, although it may be excruciatingly slow, restoration would surely come.
The next day, after making another delivery to the same evacuation center, I stopped at a red light and I could see down to the woman's home. I was surprised to be able to see a paved pathway to her door, the pans were gone. People were standing with her in her yard and they were sharing a laugh. It was comforting to witness that in times of need, just as she relied on strangers to take pictures, the people you consider your "neighbors" grows larger and help each other. I was reassured in my belief that restoration would come. Slowly.