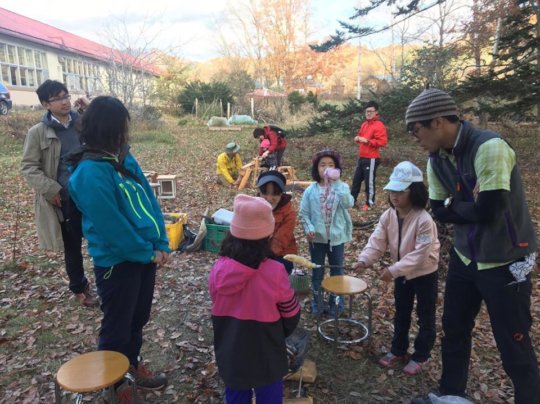 NPO Partner Projects has been implemented in the areas affected by the Hokkaido Eastern Iburi Earthquake since October 2018. Through this platform, two support projects were launched this November.
Iburi Nature School, based in Tomakomai City, has promoted nature experience activities for parents and children. The school has led disaster restoration activities such as dismantling collapsed houses, establishing volunteer centers, and managing volunteers in Tomakomai City, Abira Town, Atsuma Town, and Mukawa Town since September 7. Iburi Nature School also provides a nature experience program aimed at healing the anxiety of parents and children affected by the earthquake. The program focused on "Mokuiku" which means "nurturing through wood." Activities include fishing, grilling the fish over wooden stoves, making chopsticks, and ice skating.
Ezorock has initiated a variety of activities all over Hokkaido including environmental maintenance at event sites and nature conservation in national parks. Their efforts have now extended to disaster support projects as well. Ezorock produced and sold dried vegetables in Sumikawa, Sapporo City and Atsuma Town and raised public awareness on disaster risk reduction. NPO Partner Projects plans to instruct the child-raising groups on how to produce and sell dry vegetables to increase job opportunities and develop the region.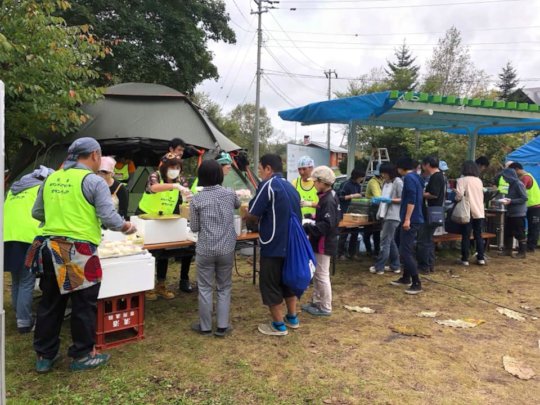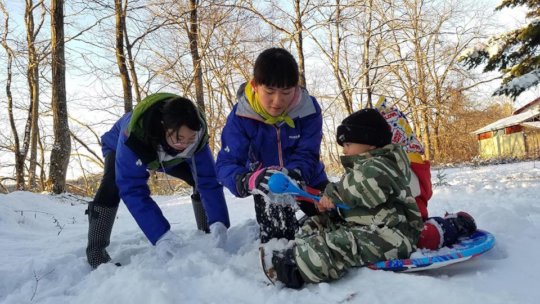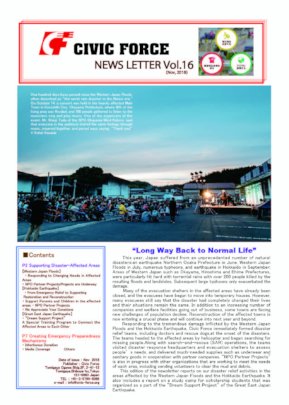 This year, Japan suffered from an unprecedented number of natural disasters:an earthquake Northern Osaka Prefecture in June, Western Japan Floods in July, numerous typhoons, and earthquake in Hokkaido in September: Areas of Western Japan such as Okayama, Hiroshima and Ehime Prefectures, were particularly hit hard with torrential rains with over 200 people killed by the resulting floods and landslides. Subsequent large typhoons only exacerbated the damage.
Many of the evacuation shelters in the affected areas have already been closed, and the evacuees have begun to move into temporary houses. However, many evacuees still say that the disaster had completely changed their lives and their situations remain the same. In addition to an increasing number of companies and welfare facilities going out of business, some towns are facing new challenges of population decline. Reconstruction of the affected towns is now entering a crucial phase and will continue into next year and beyond.
This edition of the newsletter reports on our disaster relief activities in the areas affected by the Western Japan Floods and the Hokkaido Earthquake. It also includes a report on a study camp for scholarship students that was organized as a part of the "Dream Support Project" of the Great East Japan Earthquake.
http://www.civic-force.org/english/news/docs/NewsLetterVol.16en.pdf
We would like to express our sincere appreciation for your understanding and support to
the aid activities of Civic Force for the areas hit by the Hokkaido Eastern Iburi
Earthquake.
Civic Force set up the emergency rescue team with the partner organizations on the date
of the outbreak, and rushed to the disaster hit areas by private jet and helicopter for the
search and rescue and the medical assistance.
Our activity also includes the distribution of the emergency relief goods such as water
supply bags, large wet towels and underwear, and the supply of the materials to improve
the environment in evacuation shelters, namely card board partition system. In addition,
we lent camping trailers to the local government staff as their resting place.

We are currently making a research in the disaster affected areas to prepare for
supporting the reconstruction and rehabilitation activities which will be implemented by
our local partner organizations.

We have been greatly encouraged by your warm sympathy with our activities. Let us
express our deepest gratitude. We very much look forward to your continuous
understanding and cooperation to the Civic Force's activities.
Links:
WARNING: Javascript is currently disabled or is not available in your browser. GlobalGiving makes extensive use of Javascript and will not function properly with Javascript disabled.
Please enable Javascript
and refresh this page.