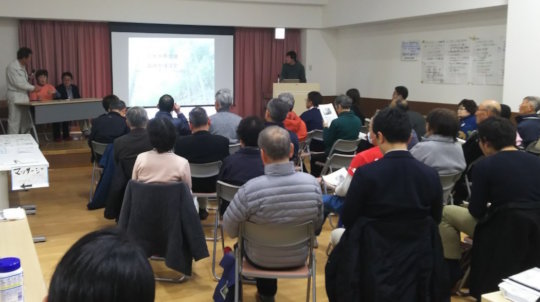 NPO Partner Projects was launched in August 2018 to support the reconstruction efforts of the areas affected by the West Japan floods. Projects has so far supported seven partner organizations in three prefectures.
The NGO Collaboration Center - "Reconstruction Cram School" for Aid Workers and Local People
The NGO Collaboration Center operated bus services for volunteers in Saka Town, Hiroshima Prefecture immediately after the onset of the disaster. The Center also organized volunteers to provide footbaths for the affected people once a month. Utilizing the experience and network of the past disaster support projects, the Center organized the "Reconstruction Cram School" for aid workers and local people to provide them with an opportunity to study cases of disasters and reconstruction efforts in other areas. Although the collaborative projects with Civic Force was completed at the end of April, the NGO Collaboration Center is steadily continuing its assistance efforts.
Hichiku Volunteer Center (Currently called Riera) - Study Tour to Disaster-Affected Areas for Aid Groups
Hichiku Volunteer Center, based in Ehime Prefecture, organized a study tour titled "Learning from the Affected Areas" in May. Around 30 people from local groups in Uwajma City participated in the tour. The group visited Asakura City and Toho Village in Fukuoka Prefecture and Hita City, Ohita Prefecture, which were affected by the Northern Kyushu torrential rain in 2017. The participants met and discussed with local residents who were involved in the reconstruction efforts for temporary housing and local businesses. One participant said, "We learned about the disaster recovery efforts in Kyushu which began one year before ours. They show me what we should do next for our own community."
Soul Visiting Nurse Station - Providing Opportunities to Meet with Doctors
Soul Visiting Nurse Station, based in Mabi Town, Okayama Prefecture, operates more than 120 home visits a month. At the same time, they host a community café several times a month to provide a place for local people to socialize and promote visiting nurse practices. Soul is also involved in disaster prevention study. The staff members visited Joso City, Ibaraki Prefecture in June 2019, which was damaged by torrential rain in 2015, and met with local residents and medical professionals involved in the disaster reconstruction efforts.
Arts and Sports for Everyone (ASE) - Boccia Gathering in the Affected Areas of Okayama and Hiroshima Prefectures
Building upon the experience of the Kumamoto Earthquake, Arts and Sports for Everyone (ASE) aims to prevent isolation of temporary housing residents. ASE held a boccia* gathering at a reconstruction event for Mabi Town in May. ASE organized another boccia gathering at the temporary housing area in Saka Town in July and facilitated socialization between the local residents.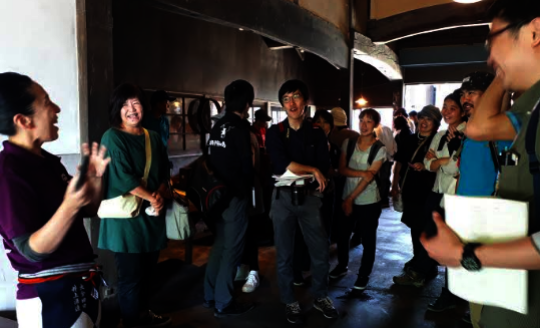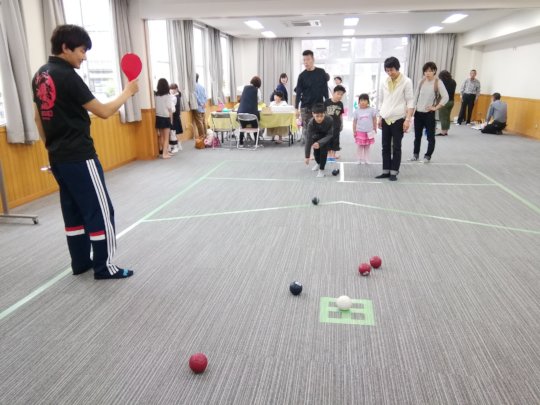 Links: